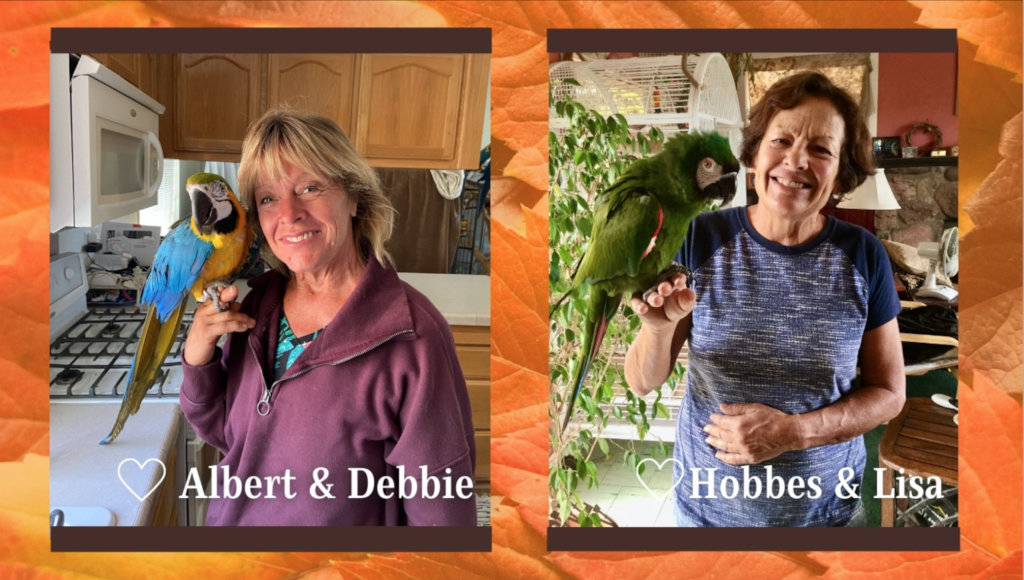 Dear Donors and Supporters,
As the leaves change color into beautiful autumn golds and reds, and I reflect on what has been a challenging year so far, I am genuinely proud of what PEAC has been able to accomplish thanks to YOU – our dedicated supporters and friends, who share our love for companion parrots and empathy for the challenges they face in our homes and as part of our families.
To date, we have had over 100 people attend our eight educational classes in 2020, and our last class of the year is November 15th! Remember – one of the benefits as a supporting member of PEAC is that you can join our live-video classes (via Zoom) for free. Please email us at parroted@peac.org for your secret code word to use while signing up!
"Golden" Generosity!
PEAC has been the lucky beneficiaries of a massive donation of toys from Planet Pleasures! I don't even know where to begin to express PEAC's gratitude at this extraordinary act of generosity. Please view the included photos to appreciate the truck-load size of this gift. Thank you, Planet Pleasures, for helping to keep our birds' beaks busy! And if you aren't already using their colorful, fun, parrot-safe toys (which, no kidding, are my parrot's favorite for many years,) please visit a local store or website which carries their line. What a weight off our shoulders that we no longer have to worry about what will be in our foster parrots' stockings for the holidays this year – its Planet Pleasures for the "gold!" (win!)
We also want to thank our more "nutty" supporters: Elizabeth V., Mavis F., and Ricky, who EACH sent a generous box of nuts for our birds from Nuts.com! Foster parrots Larry, Arthur, Albert, and Picasso have been the primary beneficiaries of these gifts… you could say, they've been "going a little nuts" over these surprises!
If you're inspired to be a "golden nut" for our parrots – you too can order a pre-selected box for our parrots from Nuts.com! Just call Nuts.com or visit the "Gift" section of their website and look for "Charitable Gifts." There, you will see our logo and nutty wish list! They have our address and will take care of getting the box safely to our door. And please sign your name or include a note, so we know who is "nuts" about our birds!
Last but not least, we have had several recent donors provide food supplies, transportation cages, (thank you Nicole!) flight cages, a large aviary, and additional large parrot cages (thank you Anonymous donors!) Having such a variety of resources for our incoming foster parrots (many of whom arrive with no cage at all) is terrific - Wowee! Thank all of you for thinking of our foster parrots and generously providing us with so many resources. Each toy, food, or cage donation allows us to keep our funds razor-focused on providing our foster parrots with all necessary veterinary care.
We are so grateful for everyone who has been cheering us on and generously supporting PEAC during this challenging time. Our work would simply not be possible without YOU!
"Golden Days" are Ahead for our Adopted Parrots!
Since our last update, we have had *eight* adoptions!
Carmen (Blue & Gold macaw,) who was adopted by Erik; Twiggy (African Grey,) who was adopted by John; Picasso (Blue and Gold macaw,) who was adopted by Julie; Crackle (Cinnamon mutation Green cheek conure,) who was adopted by John; Mango (Senegal parrot,) who was adopted by C.J.; Albert (Blue and Gold macaw,) who was adopted by Debbie; Hobbes (Severe macaw,) who was adopted by Lisa; and Masuru (Greenwing macaw,) who was adopted by his wonderful foster-parents Michelle and Pedro! We hope you enjoy seeing the beautiful pictures of these parrots with their new families as much as we do!
Sometimes we're asked to take on a more unusual situation, such as with "Holly" a Red-lored amazon who came to us through the San Diego Humane Society. Holly's mom was unable to return from the hospital, but she made it clear that Holly was to be transferred to The Oasis, a parrot sanctuary in Arizona. Our volunteer Barbara cared for Holly as her own for several weeks, while paperwork was completed, and then drove her to The Oasis to make sure Holly's mom's final wishes were honored. It is a privilege to work with Barbara and all of PEAC's volunteers who deeply care that every companion parrot is well cared for and loved, whether they ultimately become part of our foster flock or not.
Hearts of Gold
PEAC spent August working with Animal Friends of the Valley Shelter, Olive Branch Parrot Rescue and Last Chance at Life All Breed Animal Rescue to find placement for eight parrots that needed to quickly be rehomed. That is how we ended up with a new foster, "Georgie," a Panama amazon who already has an adoption application pending - fingers crossed! Thank you to the fantastic team effort from LCAL and Olive Branch in finding the majority of placements for these homeless parrots.
In times like now, where things are unpredictable and challenging, we must continue to move forward and do good things for our world and each other. We must persist in standing up for those whose lives depend on our continued dedication and care, especially those most vulnerable and who have no say in their situation, like our foster parrots.
Every time a new parrot comes into our homes and lives, I am amazed at their resilience and willingness to trust and love again. They deserve our best efforts to ensure they have everything they need, including a safe home and a loving new family.
Thank you for having a heart of gold and making such a huge difference in our birds' lives!
Please know that PEAC appreciates your continued support.
Have a happy fall y'all!
Kelly Flynn, President, Parrot Education and Adoption Center