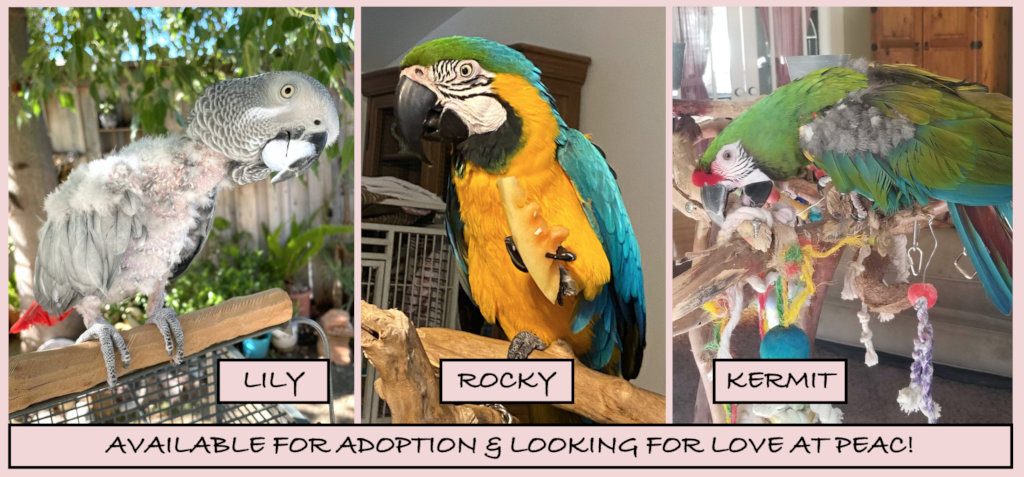 Dear Donors and Supporters,
We hope this finds you and your family safe and healthy as we send you these warm greetings while our parrots are enjoying beautiful sunny springtime weather in San Diego.
When will PEAC Return to In-Person Classes?
Everyone wants to know: When will PEAC return to in-person classes and join public adoption events? The answer is: we don't yet know or have any specific dates! California is looking to fully reopen its economy on June 15th as long as vaccination rates continue to increase and COVID-19 case rates and hospitalizations stabilize. For now, it looks like PEAC will not be doing any in-person events until mid-summer at the earliest.
PEAC is continuing our online "Zoom" classes and have modified our parrot adoption process to be done one-on-one (one parrot to one adoption "family,") with masks required. All parties are staying social distanced and whenever possible, we are using enclosed outdoor patios and locations for the meet and greet. All of our adoptable parrots are listed on our website at PEAC.org and on our Petfinder page at: peac.petfinder.com. Please let us know if you should have any questions! You can call us at 619-287-8200, email us at parroted@peac.org or simply reply to this newsletter.
Fundraising Can Be So Sweet!
Send someone you love a sweet treat while supporting PEAC's parrots! Moms, Dads and Grads would all enjoy famous See's Candies - and a portion of each purchase price comes directly to PEAC to support our programs and parrots. We have all your favorite treats on our See's Fundraising Storefront! Don't know what their favorite variety is? Gift cards are available as well! The link is at the bottom of this newsletter - or you can find the link on our Instagram profile page and Facebook! Having trouble finding our online store? Just call or email us and we'll send the link directly to you. PEAC's storefront is only up for a limited time - until July 1st - which means now is the best time to "treat yourself" to the best chocolate and sweets around - our parrots thank you!
Who's Been Adopted?!
We've had six adoptions so far in 2021! Misty, a female Eclectus; Shadow, a male Senegal parrot; Zorro, a male White-bellied Caique; Pickles, a female Red-crowned Amazon; Pancho, a male, Yellow-naped Amazon and Mimi a male, African Grey parrot.Congratulations to all of our flock and their new families who found each other this year! We hope you enjoy some of the pictures provided by their new families in this newsletter.
Meet Three Parrots Who Need a Loving Home
PEAC has 8 parrots who are currently available for adoption. You can find all of their bios at peac.petfinder.com. Meet the three we're featuring this month!
Kermit
Kermit is a soon-to-be 20 year old female Military Macaw. Having been in only two (known) homes, Kermit really enjoys hanging out on her play-stand during the day, chewing up wood toys and has shown a preference for women. Just like any parrot, she likes to be a part of your phone conversations! Some of her favorite words are, "Hello, Kermit, and come here." Being a silly girl, she also mixes up the words "cracker" and "Aflack" to "Aflaker!" Once Kermit gets to know you, she is a big lover and loves to just sit on your arm. Kermit is known to do well with children and other animals, but prefers other companion birds to keep their distance. Do you have room in your heart and home for this precious little girl?!
Lilly
Lilly is an 11 year old Congo African Grey parrot who been in one family her entire life. She has a sweet disposition, is super smart, and is already learning to target train in her foster home. Lilly would get along well in a home with other birds and dogs, but she will need her own protected space so she can have a lot of time outside of her cage-- an outdoor aviary would make Lilly especially happy! Lilly is clearly a "morning" bird as she likes to make "yawning" noises when her human wakes up and enjoys dancing, singing children's songs and grooving on old school disco! Because Lilly really needs to have her eyes on her "person", she can become anxious and pluck when they are not around, however, she would make a great companion once she gets to know and trust "her people."
Rocky
Rocky is a 50 year old male Blue & Gold Macaw who came to PEAC following the passing of his owner of 50 years. He's a super sweet boy, steps up readily for both the woman and man in his foster home. He speaks in a really quiet woman's voice and has "pirate conversations" with the man in his foster home. He also has a complicated and mysteriously semi-mumbled talk with himself once he is covered and in bed. Its hard not to giggle when you hear him go! He loves showers, eats well of fresh chop, veggies and fruit and is learning about pellets instead of seed mix. Rocky is a wonderful, funny and engaging character; are you ready to add some laughter to your family?
Every time a new parrot comes into our homes and lives, I am amazed at their resilience and willingness to trust and love again. They deserve our best efforts to ensure they have everything they need, including a safe home and a loving new family.
Thank you for supporting PEAC and making such a huge difference in our birds' lives!
Wishing you health and happiness this Spring!
With gratitude,
Kelly Flynn, President, Parrot Education and Adoption Center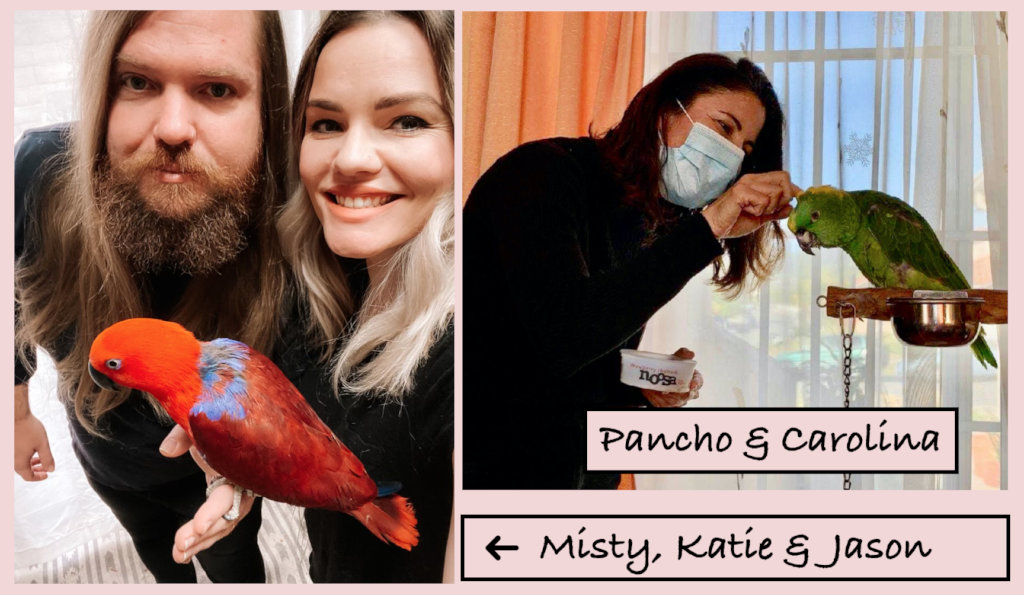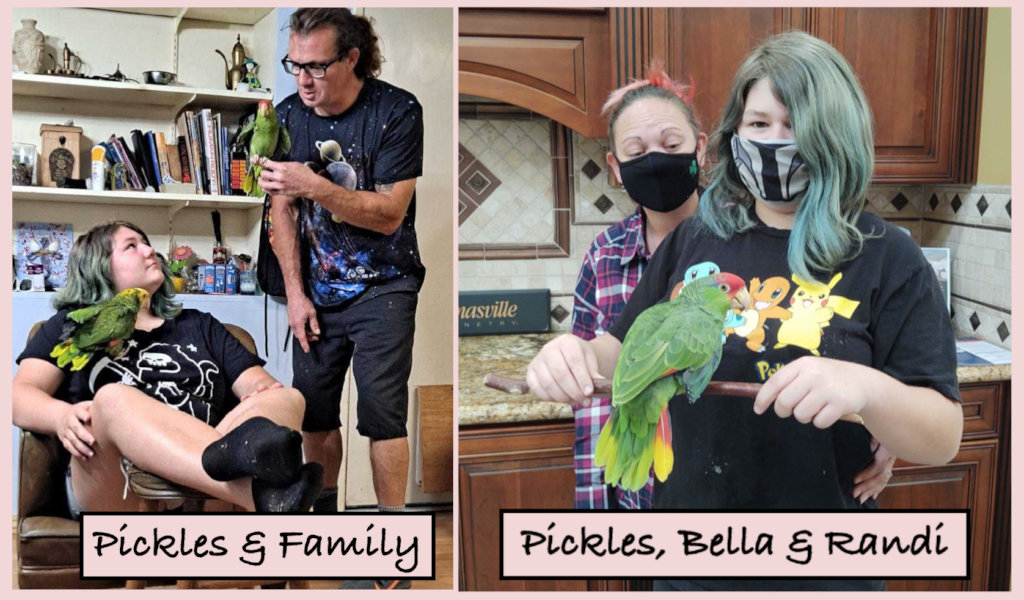 Links: