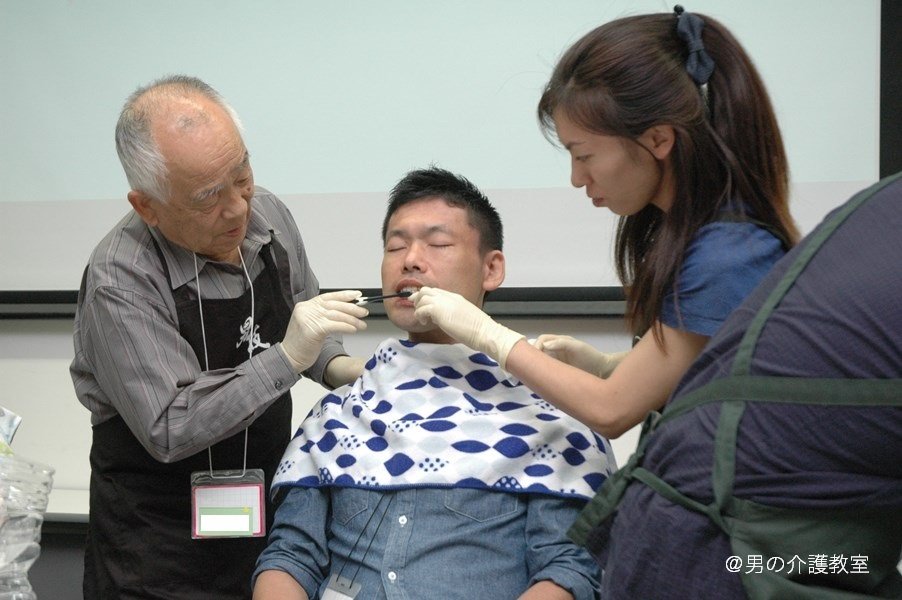 What kind of people do you associate with the word "caregivers"?
In Japan, the most common caregivers is spouses who are living together account for the largest percentage of 26.2%. This is followed by adult children living together at 21.8%. In fact, one in three caregivers is male.
In Ishinomaki City, an area that suffered severe damage due to the Great East Japan Earthquake in March 2011, the percentage of people identified as needing long-term care has increased from 16.1% in February 2011 to 19.0% three years later, which is a 1.3-fold rise.
JEN has partnered with a voluntary organization called the "Caregiving Class for Men" composed of medical and nursing care specialists in order to support male caregivers. The "Caregiving Class for Men" was launched after the earthquake to hold nursing care study classes for male caregivers who have limited experience in housework and tended to be isolated.
The "classes," which are held once a month, are a great success with about 30 participants every time. The nursing care managers have tenaciously requested male caregivers to participate in the classes and have been providing programs to meet the needs of them. In the classes, they can not only acquire the basic knowledge and skills of nursing care, but also enjoy an environment in which they can talk about their daily problems with each other and engage in networking with specialists and medical staff.
The main programs so far are as follows, below bullets.
This coming September, a symposium will be held on the coastal area in Miyagi to share the experiences and lessons learned from the "Caregiving Class for Men" of Ishinomaki City with nursing care and medical specialists in Tohoku region.
Details will be announced once decided.
- How to cook nursing meals
- Easy cooking recipes (packed and ready eat meals, etc.)
- Workshop on dysphagia
- Workshop on oral care
- Workshop on heat stroke and its countermeasures
- Workshop on the prevention of influenza and gastroenteritis
- Workshop on dementia care
- Workshop on bedsore prevention
- Emergency life-saving training
- Workshop on nursing skills (diaper changing, feeding, and transfer assistance, etc.)
- Health care for caregivers
- Pottery classes to ease caregiver stress
- Group meetings to exchange opinions and promote good fellowship among the participants