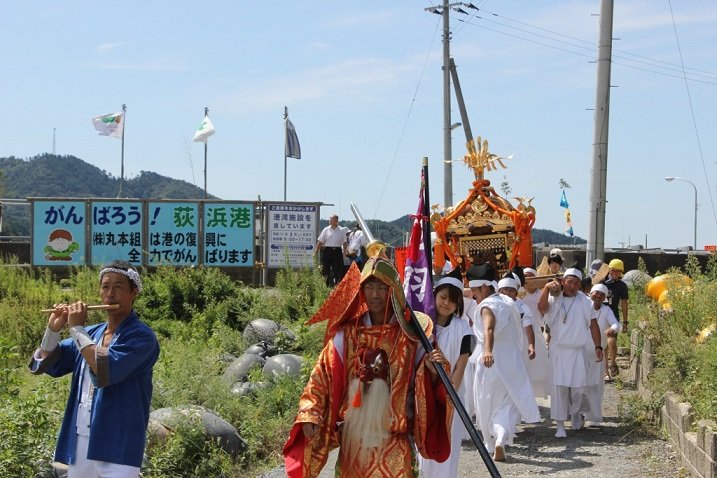 Target Area

Miyagi Prefecture, Ishinomaki City and nearby villages.

Activities during July, August & September, 2013.
Community Building in Ishinomaki
At this time of the year, many volunteers, from students during their summer vacation to adults taking days off, visited Ishinomaki. JEN and volunteers have been supporting local people through various events and activities.
[To continue Traditional Local Festivals]
JEN and volunteers have been assisting to continue traditional local festivals.
On September 9, an autumn festival was held in Oginohama, Ishinomaki. Volunteers supported in carrying mikoshi (portable shrine). Oginohama's festival is known for its mikoshi being paraded through Oginohama Cove on boat. They prepared for the festival from the day before.
On August 24, Jizo-ko festival was held at Kadonowakicho town, Ishinomaki city for the first time in three years which is to praise Jizo (small stone statues venerated as the guardian deity of local residents) for Jizo's good deeds. Volunteers from Aoyama Gakuin University sweated at preparing for the festival. On the same day, JEN donated Manekinoie House, a meeting place adaptable to other uses, to Maneki Community, a resident's association to set up mainly by current residents after the disaster.
On July 31 and August 1 was held Ishinomaki Kawabiraki River Festival, a signature summer summer event of Ishinomaki. The festival has never been called off even after the disaster and helped lift citizens' spirits every year.
It was after three years' absence that Magobe rowboat race as well as a dance to celebrate good catch, the festival's main attractions, made a successful comeback.
Elementary school pupils' yearly drum and fife band parade was also performed along shopping streets. Among participating elementary schools are those schools whose music instruments had been damaged by the disaster. JEN have provided new instruments for them in the collaboration with mudef.
The number of visitors to the festival for two days was said to be 169,000, attracting 20,000 more than last year. It was felt that Ishinomaki is gradually regaining what were all too real in the past, after seeing Magobe boat race reviving, the children's drum and fife band performing a parade and visitors happily smiling. Hoping to see many more visitors smiling, JEN will continue to work activities to enliven Ishinomaki.
[Blossoms in Ishinomaki]
JEN is assisting "Spread Flower Garden through Human Connection", a movement based on an idea of students at Kadonowaki Junior High School.
On July 24, students at Kadonowaki Junior High School volunteered to plant flowers.
On August 29, twenty-five students at Kansai Gakuin Senior High School volunteered to help us weed the flower garden. They said that they wanted to come here in the post-disaster period, but it was impossible; they want to help with whatever they still can do.
[Personal Computer Class at Town on the Sea]
In response to resident's requirements, JEN has opened "Personal Computer class for the Use of ICT as Reconstruction Support" side by side with Reconstruction University and BHN Association. Residents are learning such as the basics of Word and Excel, how to use Facebook. They are learning toward their goals, to make use of the PC skills for their business and to get in touch with volunteers or supporters who came to help them after the disaster.
[The 3rd "Come to Join Fishing Event!"]
On August 3-4, the third "Come to Join Fishing Event!" was held at Higashihama on the Oshika Peninsula which was planned by an executive committee organized by local resident volunteers. This year's program, the third, featured a lot of hands-on experience such as gill net fishing, cooking, get-together, beach cleanup, study tour of aquaculture facility and so on. "'When I came to Ishinomaki two years ago, an improbable sight was outspread before me. But today, as a fan of Higashihama, I was really glad to be able to get on with people here and have such a wonderful time.', ' Learning about fishery, I was able to have an unique experience of mixing with people in the community.'" As participants said, expressing a feeling of enjoyment.
[F-1 Reconstruction Gourmet Food Contest held in Oshika Noren Restaurant District]
On July 21, F-1 Reconstruction Gourmet Food Contest (delicious, inexpensive, local food competition to promote reconstruction) took place at Oshika Noren Restaurant District in Aukawa on the finger of the Oshika Peninsula, with twelve reconstruction-gourmet-food stalls from Iwate, Miyagi and Fukushima Prefectures standing side by side.
This year's contest, the third in the series, took place for the first time at Oshika Noren Restaurant District that JEN has supported in setting up. Four food items from Ishinomaki joined the contest, each one is made of Ishinomaki's specialty ingredients which enhanced the flavor! The Grand Prix went to Moby dog from Oshika Noren Restaurant District! They say Moby dog enjoyed a runaway popularity, with the advantage for the contest to be held at home.
Hoping that every restaurant district uses this opportunity to lift the spirit of its community including Oshika Noren Restaurant District, JEN will continue to support the contest.
[Radio Talk Show "Skidatsucha Ishinomaki by JEN"]
A radio program for Ishinomaki reconstruction, "Skidatsucha Ishinomaki by JEN" (I love Ishinomkai; Sponsored by JEN.)" via Ishinomaki Radio Station, began on July5. This program covers what's nice about Ishinomaki, what goes into what a gallery of fascinating people in Ishinomaki works on and what's going on in Ishinomaki now being on the road to reconstruction. The title for this program, "Skidatsucha Ishinomkai by JEN ", reflects JEN's wish to 'get many more people loving Ishinomaki and make life in Ishinomki more exciting. JEN is committed to continuing efforts to produce such a program that listeners begin to love Ishinmaki and can share a positive frame of mind. The program goes out live every Friday from 0:30 p.m. for thirty minutes. Listen to it! (Japanese only)
[Ajishirahama Bathing Beach to Open]
On July 19, Ajishirahama bathing beach has opened. Both on July 6 and 7, JEN Tohoku reconstruction assistance volunteers worked on cleaning up Ajishirahama bathing each and weeding mountain trails together with local residents. Having done the day's work, the volunteers had a get-to-know-you party with islanders at Gatsukou of Ajishima Island. Island life, marine products and this island's future the volunteers heard from and talked with the islanders about. Volunteer activities in Ajishima Island have just begun. JEN believes that it's necessary to look for a better future of the island, through deepening dialogues with islanders, continued activities there.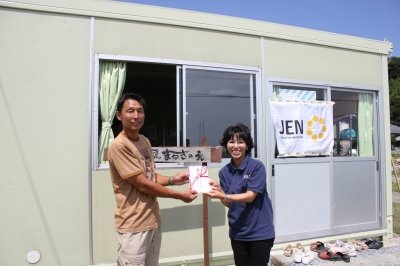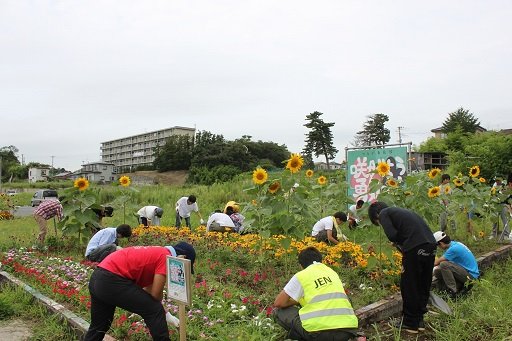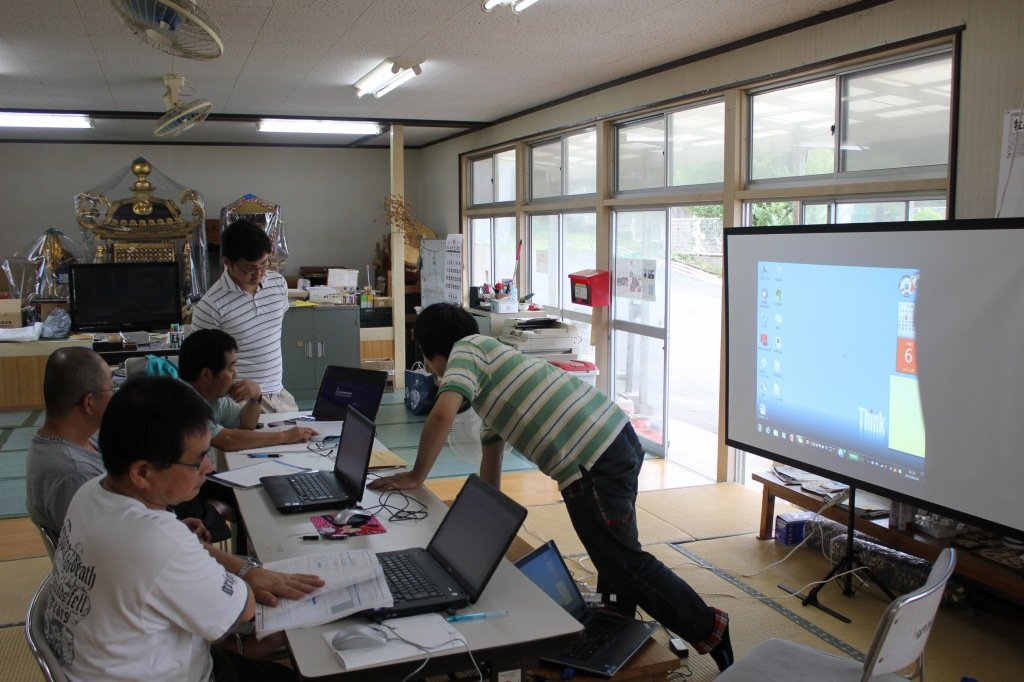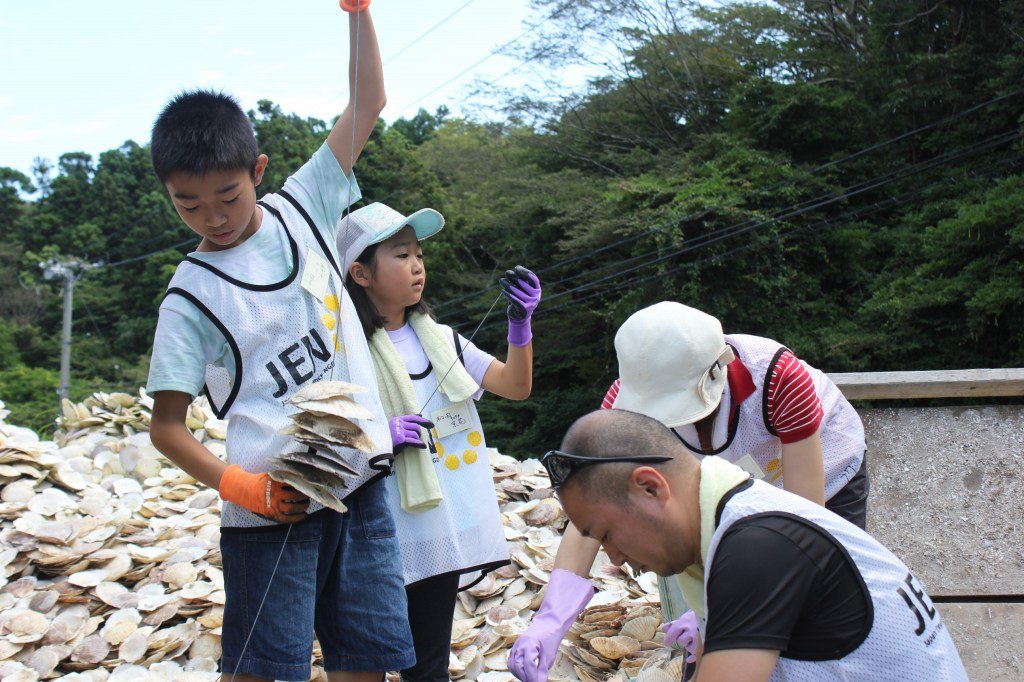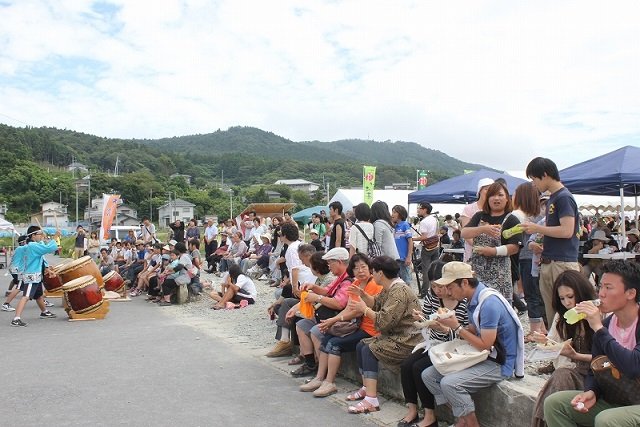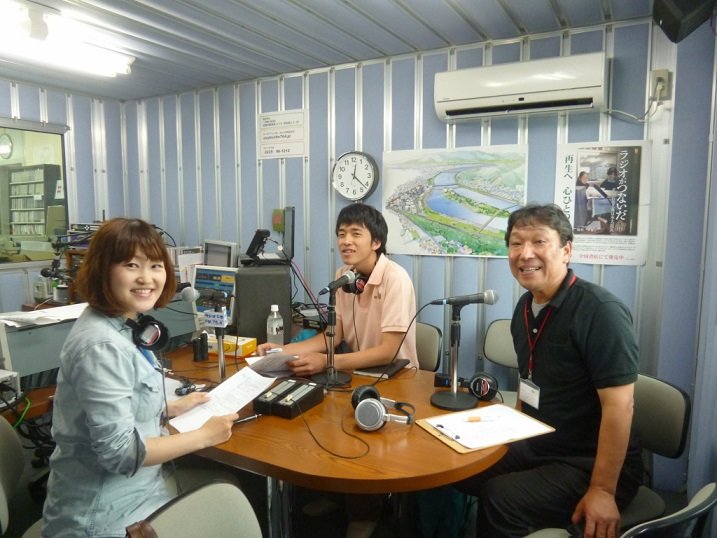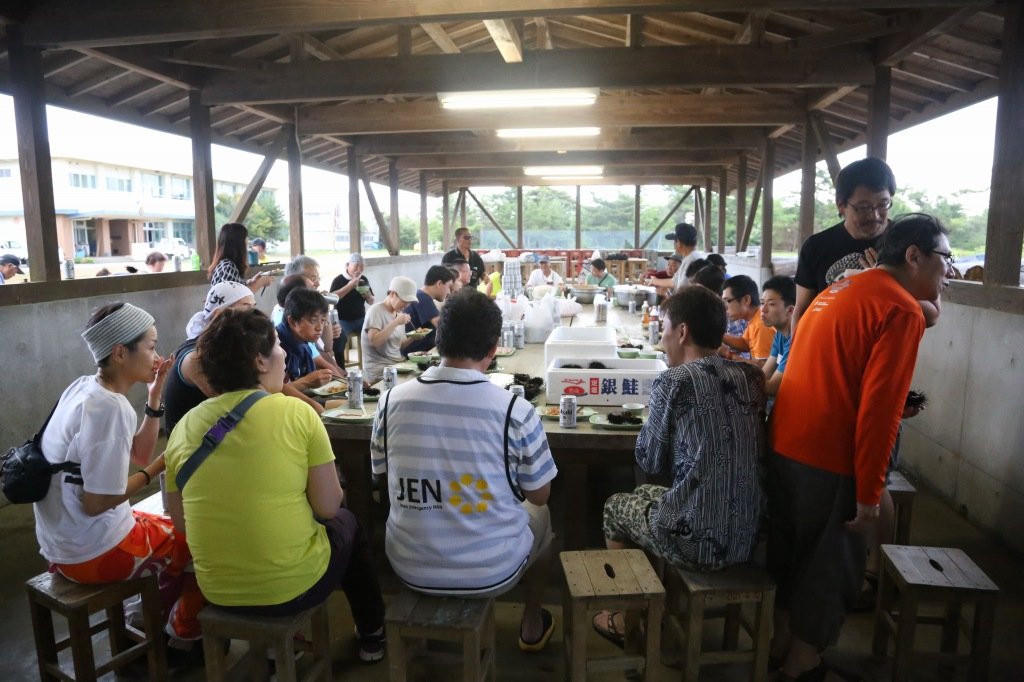 Links: