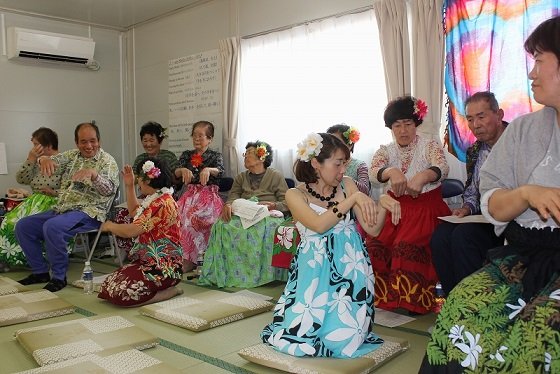 Project
Relief & Re-establishment for those affected by the Great Eastern Earthquake.

Target Area

Miyagi Prefecture, Ishinomaki City and nearby villages.

Activities during Apr, May & June, 2013.
Community Building in Ishinomaki
[Hula Dancing Classes for Evacuees]
Now, more than two years after the disaster, community rebuilding in Ishinomaki is more important than ever. JEN supports opportunities for the residents of Ishinomaki to come together and through group activities, begin the recovery process. For two days at the end of May, evacuees living in temporary housing complexes had the opportunity to attend a hula dance class. Sixteen evacuees attended the event, among them a 92-year-old woman. Although it was difficult for the elderly attendees to move their hips and legs, they still managed to wave their arms and hands with a smile. With both hair accessories and hula skirts on, the participants looked like they were in Hawaii. After the class, the participants came up and thanked JEN for the opportunity to exercise together saying, "I really enjoyed getting exercise, it has been a long time since I have been able to. Come back soon." JEN will continue to work on community assistance like this. Your support would be much appreciated.
[Craft Fair]
On May 4th, JEN helped put together an event in support of the women in Ishinomaki. Eleven organizations from around the area displayed their handcrafts, exhibiting an eclectic mix of bags, jewelry, and other handmade goods. The event was very well attended with over 200 people, from both within Ishinomaki and outside, in awe of the "eye-candy" shopping, leaving them in a dilemma of which items to purchase. Guests were very interested in how the goods were made, creating new relationships between local merchants and visitors. The event interactively engaged participants, with stations for children to make their own bags and weaving tables for guests to make coasters. The next event is expected to happen October of this year, with plans to expand and have even more peer-to-peer exchanges. After the event, the program coordinator received responses from guests expressing interest in selling their own goods that they've since been inspired to make. JEN is dedicated to supporting the women of Ishinomaki, if you are interested in participating or learning more, please contact our Ishinomaki field office.
[Blossoms in Ishinomaki]
In May the residents of Ishinomaki enjoyed watching the 13,000 tulips planted last October, bloom, adding color and life to the city. The local Kamikama neighborhood association hosted a potluck for local residents to converse and admire the flowers together. Residents noted that before for tulips, the town really lacked feelings of life. Without any flowers and plants, the city lacked a sense the seasons and time of year. The plants not only add beauty to the city, but also help generate community-bonding events such as the hanami flower-viewing picnic. Despite the previous concerns of ruined soil as a result of the tsunami, the flowers are flourishing under Ishinomaki's sun. Then on June 9th, volunteers worked to plow up the old bulbs and plant 13,000 new ones for the upcoming year. The bulbs that were plowed out were kept carefully in a safe place until the planting season next fall. About fifty volunteers joined the work, including leaders of the town's association, townspeople, and people from outside the town. Although it was a hard task in the strong sunshine, one of the volunteers from outside Ishinomaki said to us, "I had an opportunity to work with people in Ishinomaki while hearing their stories and exercising, so I had a great day."
JEN works on support programs to encourage community activities, promote restoration of farm lands, and so on. In doing so, JEN continues implementing support programs so that many people can associate with others and join together in recovering disaster-stricken areas.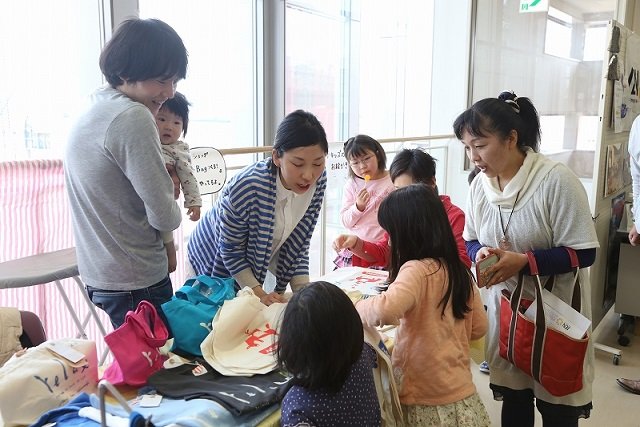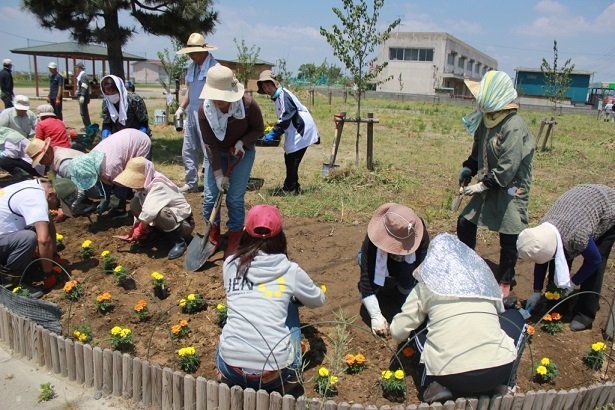 Links: