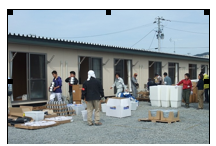 ◆ Project
Emergency Relief Activities for the affected by the Tohoku Pacific Area Earthquake
◆ Target Area
Miyagi Prefecture, Ishinomaki City
◆ Activities in May 2011
[Distribution of daily goods to temporary shelters]
Many houses were swept away by Tsunami and temporary shelters are being built by the government. In Ishinomaki, 8000 temporary shelters are planned to be built but it is on its half a way now. Local government prepare only the building itself. Red Cross is to prepare electric devices such as refrigerator, washing machine, TV.
JEN wish the people could start their daily life immediately after moving into the temporary shelters. Therefore we are preparing the daily goods, such as kitchen equipment and bedding consists of 56 items. Sorting out and distributing to each room is the work done by volunteers and locally employed part-time workers.
[Community Soup kitchen to Community Cafe]
JEN has started its soup kitchen in the evacuation center, which was located in secondary school in Sendai city. Then after settle down in Ishinomaki, we started a soup kitchen for people in Ishinomaki who eventually returned their house's second floor or above. (First floors are mostly destroyed by mud and sludge due to Tsunami)
We have called for groups of volunteers who have experiences and with the condition of could stay in the place for more than one week continuously. JEN intended not only providing the warm dish but warm communication to be established between the group of volunteers and locals. It exceeded our expectation. Soup kitchen volunteer groups have made a wonderful communication with the locals.
Now the number of places are increasing and covering entire city of Ishinomaki, gradually to be shifting into a "community café" where local people could gather, exchange information, chat over the tea, and receive massage which is provided by the volunteers. JEN is planning to open more than 10 community café by the end of this year. It is JEN's another psycho-social care assistance.
[Mud busters continue]
There are still large needs to clean the mud inside and outside of the houses. There are many volunteers who wish to lend a hand to the needs in the field. JEN has continued to coordinate volunteer activities in the field. There have been more than 2,398 volunteers who joined JEN's volunteering program (988 from JEN, 1410 from volunteer center). Base camp for volunteers is prepared since April.
Links: