Project Report

| Dec 23, 2021
DDing Dong (Rainbow Teen Safe Space) 30th letter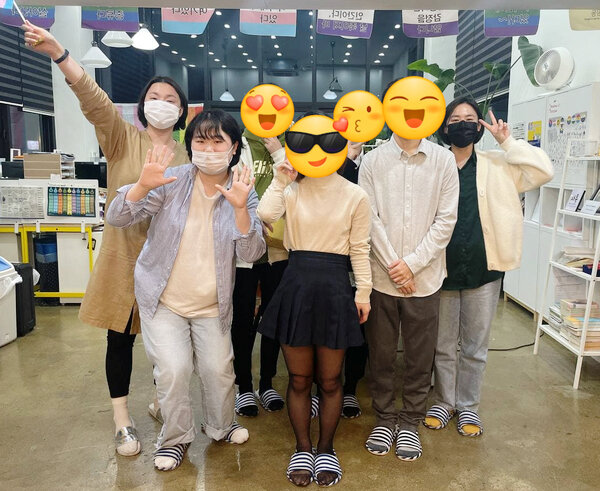 Check out the DDingDong news from August to December 2021.
#T_Go
Rainbow Navigation T_Go, a self-reliance program for transgender and genderqueer youth It is a program to provide necessary information and community experiences to transgender and genderqueer youth who are suffering from social prejudice and hatred. A special time for transgender/genderqueer youth who are struggling with gender identity and gender expression! We prepared 5 meetings where we could break free from the gender dichotomous frame and find a 'me' figure, expression, and life cycle together, practice the desired gender expression, and feel community experience, respect, and support.
#DDingDong PHOCHA
November 16th, Dingdong Pocha - Jongno area patrol
On the first Saturday night of every month, Ding-Dong and LGBT youth gathered at Ding-Dong Pocha in Jongno! Due to the spread of COVID-19, Dingdong Pocha has been suspended and the opportunity for meetings has decreased. The gradual recovery of daily life begins, and Ding-dong visited and investigated what the streets of Jongno look like now. I toured cafes and streets where many LGBTI people gathered, and distributed business cards and items to people to promote it.
With many people visiting Jongno, Insa-dong, and Ikseon-dong, the culture of LGBT youth gatherings seemed to have faded somewhat. Let Ding-Dong become a hill for young LGBT people! We will continue to provide counseling support and plan various programs and meetings in line with our daily recovery.
#DDing Dong Report
DDingDong aims to make changes so that LGBT people can be safe and comfortable in all youth institutions, including shelters, and to create 'Home PRIDE HOME', an alternative residential space for Dingdong that is open 24 hours a day. .
As part of the 'Home Pride Home' project, Ding-Dong conducted a basic survey on 'The Anxieties and Experiences of LGBTI youths leaving home'. Their concerns were shared, and the result report of Dingdong's Basic Survey on the Anxieties and Experiences of LGBTI youths leaving their homes was published.
We have sent this report to 147 youth shelters across the country where they can meet LGBTI youth in need.
#Activities to finance the Anti-Discrimination Act
In June, petitions for public consent demanding the enactment of the Anti-Discrimination Act reached 100,000. Although the National Assembly Legislation and Judiciary Committee is obligated to review the bill, it has not reviewed it for more than half a year, and even said that it would postpone the review until May 2024, the last of the 21st National Assembly term. Those in charge continue to delay the enactment of the anti-discrimination law, talking about 'social consensus', but 'we are society' that supports LGBTQ people and LGBTQ people! Dingdong is also participating in the campaign to enact a comprehensive anti-discrimination law as soon as possible.
"Young LGBTI people are here, stop 'later' and enact an anti-discrimination law that includes sexual orientation and gender identity!"