Project Report

| Mar 21, 2018
Radarami Update March 2018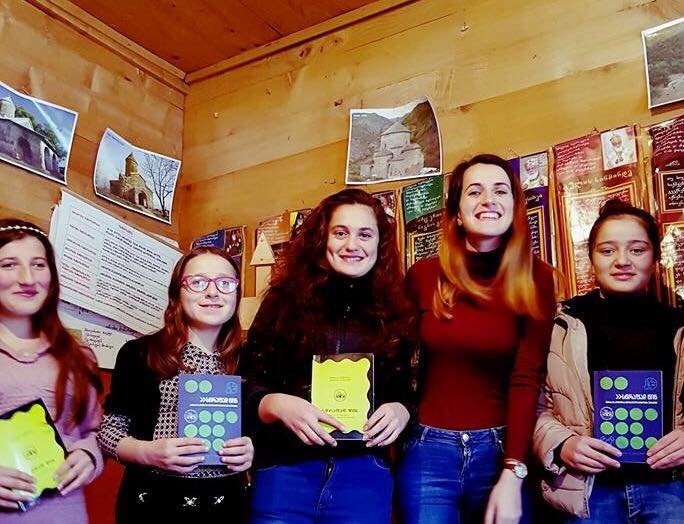 Dear Friends!
It has been cold several months since we last wrote you, finally it seems that spring warmth is almost here in Tbilisi. Radarami already has 19 translations of recent non-fiction topical bestsellers for intellectually hungry Georgians. Our mission is to connect curious readers with one another through our books. We have moved forward in establishing reading groups "Tabunebi" in Tbilisi and various regions of Georgia.
In December when we last wrote you, we were searching for the volunteer facilitators to organize meetings around our latest translations in their community. We found enthusiast from main cities such as Tbilisi, Rustavi, Poti, Kutaisi, Gori, Akhaltsikhe, Telavi and from small villages and cities that you probably have never heard of such as Niqozi, Shuakhevi, Khoni, Udabno, Tsalka, Kvareli. Radarami team members sent our gift packages to each of them, which included: ten books, Tabuni guidebook that includes tips and tool for organizing book discussion, notebooks, pens, stickers and Radarami tote bag.
Since then more than 30 meetings were successfully held and concluded with positive feedback from the members. In January 2018 we visited one of these book clubs in Niqozi, the most remote village under Georgian authorities, near the administrative border line in Tskhinvali Region. We discussed issues raised in our 18th translation "Nothing is True and Everything is Possible: Adventures in New Russia" by Peter Pomerantsev. Russian propaganda is very strong in this area, and it is of crucial importance to supply young readers with the new translation that would help them to widen their perspectives on the various issues.
During the last three months, Radarami distributed 871 books to various organizations, libraries and bookstores, such as the Biblus book-chain which extends over a 100 bookstores around Georgia, Laterna, Parnasus and Santa Esperansa, in addition to our Tabuni members.
As for the next book, since our vision in Radarami is focused on staying close to the community, we decided to pick a book that interacts with the ongoing social movements in Georgia. Our new initiative is to translate a book about the history of Cannabis. We believe that raising awareness about this controversial substance will create change for the lives of Georgian people. Please bear in mind, we do not aim to start any sort of propaganda or influence any opinion over another. We simply want to start an open discussion based on a very comprehensive book written by Martin Booth: Cannabis: A History. "To some, it's the classic "gateway drug," to others it is a harmless way to relax or provide relief from pain. Some fear it is dangerous and addictive, while others feel it should be decriminalized. Whatever the viewpoint, cannabis incites debate at every level, and the effect it has on every corner of the globe is undeniable". With upcoming hearing of the new law for drug policies in Georgia, this book will be handy in the discussion of what should we do about illegal substances, which policies have worked around the world and how should we Georgians deal with the drug use and addiction.
In order to see this project through, we would need around $10,000. Every donation matters!
The rest of world is having a conversation. We want Georgians to join in! We hope to translate, edit, and distribute many more books to Georgian readers.
Thank you all for your generous support!
With Best Wishes,
Radarami Team