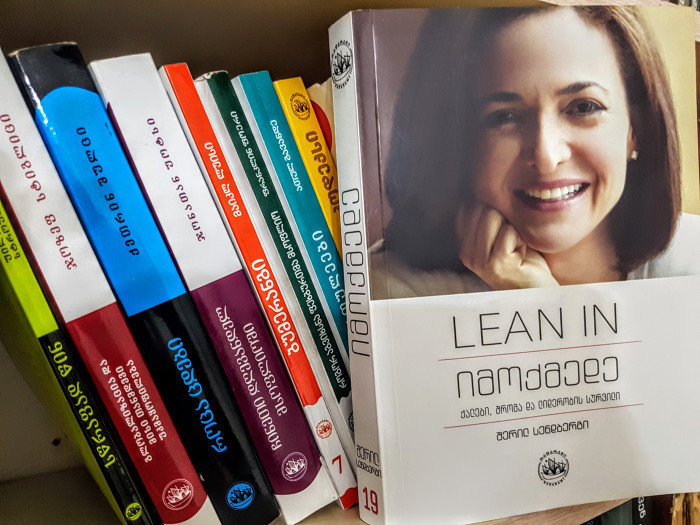 Dear Friends,
Holiday season is upon us once again! Happy belated thanksgiving to all of you celebrating. We are very thankful for each of your donations! Through those donations you've made it possible for Georgian readers to have an access to recent topical books and be part of the global conversations despite the language barrier. 'Tis the season, and as such, we'd like to give a little something back. We've come up with a few small, but deeply heartfelt gifts we'd like to give back as our little way of saying "Thank you" for your support.

And don't forget: these make great gifts for friends and family interested in the work you've supported in Georgia.

Donation - Our Gift to you

$10 - $30 - A thank-you postcard

$30 - $75 - A postcard plus a Radarami 2018 calendar

$75 - $150 - A postcard plus a Radarami 2018 desk calendar

$150 - $300 - All the above, plus a personal letter and picture from a Radarami reader in Georgian and English.

$300 - $500 - All the above, plus a Radarami tote bag*

More than $500 - All the above, plus we'll include your name in English and Georgian in our next publication's Special Thanks To section

*Tote bags might not arrive until after New Years in the US as one of our trans-Atlantic supporters has agreed to include them with his luggage on his US-bound flight home for the holidays.
And now to the news!
With lots of work and much patience, the 19th translation of the 'Read and Connect" series: Sheryl Sandberg's Lean In: Women, Work and the Will to Lead" is finally here! First published in 2013, The book soared to the top of bestseller lists internationally, igniting global conversations about women and ambition. The author draws on her own experience of working in some of the world's most successful businesses and looks at what women can do to help themselves, and make the small changes in their life that can effect change on a more universal scale. We are very excited to challenge Georgian readers on this issues.
The Radarami team first presented the book on October 26th, at the Georgian Presidential Palace, to a group of 70 entrepreneurs from various regions of Georgia where the President of Georgia, Giorgi Margvelashvili, was as well present. Traditionally, all the attendees got their free copies of the new translation! Shortly after, our representative was invited at the Business Morning Show on TV1hosted by Georgian business women and the head of the Farmers Association of Georgia, Nino Zambakhidze. Together we discuss the new translation and our vision with Georgian young winemaker Baia Abuladze, who is making her first bold steps as a young business woman.
Soon enough this book will be available to more than a hundred locations all around Georgia, in the bookstores, libraries, community centers and other social places. And don't forget that in bookstores it will be sold for as little as 2 Gel (that is less than 1$).
Our team also prepared two videos this autumn, targeted towards our readers. In this first video, we gathered famous journalists and writers from Georgia to raise awareness about the Russian Propaganda through promoting our 18th translation "Nothing is True and Everything is Possible: Surreal Heart of New Russia" by Peter Pomerantsev. And this second video summarizes our tour in the regions during the last summer and invites our readers to create Tabuni, Radarami Reading Group, in their own community. Through the Georgian version of our page, anyone can register in seconds, it is super easy. We have already gathered more than 50 volunteers who are eager to become facilitators for the upcoming book discussion meetings. We look forward to receiving feedback from them and we hope to keep supplying all the hungry readers with the new, thought provoking translations.
And all this will not be possible without your help! Thank you all for your continued support once again!

With Best wishes,
Radarami Team