Project Report

| Aug 30, 2017
Radarami Update August 2017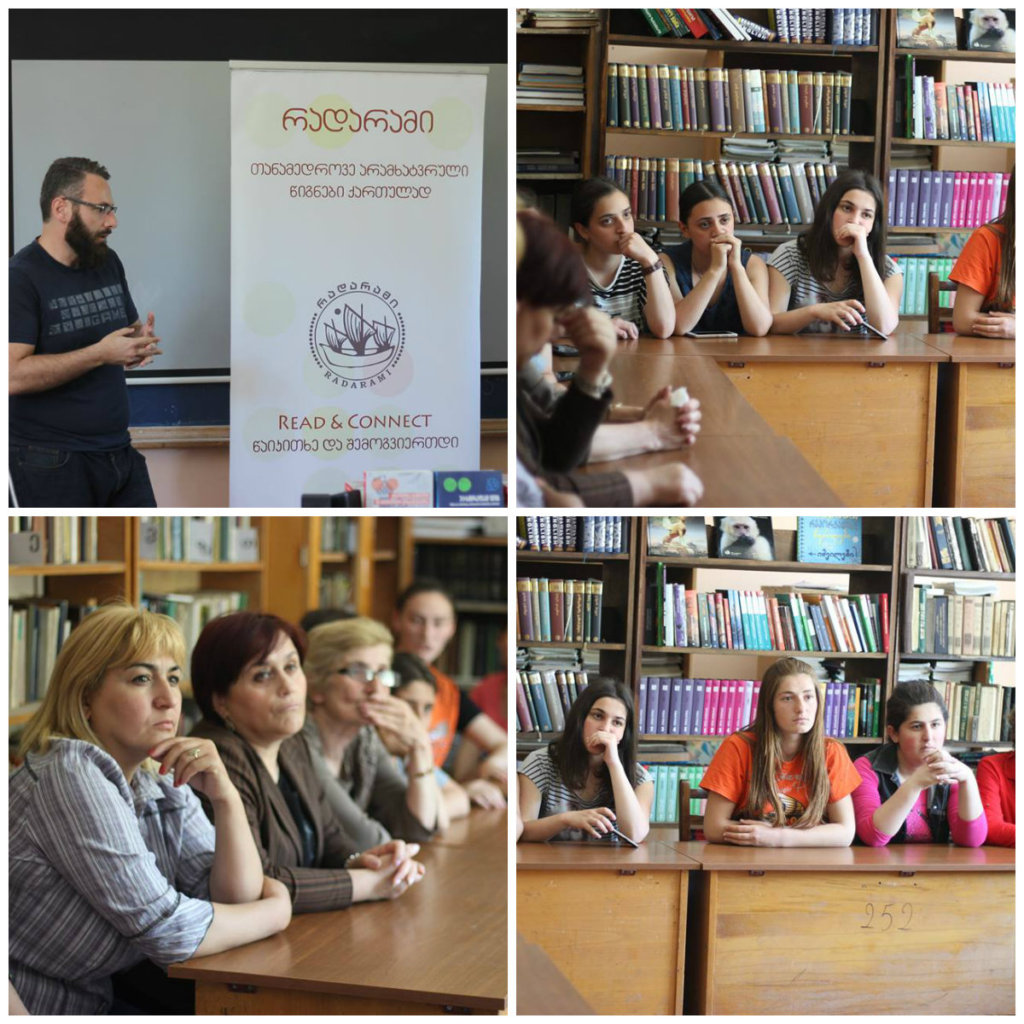 Dear Friends!

After escaping the heat of Tbilisi in the high mountains of South Caucasus, the main team members of Radarami are back and ready to heat up the printing of our number 19 book, Sheryl Sandberg's Lean In: Women, Work and the Will to Lead" in the Read & Connect series. Finally, we have everything ready, customized edition of the text for Georgia and completed with an inspiring intro from Nino Zambakhidze, chairperson of Farmer's Association in Georgia, speaking from her personal experience.

Some of our team members are still far away, traveling in the west Georgia and in the neighboring countries after busy summer journeys with our books and we are excited to tell you all about it.

This summer Radarami had 28 events and gatherings all around Georgia and distributed 1015 books with help of you, EWMI and Orbeliani Georgia.

Starting from the wine regions such as Kakheti, going all the way up to Racha, where some of the poorest communities in Georgia live and then traveling even higher to Svaneti, in Mestia and Ushguli, highest inhabited villages of Georgia. Radarami team engaged in rigorous discussions with local youth and readers about Russian Propaganda and Climate Change, corresponding to our latest translations "Nothing is True and Everything is Possible" by Peter Pomeranstev, "Oil and Honey" by Bill Mcckibben and 'Fast Forward" by William Antholis and Strobe Talbott (a reprint). Here are some messages from our readers to you!

"I am an activist and simply a lover of non-fiction literature, for me existance of Radarami is crucial. It is the only organization that translates books to my native language on the themes that are important to me. I believe it is with help of Radarami that many fellow readers know and talk about climate change, globalization, contemporary methods in child upbringing, traffic security and so on. That's why I hope Radarami continues to supply us with many more interesting books." - says Giorgi from Telavi, East Georgia.


"I love reading and sharing my emotions and thoughts about them later on. Few years ago, when I was visiting my Mom abroad, I was observing the books that are not translated in Georgian. Today I attended a meeting organized by Radarami and I am super excited! First of all books are super affordable, and in addition topics are very interesting. Thank you Radarami and everyone who makes this project possible." Thea from Senaki.

In addition, we would like to thank our driver, Tsira Kobeshavidze, who is a young lady with a powerful energy and fierce car. She dedicated her time and stamina to drive us more than 3000 kilometers across the country this summer!
And thank you all for your support! We are about to open a new project on Global Giving to crowdfund translation of a new book, so stay tuned!

With best wishes,
Radarami Team