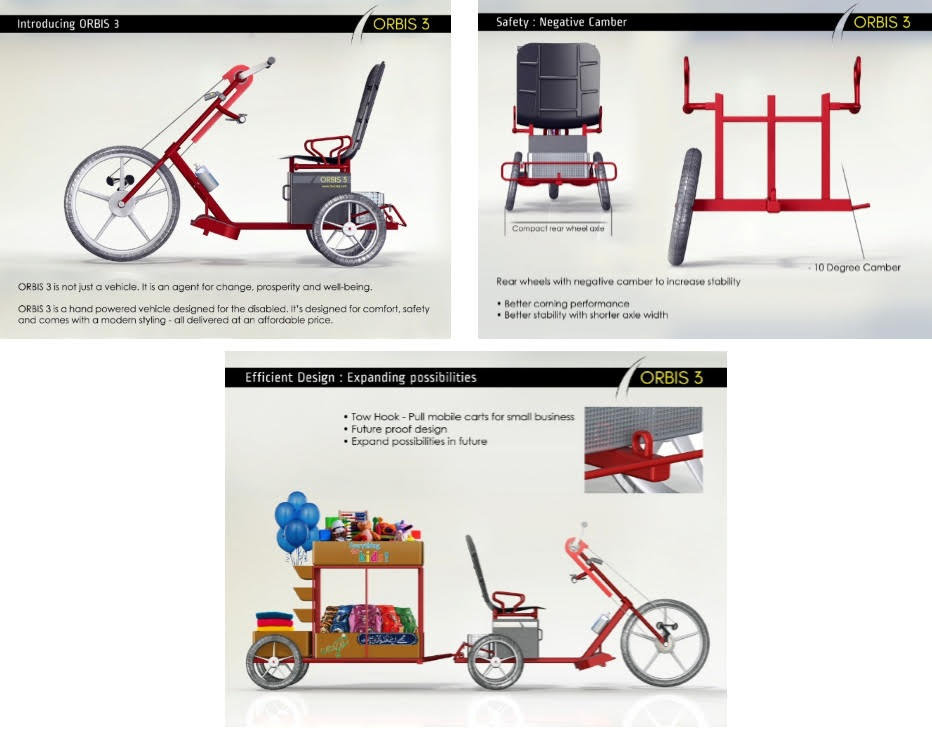 Dear Supporters, Greetings!
The past 3 months went by real quick as we pulled our socks to work on some very interesting aspects regarding mobility and accessibility for persons with disabilities.
We realized that not only does the accessible cycle prototype need to be built and external sessions delivered but there needs to be an internal space as a pre-requisite to the advocacy plan and also an information hub for mobility of persons with disabilities. An elaboration of each element is as below:
Prototype development and sponsorships: After the event recognizing winners of the accessible cycle design, we ensured the development of both prototypes (winning design by Taufeeq from Abottabad and most innovative design by Daim, Bayan, Ahsan and Danish - students of NUST Karachi) by our Design Implementation Partner – Automobile Corporation of Pakistan. While the winning design has been developed, the runner up design is under development and we wish to see that soon. Testing of prototypes will be done by a panel of experts locally and globally and we will also have our 40 deserving beneficiaries try it. This is essential to iron out any possible issues so that a world-class product is provided to persons with disabilities which facilitates their independence and empowerment instead of providing them with a temporary and defect-laden solution (which was the motivation behind this project as mentioned before). Simultaneously, it was vital to find partners from the corporate sector who would be willing to provide funding and visibility to us hence we reached out to 20 companies out of which we have 1 on board and are awaiting the other 2-3.
Wooden miniature vehicle replicas: As a token of appreciation for our supporters investing in the accessible cycle project, we decided to add accessible cycles to our wooden miniature vehicles fleet! Our vendor developed a very delicate and brilliant replica of the winning design and our team is working enthusiastically on adding decorative elements. Simultaneously, the rickshaw replicas decoration continued on an order basis. These replicas work best for decoration and workplaces and allow you to connect with a disenfranchised group of persons with great potential!
External and internal sessions: Given our experience from earlier public and formal sessions and the CHIEF survey, we decided to develop a comprehensive strategy that would allow us to better advocate the mobility of persons with disabilities. Hence we have decided to resume the public sessions as per usual but complement that with sessions at our office premises so that we are able to build a formal network of individuals and organizations that enable us to further our cause of inclusion and allow us to advocate better on the mobility front.
Information hub with mobility information for persons with disabilities: In the past we had developed a directory of information for persons with disabilities as part of the I Am Karachi Campaign. NOWPDP has decided to revive it, given its obvious advantages, and will include an essential component related to mobility of persons with disabilities. This includes everything from mobility aids, devices to assistive technology and services that are accessible/disability-friendly mobility wise. The aim is to highlight those products and services and keep adding more so that choice is there and persons with disabilities are at ease when it comes to fulfilling their mobility and accessibility needs.
Beneficary quotes, testimonials and stories
"We appreciate your efforts for the accessible cycle and are happy to support your organization. Hope you keep up the good work!", Maha from Engro Corporation (supporting the Accessible Cycle Project)
"Your organization is an inspiration and this talk was quite beneficial with the analogies drawn from the lives of persons with disabilities" – Azam, student at Karigar Training Institute who attended our session
"I am impressed with how well this special talent is engaged and what tremendous results are obtained. Wish you Godspeed"- Akber, Regional Manager at Ufone (regarding wooden miniature replicas)
We hope you follow what we try to do and look forward to your consistent support and love in making our journey of placing persons with disabilities in the driving seats of their lives, impactful!