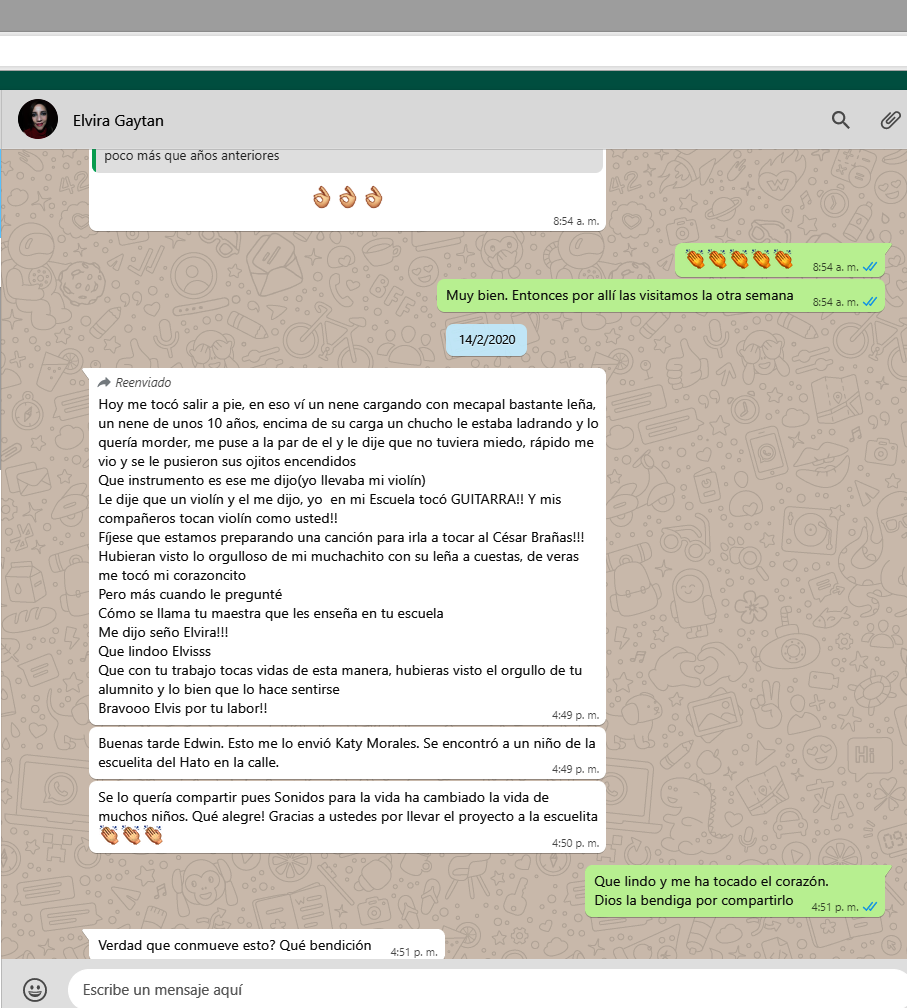 Recently, a renowned violinist from Guatemala, graduated from the National Conservatory of Music of this country, shared with a Teacher, who is a volunteer ofthe program of Soundsfor Life, ahistory thathas touched our hearts and shows us that the work that we are doing WORTH IT. It's amazing how music can influence the lives of children and young people, so we must continue to work.
Next, we share with you this brief but beautiful story...
"Today I had to go out on foot, in that I can see a baby carrying mecapal(mecapal – loop tool for heavy loads on the back) quite wood, a baby about 10 yearsold.In addition to his load, a CHUCHO (dog) was barking at him and wanted to bite him;I put on a couple of him and told him not to be afraid, quickly he saw me and his little eyes were on..
- What instrument is that? He told me. I was carrying my violin.
I told him a violin and he said:
- I, in my School play GUITAR!!And my classmates play violin, just like you!
Notice that we are preparing a song to go play her to César Brañas (An event hall from Antigua Guatemala, not a person)
You would have seen how proud my little boy (my dear boy)with his wood in tow.Really touched my little heart.
But more when I asked:
- What's your teacher's name who teaches them at your school??
- He said to me: Seño Elvira!!!
What a beautiful Elvisss
That with your work you touch lives thisway.You'dsee the pride of your little boy and how well it makes you feel..
Bravooo Elvis, for your work!"
When you collaborate with Sounds for Life, you are contributing to the many stories like this, which show that music does change the lives of children, of every human being.
With their contribution we can reach more than 3,000 children from at-risk communities, where opportunities for comprehensive education do not exist.
Continue to help us so that we can continue to do this work.
Thanks a lot.