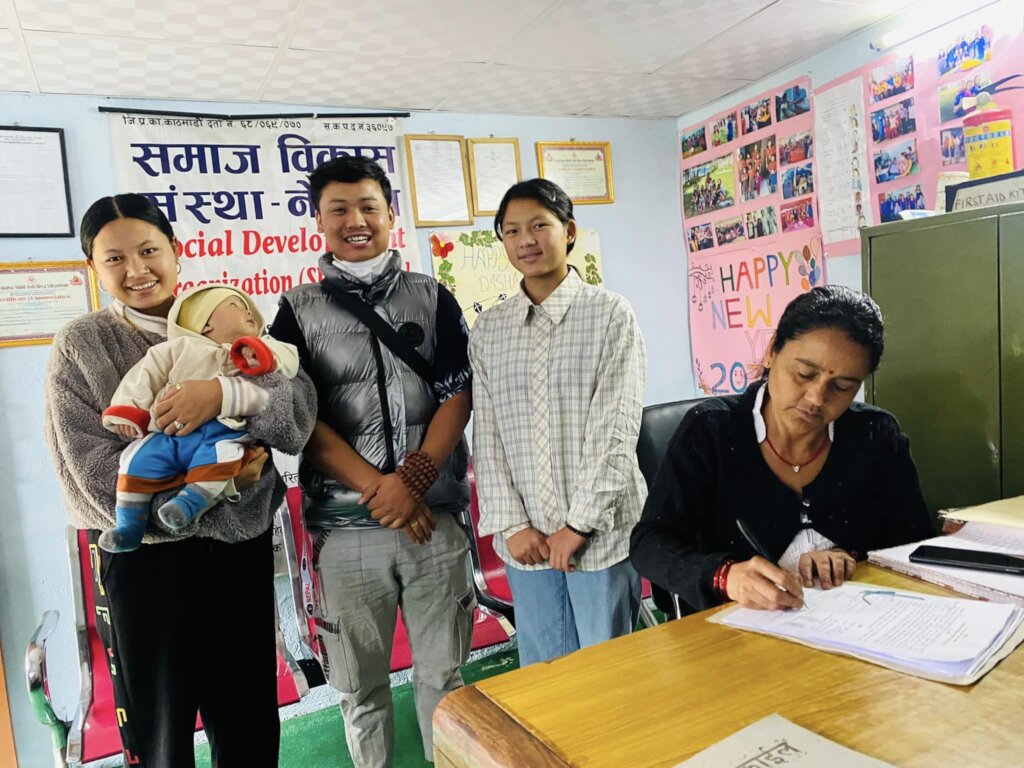 Dear friends,
Greetings, Namaste.
It's our great pleasure to share with you friends the FINAL REPORT of SDO-Nepal for the duration of August 2013 to 31 July, 2023 as follows:
Activities:
We are heartily GRATEFUL to all our valued and respected donors and GlobalGiving Team for your love, support, guidance and inspiration so that we are able to protect these needy orphaned and abandoned girls children since 9 years. Really, it's our great honor and achievement. Thank you all lovely friends for giving secured and new lives with good education to these girls. You are the parents, guardian and God to them and you helped to bring smiles on their faces. Every words are least to gratitude to you about your kind heart and support. Now, they know what is life, and how to choose best ways in their life. Now, the girls are studying at :
Saaraswati, class-12
Durga, class-10
Priya, class-9
Susmita, class-9
Karishma, class-8
Pemba, class-8
Srijana, class-8
Pratikshya, class-7
Roshani, class-7
Serfule, class-6
Sabita, class-5
We kindly inform you that, the Nepal government has recently launched "The operation guidelines of orphanage-2023" . According to this new regulations we were unable to fulfill the government requirements to run the orphanage as we needed at least 3 (three) times more budget than we have now, with funding pre-commitment from donors at least for 3 years. Really, it was very difficult situation to us to solve this problem in a very short time period.
So, our organization ( SDO-Nepal) decided to close orphanage in coordination/consultation with government organizations ( National Child Rights Council Nepal and Tokha Municipality ) in a legal ways.
Before it, we did situational analysis of all our children about their family status and possibilities.
Then, 6 Girls ( Durga class-10, Susmita class-9 ,Srijana class-8, Roshani class-7 Sabita class-5 and Serfule class-6) , who have no home, or families are unable to care their children or are unsecure to stay at their home village, for those girls , Nepal government took care the responsibilities and sent to another orphanage near to us who have enough funding.
5 girls (Saraswati class-12, Priya class-9, Karishma class-8, Pemba class-8, Pratikshya class-7 ) whose families/relatives are able to reintegrate, or girls may secured , for those girls we sent them and reunited with their own families/nearest relatives in presence of government authorities. To make their life easy , we SDO provided them stationery sets for 1 year, calculator, mobile, school bag, umbrella, mattress , blanket, pillow, bed sheet etc.All our 5 girls who were reunited with their families have now opened their personal MINOR-BANK ACCOUNTS on their home villages and we SDO-Nepal have deposited the 1st installment amount on their BANK ACCOUNTS which they can invest on fees/stationary/dress so that they can continue their education living with their own families. All the reintegrated girls are admitted at school on their home village and studying well.
As per government rules and regulations, we should support continuously to our reintegrated girls atleast for 3 years on their education costs as per our SDO'S capacity.
SDO also wants to support to other more underprivileged and needy children who are forced to drop off school due to the lacking of fees, stationery and school bags so that they can continue their school education, if we have more funds.
Our kind Gratitude and Acknowledgements:
We are always Grateful to our most-respected-DONORS for your precious DONATIONS through GlobalGiving to ensure the lives of these children !
ii) Similarly, we are also thankful to you all beloved friends for your love and support with cash, foods, cloths stationery and accessories at our office to ensure the lives of these children.
THANK YOU ALL!!
Dear friends, as per the consultation and kind advice from GlobalGiving Org, we are deactivating our present project today. You Know well, due to the Nepal government's recently launched "The operation guidelines of orphanage-2023" we were unable to fulfill the funding requirements and hence, we closed the orphanage and in the same time we are supporting reintegrated and underprivileged children to continue their school education living with their own families/relatives.
We are so glad to share with you all lovely friends that our NEW-PROJECT at GlobalGiving is approved i.e. - "Educate 150 underprivileged children at Nepal". Our new Project link is : https://www.globalgiving.org/projects/educate-to-150-underprivileged-children-at-nepal/
Through our new-project, we have to support on education atleast for coming 3 years to our reintegrated girls. Similarly, We also wants to expand our program to accommodate more underprivileged and needy children on tution fee, school bags and stationery sets so that they would not forced to drop off school lacking of these necessities and can continue their school education.
Dear friends, we hope, as always we will get your love, support , guidance and inspiration to our New-Project at GlobalGiving too.
Your every donation is precious and will bring the significant changes on the life of these children. We look forward for your love, continuous support, encouragement and hoping that you will spread your kind words to your lovely family and friends to support on this genuine Cause. Together, we will bring the "smile" on the faces of these innocent children.
Before closing, we would like to extend our heartiest thanks to GlobalGiving Team, Our valued Donors and Supporters who have been supporting to our children continously since 9 years !
Please take care and stay safe.
With kind gratitude !