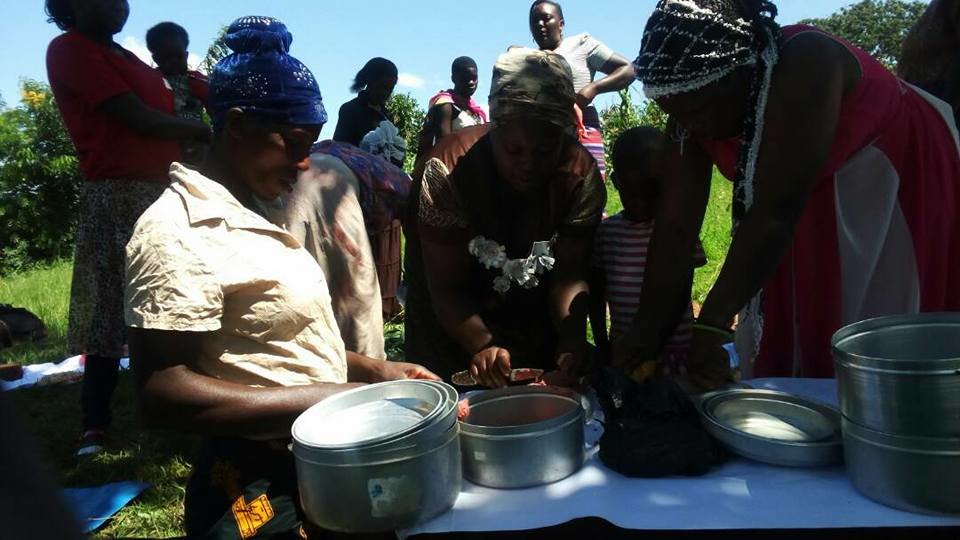 Ms.Josephine lives in Kafumu village, a village in central Uganda with beautiful, serene, undulating hills and valleys and is one of 9 villages in which Mountains of Hope intervened in Nutrition and Food Security Initiative. Like many other villages in the region, people in
Kafumu lacked skills in nutritious food preparations, establishment and management of vegetable gardens and small-scale agro-processing. Post-harvest losses were high and nutrient-rich foods of both plant and animal origin were lacking. Village members' knowledge about different forms of food preparations to help boost consumption of the celebrated nutritious foodstuffs was limited. Sweet potatoes, for example, were only eaten boiled and no other cooking method was used.
This inadequate knowledge about food contributes to the high levels of malnutrition in the region and country at large, especially among children under five and women of reproductive age. Vitamin A deficiency, Iron deficiency anemia and iodine deficiency disorders are some of the most prevalent micronutrient problems in Uganda. Josephine and all the other beneficiaries of Mountains of Hope interventions received information through community trainings on how to focus production on the micronutrient-rich orange-fleshed sweet potato growing alongside backyard vegetable gardening .
Although the community trainings resulted in Josephine producing a high volume of green vegetables, her consumption did not increase with this increase in production.
To expose Josephine to small scale household-based agro-processing methods, Mountains of Hope organized a farmer's field visit to one of the successful farmers in the District. Josephine was one of the 22people who participated in the field visit. She acquired hands-on skills in processing orange-fleshed sweet potatoes into nutritious and immune-boosting products like juice, bagiya, crisps, doughnuts, wine, flour, chapatti, as well as soap and body lotion and received hands on training on how to process vegetables from orange-fleshed sweet potato vines and how to mix orange-fleshed sweet potato juice with aloe vera to make an immune-boosting drink for people who were living with HIV/AIDS.
Mountains of Hope has assisted Josephine to make an action plan for training and passing on the skills she learned to the rest of the community members
"I nolonger visit the Hospital frequently, my children and my self nolonger frequent the Hospital, we look healthy, I can take care of my family, other organizations pay for my services when I go to train for them, my husband is proud of me, thank you Mountains of Hope" Josephine
"Mountains of Hope trained our own Josephine who also trained all of us. Had it not been
for the balanced diet we were trained to maintain, we would not eat orange-fleshed sweet potatoes as staple, use its vines as sauce and consume its rich-colored juice" Sandra-Community beneficiary.
"Our children love the vegetable products and products made from orange-fleshed sweet potatoes because of the attractive and appetizing color. Juice is very marketable when we prepare it at home and adults like it too". Zaitun-community beneficiary
"We are training and encouraging schoolsin Mpigi District that have school gardens to grow yellow potatoes, we will help them to process it into flour to enable pupils take nutritious yellow porridge for lunch at school" James-Executive Director,Mountains of Hope
In 2000, Uganda recorded that 28 percent of children below five years and 52 percent of the women in reproductive age were vitamin A deficient. Increased consumption of vitamin A –rich and home-made products is a big stride in the right direction. The beauty of this approach is that communities are empowered to autonomously conduct such practical
sessions. Josephine possesses the knowledge to train her fellow community members even without Mountains of Hope, making the chances for continued improvements in nutrition likely.
There are many success stories of this kind that have resulted from your donations to our projects through Globalgiving, next year, Mountains of Hope has planned more sustainable community interventions that will enable even more families to be self sustained, do you want to change another life in these communities? Will you donate again?