Project Report

| Aug 6, 2021
Elderly Mothers show us the Way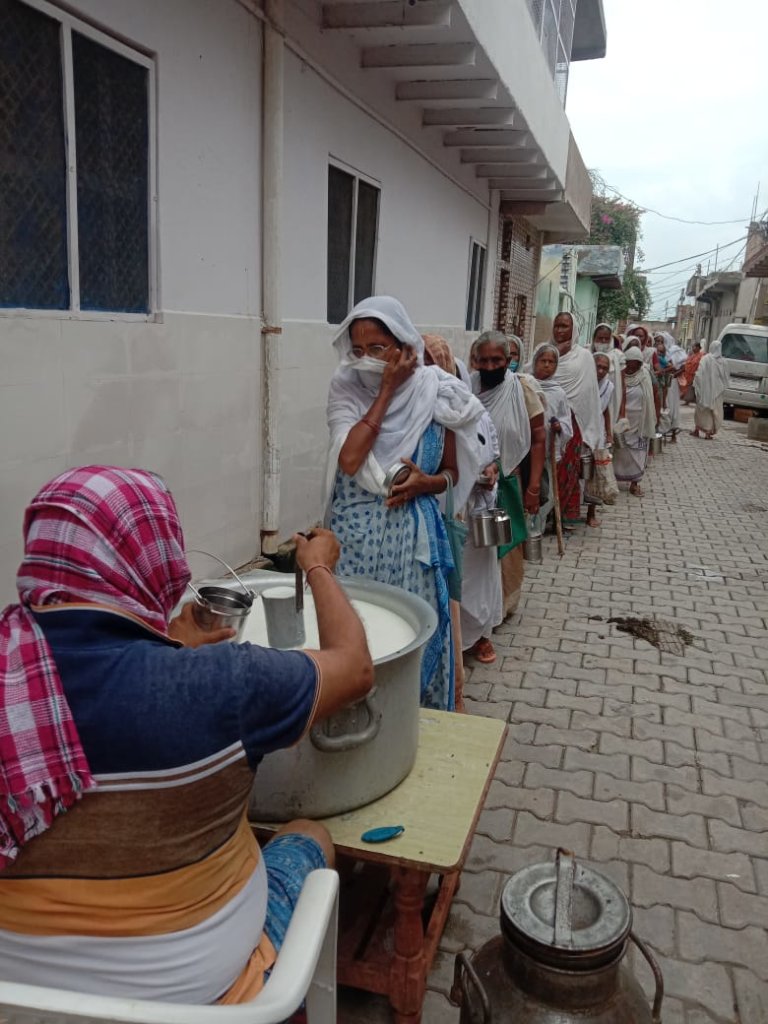 Dear Maitri Friend,
We hope all is well and you are keeping safe during these unprecedented times. Thank you for your continued support to MaitriGhar, the old age home for widows in Vrindavan and Radhakund. Through your act of kindness, we are able to ensure care and support for the abandoned, ageing and destitute widow mothers with shelter, food, clothing, and healthcare. Being happy and healthy at an old age and time where the world is grappling with Covid is burdensome and demanding, yet elderly widow mothers staying in Maitrighar have adopted new way of living, inspiring others to learn and follow.
While many places in Vrindavan and Radhakund have been impacted during COVID, we have ensured that all mothers are safe and looked after. In addition to all the steps taken by our team, we ensure that all activities continue to create a positive environment and bolster the spirit of mothers. Elderly mothers are adapting to necessary habits for transitioning toward an era of permanent changes in the way they live. The elderly mothers have showed us that one is never too old to learn. From reorienting themselves to a new lifestyle routine fraught with new risks, adhering to a new healthy precaution, wearing masks, to practicing every safety measure, the elderly mothers have changed their daily routine to accommodate the new norms. With regular yoga and breathing practices, the mothers proactively look after their health. They have followed every safety measure and while most humans have the COVID fatigue, widows at the MaitriGhar widow ashram, every morning, to the sound of Bhakti Sangeet, and kirtan do yoga and walk in the small little garden., and while not letting go things that are essential to their daily routine like good health & nutrition, physical activities, and prayers has been a constant struggle.
You will be happy to know that we have completed the second round of vaccination and all 300 mothers have been vaccinated. "We have remained inside our ashram for more than a year and we followed all restrictions and measures, and now we are glad that we are finally vaccinated against COVID" said a 81-year-old resident mother.
In the last quarter, widow mothers celebrated International Widows Day on 23rd June 2021, in Vrindavan and Radhakund. The day reminds us of the opportunity for action towards achieving full rights and recognition for widows, Its a reminder for the entire team of Maitri to see as to how far we have come.
With your support, Elderly widows in Maiitrighar are provided with :
Nourishing meals (Lunch and Dinner)
Daily milk and fresh fruits
Regular health check ups
In-house nurse and doctor for aftercare
Counsellor for mental health care
Group Therapy and counselling; Activities like Yoga and Kirtan
Access Identity Cards necessary for accessing state benefits
Connect to banking facility with zero balance
Access widow's pension scheme provided by the state
Enough warm clothing to face cold and damp season ahead
New sets of sarees and other essentials.
The wisdom, strength and resilience of our elderly mothers coupled with the dedication and care of our team members has helped us to successfully stave off the pandemic. While there are still many challenges, but we look forward with new hope and gratitude. Prior to the pandemic, we used to see a stream of visitors, Samaritans would visit the elderly and interact with them. Donations and distribution in kind kept the hearth burning, but Covid has created a vacuum of resources and it is only through support of friends and well-wishers like you, that we are able to navigate through these times of crisis.
Your support during this time of crisis forms the backbone of our elderly care programme. Never before has it been so important to know that we are all in this together. It is only with your compassion and support that we are able to reach out and bring joy and laughter in their lives. You make a difference to the lives of the widow mothers in MaitriGhar. We want to assure you that despite all challenges, all activities will continue to keep the mothers safe and healthy.
Their faith has brought us so far; your support will take us further.
Thank you for being our pillar of strength! Gratitude and Blessings.