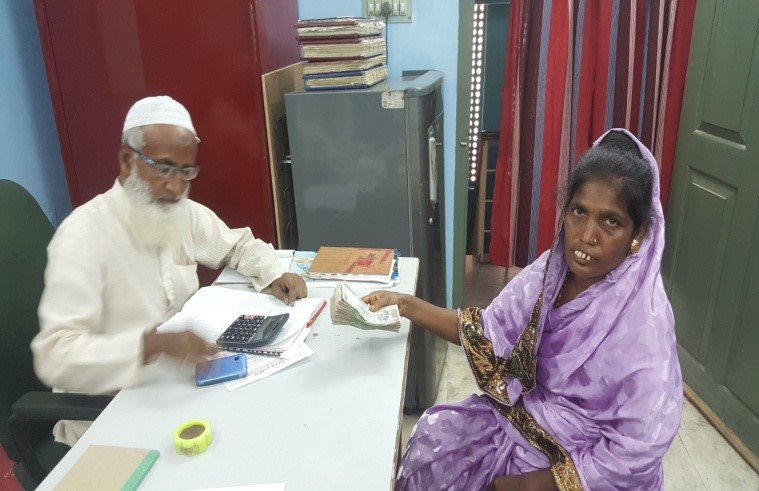 Soni, a widow, resides in a small hut beside the dirty canal in Topsia. She has to work day and night to meet the expenditure of the family through rag picking. But since the Kolkata Municipal Corporation installed huge compactors around the city, there is much less waste for this vulnerable and marginalised commuity to live off. These days Soni barely clears 100 - 150 rupees a day (less than £1.40). Once again food prices are rising in India, placing yet more pressure on society's poorest.
Soni's only son has recently started a small business. He has a sound box with mic which he rents out for special events in the community. In this way, he is able to help his mother. To grow the business, and make a decent living they need to buy a DJ Box with other electronic gadgets which will eventually increase the revenue. They applied for a bank loan but bank rejected their loan request as they are rag pickers and there is no guarantee of income. Depressed and frustrated they didn't know which way to turn.
In this challenging situation, Global Giving fund came as a sigh of relief for both of them. This fund will help them to grow the business. They got 12000 rupees (£110) with which they will purchase the DJ Box and other electronic gadgets. Now, they are happy. They can earn enough to keep themselves as well as to invest further in the business. Your donation through Global Giving was the game changer in their lives and they never imagined that resources from UK would open the doors for them when the banks in India have shut the doors for them.
Many families have now benefited from this project.
Total No. of families covered: 72
Total Amount Disbursed: INR 753184 (£8000 approx)
Type of business covered: Cycle rickshaw, cycle van, selling new clothes, cobbler shop, selling female accessories, sewing machine, DJ box with music system, selling fruits, tea stall, jhaal muri selling (popular junk food), vegetable (grocery shop) selling, satoo selling stall, imitation jewellery selling door to door, buying scrap-making and selling slippers, bangle shop, selling bangles door to door.
Please follow us on Facebook for more stories.
https://www.facebook.com/tiljalashed/