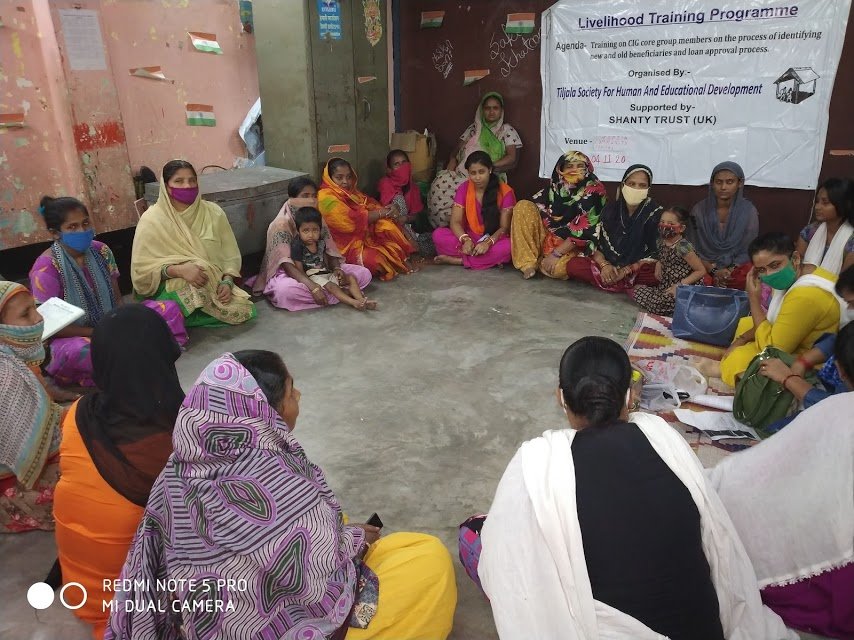 Livelihoods were the first casualty of India's lockdown. The informal sector – street vendors, rickshaw drivers, domestic helpers, beggars, rag pickers, tailors and all those who work for a daily wage – were suddenly unable to work. Most of the women on this project were among this group. Fledgling businesses failed and the loans taken out were used to feed hungry families or pay medical bills. Fortunately for these women the loans came from you, administered by a humanitarian NGO, Tiljala SHED. Repayments have been forgiven or delayed.
In the report below, you'll see how the programme is picking up again and more loans are being administered. It is now more important than ever that our beneficiaries can set up or build their small businesses and become self-sufficient. We continue to insist that the children remain in education as a condition of joining the programme, so that the next generation is even more resilient.
A report from the field:
Livelihood Programme Report for The Month Of October to December 2020
The livelihood had 16 trainings as per their quarterly plan (Oct to Dec 2020) but could do only 8 trainings during this period. The planned activities got affected due to the huge fire disaster that took place on the 10th of November 2020 at Topsia, one of our target areas where we work with our beneficiaries. Many of our beneficiaries and other poor population residing along the canal side in squatters were severely affected as all their belongings burnt into ashes. The people could only save their lives. Many of the Tiljala Shed staff including the Livelihood program staff were involved in relief work to these fire victims. As it is they were mostly hit by the Pandemic Covid 19 and super cyclone Amphan which had shaken them financially leaving them without any source of income. There were lot of distribution of the essential things done trying to bring them back to their normal lives.
Altogether 8 trainings were done on CIG, core group members on the process of identifying new and old beneficiaries and loan approval process (standard operating procedure).
In these meetings there were discussions about repayment of loan and disbursement of new loan to old beneficiaries. Beneficiaries requested for more time to be given to them for repaying the loan amount as they are struggling for their daily bread. People have lost their job and many had loss in business which they were doing due to Covid 19. The livelihood team has shown some leniency by allowing them to repay in small amount of the monthly installment as and when they are able to so that they can repay their debts.
A donation of £250 is enough to help a destitute woman set up a small business, to give her financial power and the ability to support her family.
Thank you