Project Report

| Jun 9, 2016
2016 U.S. Presidential Scholars, New Leader for YoungArts, YoungArts Miami and New York Recap
By Bohne L. Lipsey | Development Services Assistant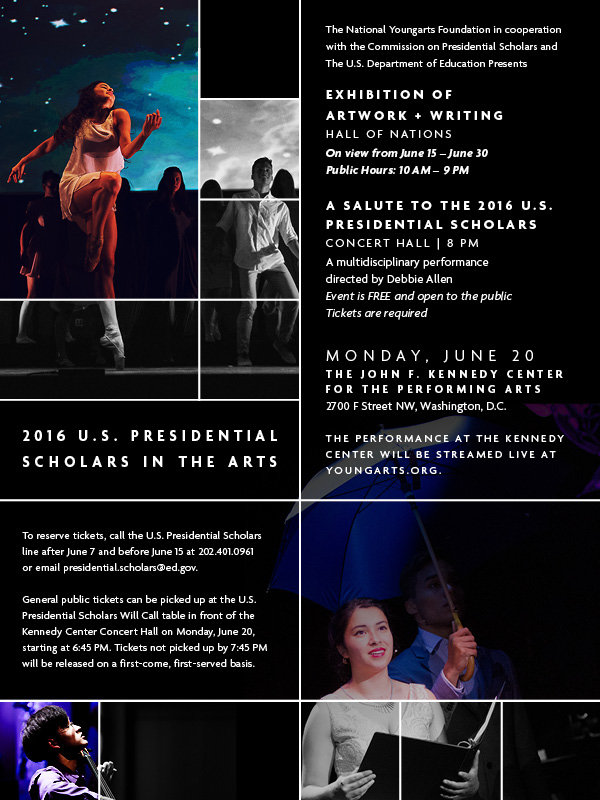 June is an exciting month for the National YoungArts Foundation as it celebrates the 20 U.S. Presidential Scholars, welcomes its new President and CEO, and looks back on two successful regional programs in March and April.
2016 U.S. Presidential Scholars Announced
The National YoungArts Foundation (YoungArts) congratulates the 52nd class of U.S. Presidential Scholars, announced by U.S. Secretary of Education John King. The 20 U.S. Presidential Scholars in the Arts—one of the nation's highest honors for high school students and all of whom are YoungArts Winners—were nominated to The White House Commission on Presidential Scholars for their artistic achievement, and selected based on academic and artistic accomplishments, leadership responsibilities, community service and outreach initiatives, and overall creativity.
The award, presented on behalf of the President of the United States, symbolically honors graduating high school seniors of high potential and recognizes up to 161 students each year as U.S. Presidential Scholars. The 2016 U.S. Presidential Scholars in the Arts are actors, dancers, singers, classical musicians, visual artists, designers and writers, and joining YoungArts alumni and leaders in their fields such as Tony Award-nominated performer and choreographer Desmond Richardson; Los Angeles Music Center President Rachel S. Moore; novelist and National Book Award Finalist Allegra Goodman; Grammy Award-nominated violinist Jennifer Koh; BRAVO's "Work of Art" winner Abdi Farah; OBIE Award-winning actress Donna Lynne Champlin; and RCA Records award-winning singer/songwriter and Grammy Award-nominated artist Chris Young.
"This year's class of Presidential Scholars continues a more than 50 year trend of honoring students who have shown excellence in their educational, artistic and civic pursuits," said U.S. Secretary of Education John King. "Thirty years ago, the program was expanded to include students in the arts, which is critical to providing students with a well-rounded education." The National YoungArts Foundation, in cooperation with the Commission on Presidential Scholars and The U.S. Department of Education will present an exhibition of scholars' artwork and writing, as well as a multidisciplinary performance and salute to the 2016 winners.
New Leader for YoungArts
On May 2, 2016, the Board of Trustees of the National YoungArts Foundation announced the appointment of Carolina García Jayaram as President and Chief Executive Officer. Ms. García Jayaram comes to YoungArts from United States Artists (USA), one of the nation's largest grantmaking and advocacy organizations supporting performing, visual, media and literary artists, where she has served as President and Chief Executive Officer since 2014. Among her other achievements at USA, Carolina oversaw the formation of a new Fellows Alumni Advisory Council, the establishment of new partnerships with leading national organizations and festivals and the production of USA's annual two-day convening, the Artists Assembly.
Ms. García Jayaram said, "The establishment of the campus in Miami, the expansion of the program's outreach into other cities, the involvement of magnificent artists as advisors and role models—all this and more has made YoungArts the organization to watch. I'm extremely proud to have been chosen to advance YoungArts in realizing its indispensable mission."
Recap: YoungArts Miami and YoungArts New York
The National YoungArts Foundation's 2016 YoungArts Miami program (March 8 to 13) and YoungArts New York program (April 12 to 17) offered YoungArts Winners, selected from a record 12,000 applications from emerging artists ages 15-18 (or in grades 10-12), the rare opportunity to learn, connect and collaborate with fellow peers and luminaries in their artistic fields. During YoungArts Miami, participants worked with renowned artists including director, producer and creator of "The Technique" Joan Scheckel, YoungArts alumni Yara Travieso (2005 Winner in Dance) and Jen Waldman (1993 Winner in Theater), who offered them support, mentorship and encouragement to pursue their passions and careers in the arts. These promising young artists also had the chance to share their talents with the public through multidisciplinary performances, writers' readings, a cinematic arts screening and a visual arts exhibition on the YoungArts Campus and at The Colony Theatre on Lincoln Road.
YoungArts New York included interdisciplinary workshops, seminars and master classes with renowned leaders in their fields such as Derrick Adams, Carla Dirlikov Canales, Joan Lader, Joan Morgan, Adesola Osakalumi, Sir Salman Rushdie, and Conrad Tao, among others. During YoungArts New York, participants also shared their talents with the public through a series of performances at Baryshnikov Arts Center (BAC), curated by BAC's Artistic Director and legendary performer Mikhail Baryshnikov, BAC's Artistic Administrator Pedja Muzijevic, and Grammy Award-winning violinist Christian Hebel.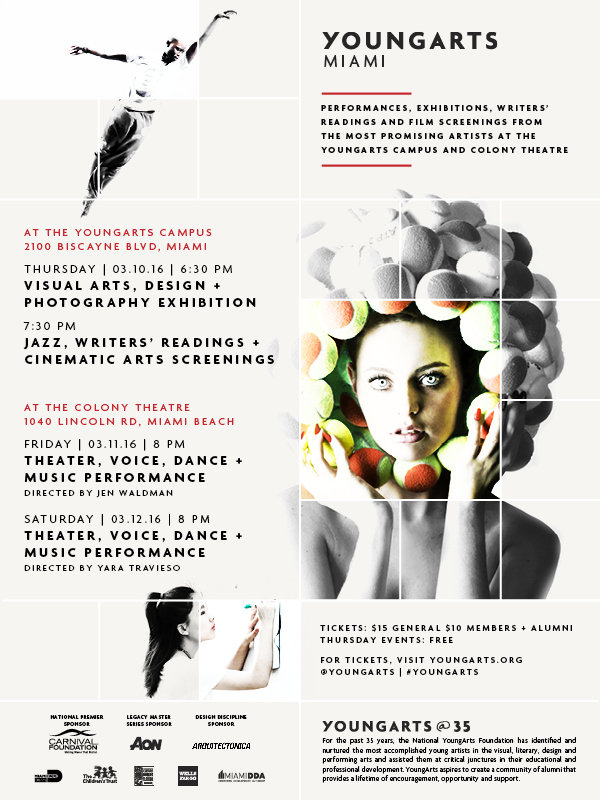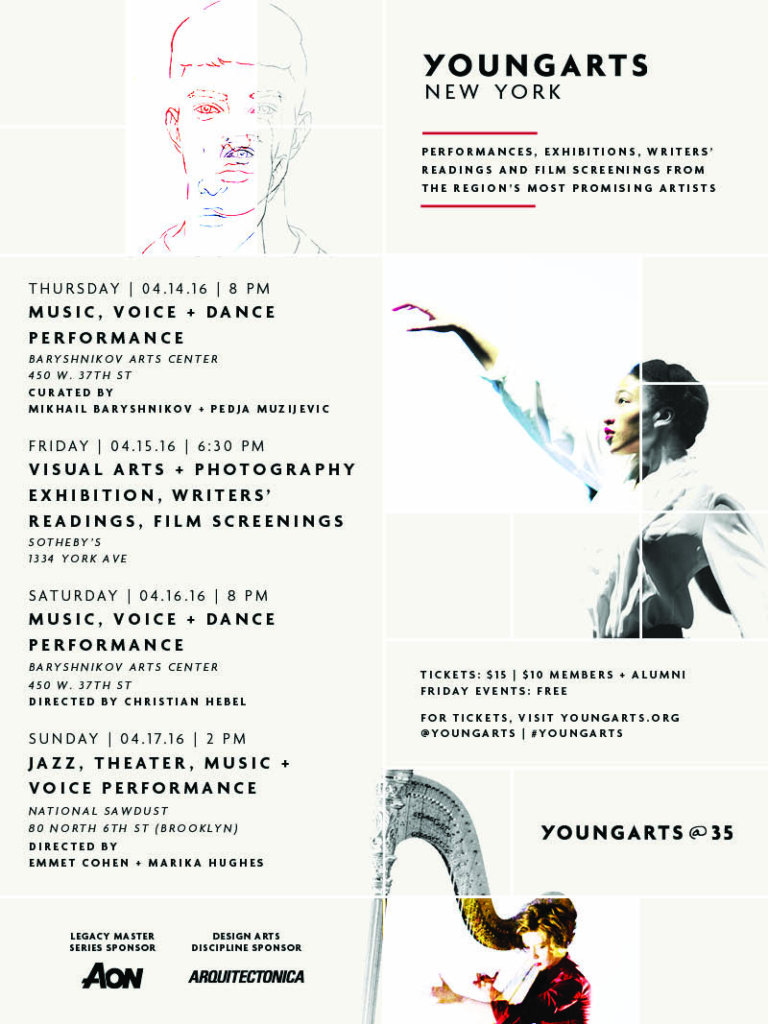 Links: