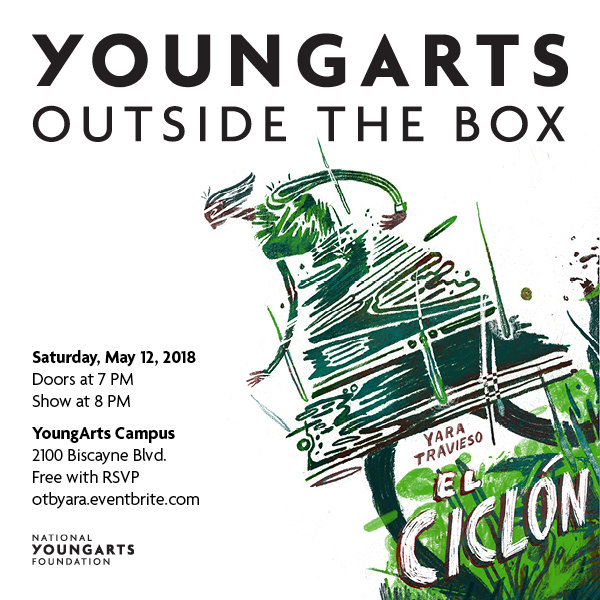 Happy May! As we approach the end of a wonderful season here at YoungArts we look back on the success of our stellar regional programs in Miami, Los Angeles and New York and look forward to several exciting programs on our campus in Miami to close out the year.
YoungArts Regional Programs Recap
YoungArts Miami (February 2018), YoungArts Los Angeles (March 2018) and YoungArts New York (April 2018) showcased the work of the talented 2018 YoungArts Winners. From performances in Miami at the Miami Theater Center, a visual arts showcase at Building Bridges in Santa Monica to an exhibition opening at MoMA PS1, these three regional weeks were packed with cross-disciplinary collaboration and learning opportunities for these young artists.
Applications open June 2018!
Applications to become a 2019 YoungArts Winner will be accepted from June 5, 2018 through October 12, 2018. Young artists between the ages of 15 and 18 or in high school grades 10-12 across the nation are encouraged to apply online at http://www.youngarts.org/apply.
The YoungArts application consists of ten disciplines to which young artists may apply: Cinematic Arts, Dance, Design Arts, Jazz, Music, Photography, Theater, Visual Arts, Voice, and Writing. YoungArts Winners are selected annually through a blind adjudication process and are designated into three categories: Finalist, Honorable Mention, and Merit. Finalists are eligible to participate in National YoungArts Week in Miami in January 2019, and all Winners are eligible to participate in one of YoungArts' regional programs – YoungArts Miami, YoungArts Los Angeles and YoungArts New York – space permitting. In addition, Finalists and Honorable Mention Winners receive monetary recognition from YoungArts. YoungArts Winners have the chance to work with renowned mentors, such as Marina Abramovic, Mikhail Baryshnikov, Plácido Domingo, Frank Gehry, Jeff Koons, Wynton Marsalis and Robert Redford; receive cash awards of up to $10,000; gain access to significant scholarships; be recognized as a U.S. Presidential Scholar in the Arts (YoungArts is the exclusive nominating agency for this high honor for artistically-talented graduating high school seniors); and perform and exhibit their work at some of the nation's leading cultural institutions, including the John F. Kennedy Center for the Performing Arts (Washington, D.C.), MoMA (New York) and New World Center (Miami).
Outside the Box : El Ciclon (May 12, 2018)
National YoungArts Foundation's signature Outside the Box program returns with "El Ciclón," created by YoungArts alumna and director, filmmaker and choreographer Yara Travieso (2005 Winner in Dance). Described as a "wild neo-feminist mythology trapped inside a 1950s B-movie psychological thriller with singing, dancing, and just enough alligators" by Travieso, "El Ciclón" is a multidisciplinary transmedia story about protagonist Ava, who finds herself in a precarious situation facing an impossible moral decision. "El Ciclón" is a one-night-only performance on Saturday, May 12 at 8 p.m. (doors open at 7 p.m.) that will reimagine the YoungArts Plaza at 2100 Biscayne Boulevard as a South Florida swamp. This program is free and open to the public with RSVP to otbyara.eventbrite.com.
Please see below for a comprehensive list of upcoming calendar dates for the season. Be sure to check our website at www.youngarts.org for the most up to date information on programs and events.
Upcoming Alumni Programs:
May 12, 2018 | Outside the Box, El Ciclon by Yara Travieso
June 4 – 9, 2018 | In Process: Homecoming with Cat Garcia-Menocal