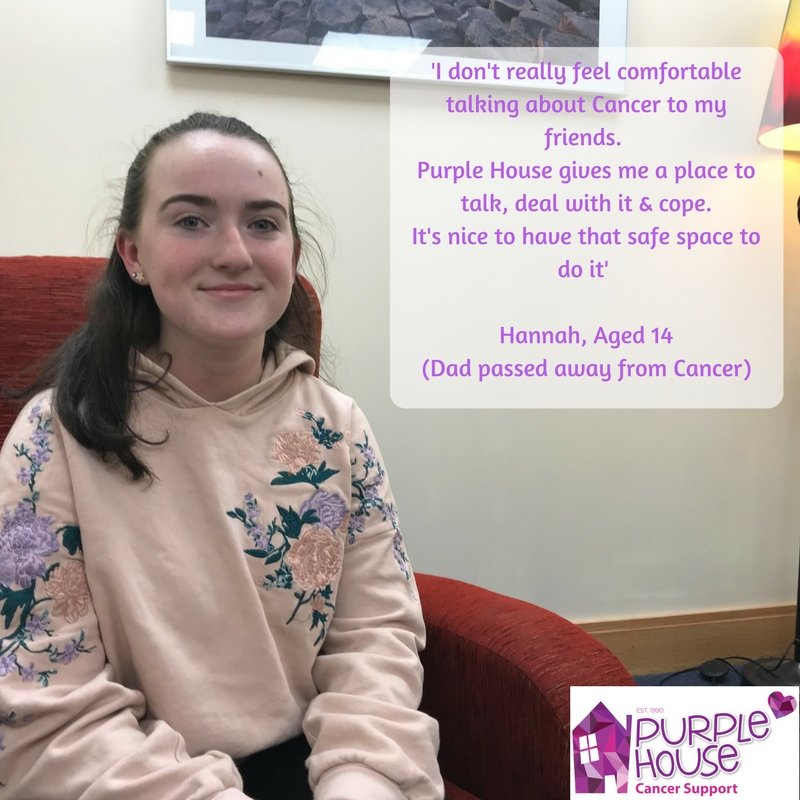 As we head into the Summer months, we would like to take this opportunity to say Thank You for your amazing support to Purple House Cancer Support.
Thanks to your support, we have been able to help 44 newly diagnosed families so far this year.
A Cancer diagnosis can turn a family's world upside down and with your help, we are able to give families the tools to cope with the shock of a Cancer diagnosis.
These tools are provided through our free services including Counselling, Our Cancer Support Centre in Bray Co. Wicklow, our complimentary therapy service, our classes, our rehabilation programmes, our survivorship programmes, our hospital transport services and our children's services.
One of the people we support is 14 year old Hannah. Hannah's dad passed away from Cancer and thanks to your support, Hannah says:
'I don't really feel comfortable talking about Cancer to my friends. Purple House gives me a place to talk, deal with it and cope. It's nice to have that safe place to do it.'
We recently launched a campaign called 'In It Together' and the aim of the campaign is to highlight the work of Cancer Support Centres in Ireland.
It reminds us that we are all in it together. You, our supporters, the families we support, our amazing volunteers and the wider Community. Cancer is a terrible disease, but it has brought us all together, to support each other and to remind us, that we are not alone.
On behalf of everyone at Purple House Cancer Support, thank you for all of your support. We simply couldn't do it without you.
Links: