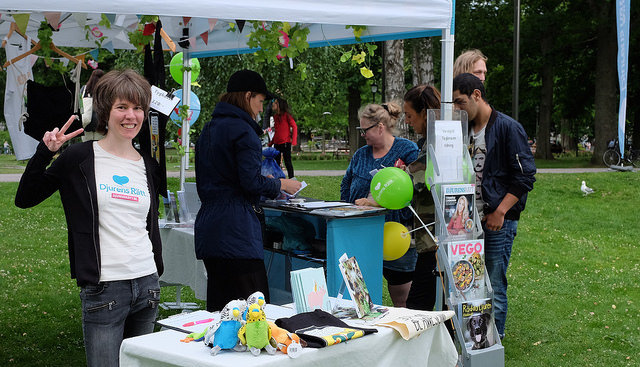 The summer tour, probably the largest non-profit information campaign in Sweden, has now reached the finish line for this year. After this summer we are enthusiastic to share results and steps we have taken to raise awareness about animal rights around Sweden, as well as speak about the plans ahead for our tour!
Summer of 2017
In total we have been on tour for 136 days and completed 74 unique tour stops around the country. The summer tour has visisted a lot of places, from up north to the southernmost parts in Sweden. Our organization has been seen at the largest festivals in Sweden as well as on small markets and fairs.
Over 13000 units of material has been handed out this summer. We hand out magazines, vegan recipes, information about the situation for animals as well as leaflets about our organization. This large information campaign enables thousands of people to take part of the message that animals have the right to live their lives free from oppression, pain and exploitation. The summer tour is a reason why a lot of people have read and learned about animal's situation and has hopefully shaped their opinion in the area of animal rights.
To succeed with handing out these large amounts of material, talking with thousands of people and on the whole completing this project we have had around a hundred volunteers joining the summer tour and engaging in one or more tour stops.
This summer has focused on the inadequate situation for all pigs who suffer in the food industry. We have collected over 8000 signatures in our petition for the pigs. The petition, which has been carried out as a part of a campaign with the organisation Eurogroup for Animals , requires that all pigs should have outdoor access, to end surgical castration of male piglets and to end cutting tails, grounding or cutting teeth of pigs in all EU. The message is clear, people in Sweden express their support in this question and want to see changes regarding the pigs welfare. The result of the petition will be forwared to the Swedish government as well as Eurogroup for Animals.
In conclusion, we are happy that the summer tour 2017 has been successful. This year's edition is over and has been an important part of our work for animal rights. Now we are aiming for next year and the summer tour 2018.
Summer of 2018 - the tour continues!
2018 is election year in Sweden which is an important opportunity for Djurens Rätt and the summer tour to influence politicians and voters to take stand for animal rights. Decisive changes for animals are made by political influence and changing legislation. Exactly how the campaign will be carried out next summer is now being planned, with more information to follow.
More donations to our project will mean that we can print more information material, visit more places on the tour, talk with more people and thereby raise more awareness about animal rights. In the long run this results in steps towards a society where animals live their lives free from oppression, pain and exploitation.