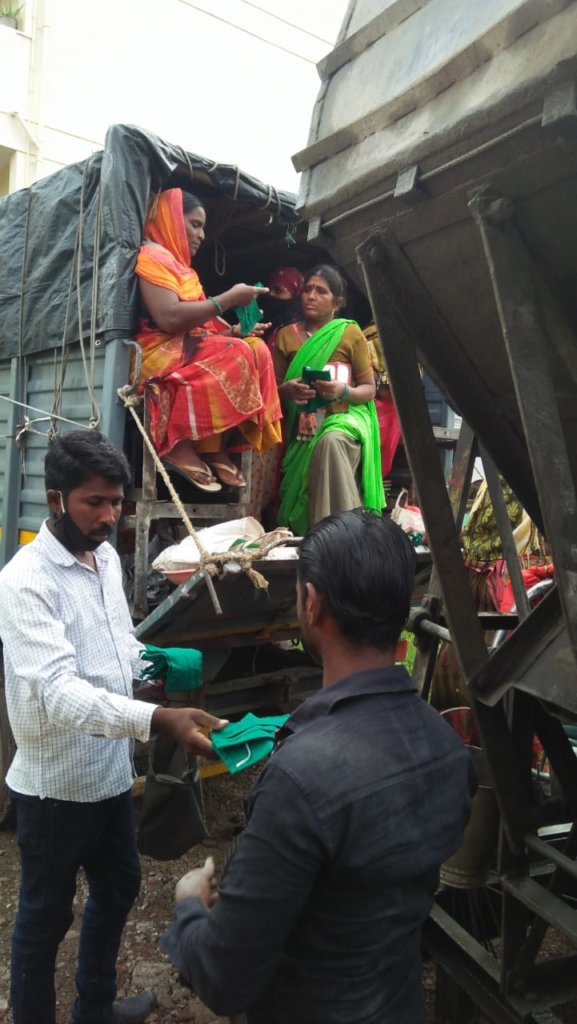 Dear friends,
Christmas & New Year Greetings from IDEA Foundation!
India, the world's second most populous country with an estimated population of 1.38 billion is affected by the corona virus pandemic. It has altered life and our work in the marginalised community drastically.
Let me take you through our efforts to 'live with CORONA'
At IDEA , we started our interventions for the marginalised COVID-19 affected people with direct bank transfer of cash in their bank account to buy groceries / hygiene kit . For people who did not have bank account , we have distributed grocery kit and hygiene kit. Food packets were also given to many .
In addition to our work in the field of education and development among the low income communities , we had to concentrate mainly on creating awareness and imparting knowledge on using safety protocols to protect themself from contracting this disease.
Then we realised the need for counselling support due to issues arising out of job loss or lack of income from small business for elders while lack of facilities for children to attend online classes due to the wide technology gap between rich and poor. Fortunately we started a mentoring program involving professionals . It was a big relief for our children and also their parents to know they are not alone but there is someone to listen to them and give moral support to tackle difficulties .
After the initial relief work , slowly we all learned that we can't lock ourself for so long but we need to find ways for a new normal and live with the virus .

Many Corporate volunteers came forward and provided technology training for the effective use of google forms, whatsApp , Microsoft teams , Google meet, Zoom etc. They also gave advanced training to our staff in MS Excel , Power point etc , for conducting online classes for children and women .
Like many other NGOs, our team also came up with strategies to continue our core programs such as educational interventions for children and skilling and livelihood support for women .
We collected data on the life situation of children and women. In order to make use of the online training we had planned , we trained children and women on how to use Zoom , Google meet etc .
As the lockdown continues for educational institutions and training institutes , though our study centres are closed for regular study classes , teachers are busy keeping our students engaged in activities as well as in academics. It is really a challenging situation for our team as it is very important to make sure that the children are in the right track during this pandemic. We conduct different competitions like drawing, painting, fancy dress, essay writing etc along with academics to sustain interest of children. We also organise cultural activities and even sports competitions virtually. Children are enjoying these activities.
We came across many challenges due to lack of access to smart phone at home for children while we deliver classes for them . So our approach is blended learning where we plan and include all children on a case to case basis - online classes for those who have access to smart phone , ' call and connect' for those who have basic phones at home or only physical work book or other study material for those who don't have a phone at all. .
Similarly , we derived need based support . For reviving small business of women for livelihood we helped them find work orders . We promoted virtual exhibitions for display and sale of products made by women. Handholding support is being provided to revive lost businesses .
Our skilling project aims at providing a ' second chance' to school dropout women has started with online classes . Women who enrol for this program undergo digital literacy classes first followed by skill training .
Now we are seeing silver lines in service delivery as people are following COVID-19 protocol and slowly limping back to normalcy . But they still need YOUR support .
Let us all look forward to a brighter New Year with full of hope and cheer and not fear.
HAPPY NEW YEAR!