Project Report

| Jan 14, 2022
Give a Smile to 3000 SlumChildren to attend School
By Ms. Sibani Nayak | Cluster Educator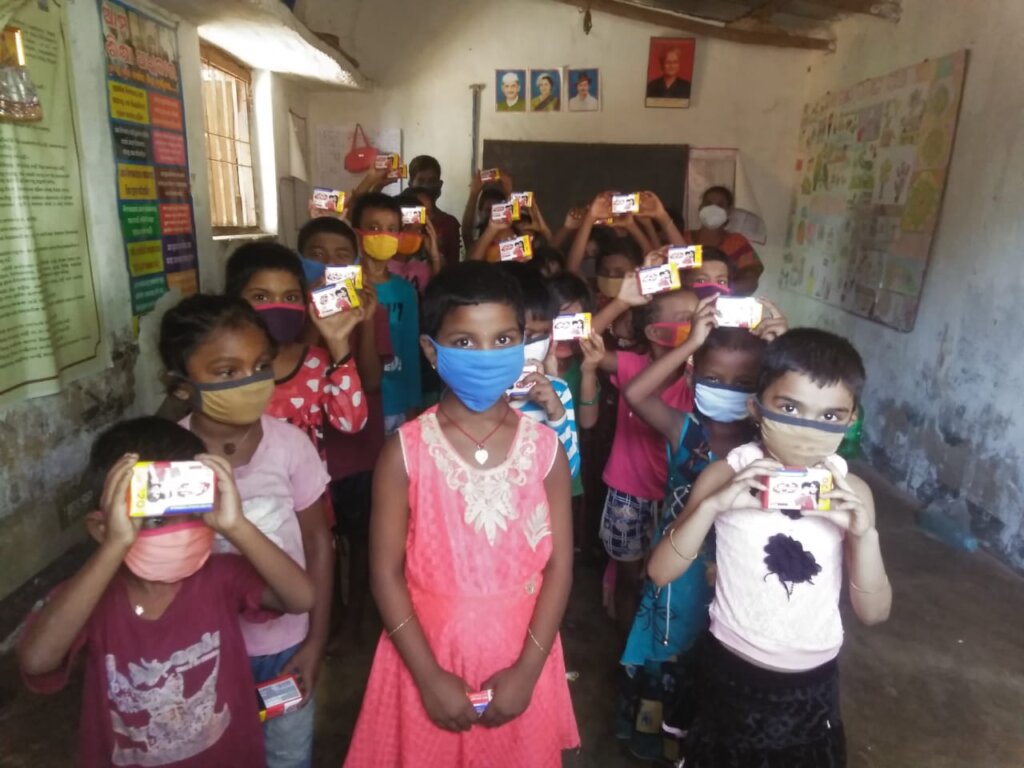 We are happy to present the 3000 Slum children to attend school project before the donor agency and all other well-wishers. This was the most difficult one and we had to take a lot of difficulties to cross this quarter of intervention due to unexpected outbreak of Corona pandemic in India.
Education is a powerful weapon which we can use to change the world. The long march for national development begins with the first step of every child across the school gate. Ruchika's flagship Right to education programme promotes and catalysis universal education among underprivileged children, creates processes to mainstream these children in a sustained manner, strengthens their abilities to cope up with the formal education system, facilitates them to emerge as productive assets and sets the foundation for nation building.
Goal and Objectives of the Project:
The Programme Objective was to reach out to all the slum children of Bhubaneswar to increase academic proficiency and targeting a significant reduction of drop-out in the schools as well as ensuring Right to Education Act, in its true spirit in the target area.
Specifically, the programme focused on improving the lives of the marginalized slum children through a three-pronged approach:
Provision of Specialized Remedial Education to enhance academic proficiency. The approach identifies children with low proficiency and designs appropriate before or after school remedial support including competency building, counselingparents and children, family visits, etc.
Community mobilization to raise awareness on quality education and greater involvement of the parents and community at large in the education system
Specific activities with school authorities, district level authorities and the Education Department (Government of Odisha) to ensure quality of education as well as realization of maximum provisions of Right to Education Act 2009 (RTE).
The programme aimed at directly benefiting slum children through remedialeducation centres and school going children through activities implemented in slums and in neighbourhood schools.
Remedial Education during Covid-19 Pandemic:
The COVID-19 pandemic has created the largest disruption of education systems in all over the world. The COVID-19 has resulted in schools shut all across the country. This has brought far-reaching changes in all aspects of our lives. Social distancing and restrictive movement policies have significantly disturbed traditional educational practices. Now the Remedial Education program is continuing in offline. Remedial teachers are going to the centre and teaching the children by making small group. Parents and Basti Education committee members are being well guided by the teachers to manage the situation and talk about the corona virus with their children. Remedial teachers and cluster educators are working on the issues and reaching to remedial children. The objective is to enhance their academic proficiency at par with their peers in the school.
A Group effort to achieve the objective of Remedial Education:
The teachers identified academic proficiency among the children getting ready to appear the annual evaluation and were helped strategically to overcome the academic difficulties.
Parents are the first and foremost teachers of every student. In case of their childrens education now parents are supporting to their children in their studies. Our Basti Education Committee members and Balika Mondal members are also guided and taking follow up of the education. In the same way our BEC members are trained to look over the studies of our remedial children. The remedial teachers also visited the home and guided to children. The Cluster Educators were focused on the academic's issues of the children. The low performers of children, late starters and no starters as well as slow learning capacities of children were given importance in the process.
Covid-19 pandemic impacted health, psychosocial well-being of children:
The outbreak of the Covid-19 pandemic had a profound impact on the health and psychosocial well-being of the children. Closure of schools prevented children from gaining access to learning and limited interaction with their peers. The pandemic also brought stress on parents to their capacity of providing care and engaging with their children.
Slum children are at risk of suffering from a range of child protection, exploitation, and health impacts, such as being forced into early marriage, begging, child labour, and dropping out of school, as well as hunger, emotional, and psychosocial harm.At the time of this emergency Ruchika continues to help children and provides psychosocial support to children and families become better prepared to cope with emergencies.
Our efforts for slum children during the pandemic:
During this pandemic, Ruchika has continued the team effort to continue the education of children through e-learning. We worked with communities to identify the most marginalized, so we can help family and children survive and thrive. Our team has identified dropout children and all children living in the slum and facilitate their movement into schools through enrolment drives. Our team has provided psychosocial support to the children and their families become better prepared to cope with emergencies. At the same time, we have teach to slum children on proper handwashing, use of mask and maintaining social distance
Case Study of a Slum Girl:
Slums are breading ground of all kinds of anti-socials and drugs. Children very easily fall pray in to trap of anti-socials if they are out of school. Bharatpur-III is a tribal populated slum of Bhubaneswarwhere people takeHandia including their children. When parents go out for work the children are found all kind of abuse, exploitation and found engaged with anti-social elements. Bhabani is a 13 years old girl lives in same slum and was out of school because of lack of interest of her parents. As a result of which she was exposed to alcohol, sex and crime. During the enrolment drive, our remedial teacher identified to the child and informed to Ruchika education team. Immediately the team visited her home and took several counselling of the child as well as parents. Thereafter she enrolled her into the Gopabandhu UP School in age-appropriate class.She also enrolled her in remedial class and taking both remedial coaching and school classes in online. Now the child feels very happy and proud to go to the school.