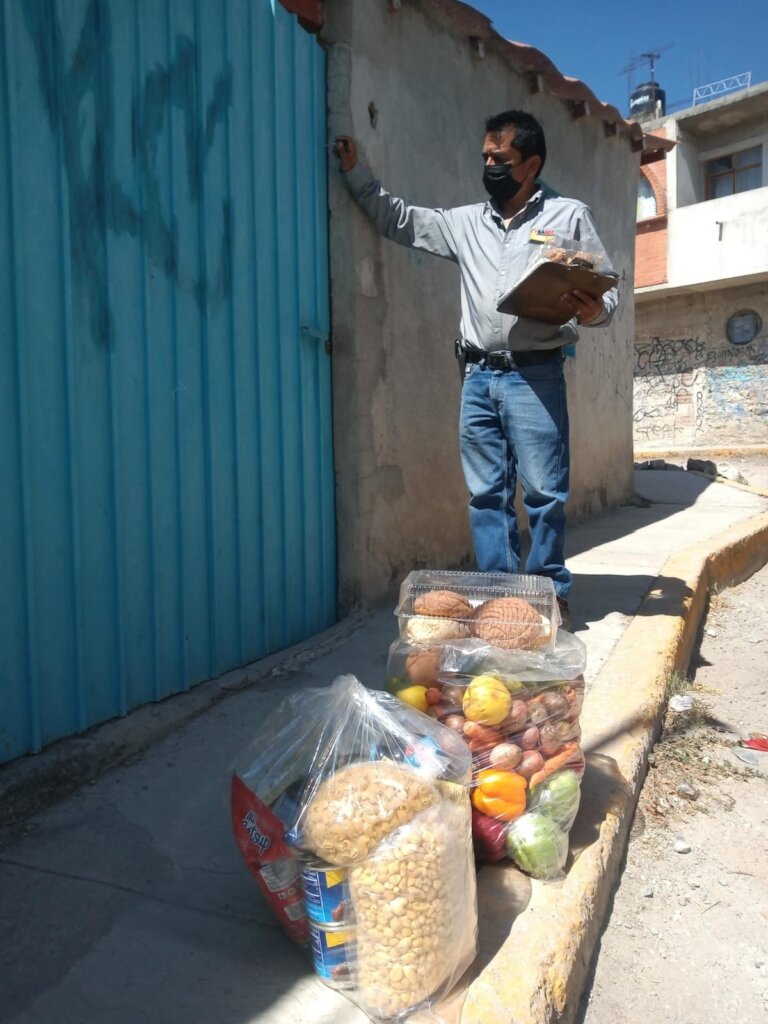 Dear donor of the Food Bank of Puebla, we'd like to thank you from the bottom of our hearts for all the support and solidarity you've given us to help those who need it most.
With your support, you're aiding families going through hunger and malnutrition have food at their tables; we're talking about abandoned old people, families in extreme poverty and persons with a disability themselves or that live with a family member with one, which makes it impossible for them to leave their homes to get their means of subsistence.
It is with your support that week after week, we can leave the much needed food at the door of every family in our program in the most vulnerable situations.
We rescue an average of 1,400 tons of food on a monthly basis, with which we prepare 12,000 hot meals per month for migrants and homeless people through 8 dinig halls. An important share goes to asylums, orphanages and hospitals, as well as other institutions. However, most of the food goes into 60,000 food package, that we deliver each month, reaching around 170,000 vulnerable persons every week.
Although we're very proud of what we've achieved so far, it is not enough and of course we can't do it on our own. We ask you to help us further by sharing our labor with your family and friends so they can join us in the fight against hunger and malnutrition. Remember that for every $20 usd you help a family get enough food for a month! And again, thank you so much for joining the cause!
Estimado donador del Banco de Alimentos de Puebla, queremos agradecer con todo nuestro corazón todo el apoyo y la solidaridad que nos has brindado, para ayudar a quienes más lo necesitan.
Es importante mencionar, que con tu apoyo, ayudas a que las familias en inseguridad alimentaria y con mayor vulnerabilidad, tengan alimento en casa; hablamos de adultos mayores abandonado, familias en extrema pobreza y personas que tienen o que viven con algún familiar con discapacidad, que les imposibilita salir de casa a conseguir su sustento. Es justo con tu apoyo, que podemos llevar cada semana el alimento que ellos necesitan hasta las puertas de su casa.
Además, con tu ayuda, rescatamos de manera mensual un promedio de 1,400 toneladas de alimentos, con lo que preparamos 12,000 comidas calientes al mes, a través de 8 comedores, y otra parte importante se destina a instituciones, asilos, orfanatos, hospitales, etc.; además elaboramos 60,000 despensas cada mes con lo que llegamos a atender un padrón de 170,000 personas cada semana; lo que nos impulsa a trabajar más duro para apoyar a más personas; pero definitivamente no podemos solos, esto es posible gracias al apoyo y solidaridad de personas.
Te pedimos que nos ayudes a compartir con familiares y amigos, que se unan a la lucha contra el hambre y la desnutrición; no olvides que por cada 20 dólares, ayudas a que una familia tenga alimento, todo el mes. Muchas gracias por sumarse a la causa.