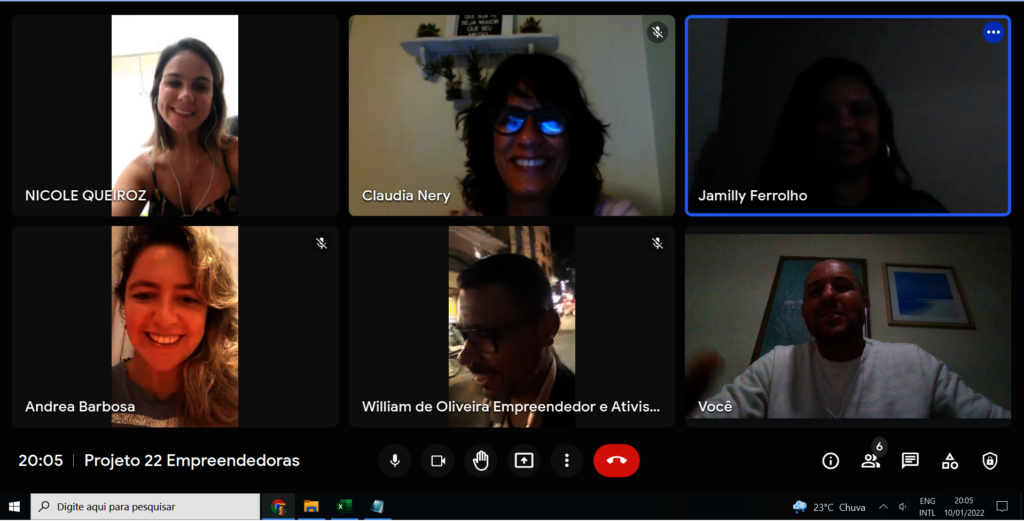 ***ENGLISH***
Hello Supporter of Instituto Dom and thank you again for supporting this project.
This project was originally for 15 poor vulnerable disenfranchised women from Rocinha community in Rio but we were able to increase our support to 22 women since we consolidated fundings from other sources (other donations). The revised project budget is now as attached, in USD and brazilian reais R$.
We received the funds from GlobalGiving to support the original 15 vulnerable women entrepreneurs on November 5th and this gave us time in December and beginning of January 2022 to plan the project adequately. The following activities were accomplised:
1. Initial project planning with our partner from the Rocinha community (Missão Rocinha)
2. Alignment of the project scope with all those involved and all other stakeholders
3. Complete our online system (Sisdom) which will be used by the 22 entrepreneurs and will also be used by Instituto Dom for project control and management
4. Begin the screening of the entrepreneurs that we will support. Interviewing and selection.
5. Define whether we will support part of the group with additional micro credit funds (responsibility of the Bemtevi organization), in addition to the donation of seed money already foreseen.
6. Define the items (food) of the R$80 basic food basket provided in the project
7. Internal review of the project stages and definition of those responsible for each different activities
A number of virtual meetings were held between our team and our partner Missão Rocinha, over the last few weeks, in fact we had a meeting yesterday Jan 10, 2022 (photo attached). We have completed most of the steps above. We are in the final stages of selecting the 22 finalists that will be supported. We have signed up 17 entrepreneur candidates from Rocinha community and they were registered in our Sisdom system. Another 8 candidates will be signed up today. Attached is the spreadhseet.
Our integrated system called Sisdom can be seen on this link www.sisdom.com.br. We have entrepreneurial education content on Sisdom which will be consumed by the entrepreneurs and more content will be added in the next days and weeks. Instituto Dom uses a 3 step process - Entrepreneurial Education, Donation, Mentoring - to help vulnerable entrepreneurs grow their businesses and increase their incomes. They will use Sisdom along these 3 steps and our team will follow their progress on Sisdom as well. Visitors and supporters will also have access to Sisdom.
We have defined that project launch date will be Jan 22 (saturday). Our volunteers from Instituto Dom will have a physical meeting at Rocinha community with the 22 selected entrepreneurs on this day. We already have activities planned and the Sisdom weblink will be informed to all entrepreurs on this date or a few days prior. The monthly food basket will not be given yet on this date.
Since we have 25 candidates, we will do final selection of the 22 finalists in the next few days. We decided to ask each candidate to send us a 2 minute video selfie explaining why she should be part of this project. We will also have GMeet meetings with the candidates in groups of 5 each so that we can get to know each one of them a little bit better. By Jan 19 we will have defined the final group of 22 vulnerable entrepreneurs that we will support in this project.
Things are moving along very well and once again we thank you for your support!
Thank You
Instituto Dom Team


***PORTUGUÊS***
Olá Apoiador(a) do Instituto Dom e muito obrigado novamente por apoiar este projeto!
Este projeto era originalmente para 15 mulheres vulneráveis da comunidade da Rocinha no Rio, mas conseguimos aumentar nosso apoio para 22 mulheres ja que consolidamos recursos de outras fontes (outras doações). O orçamento do projeto revisado está agora em anexo, em dólares e reais brasileiros.
Recebemos os fundos da GlobalGiving para apoiar originalmente 15 empreendedoras vulneráveis em 5 de novembro e isso nos deu tempo em dezembro e início de janeiro de 2022 para planejar o projeto adequadamente. Foram realizadas as seguintes atividades:
1. Planejamento inicial do projeto com nosso parceiro da comunidade da Rocinha (Missão Rocinha)
2. Alinhamento do escopo do projeto com todos os envolvidos e todas as outras partes interessadas (stakeholders)
3. Completar nosso sistema online (Sisdom) que será utilizado pelas 22 empreendedoras e também será utilizado pelo Instituto Dom para controle e gestão do projeto
4. Iniciar a triagem das empreendedoras que iremos apoiar. Entrevista e seleção.
5. Definir se apoiaremos parte do grupo com recursos adicionais de microcrédito (responsabilidade da organização Bemtevi), além da doação do seed money já prevista.
6. Definir os itens (alimentos) da cesta básica de R$ 80 fornecidos no projeto
7. Revisão interna das etapas do projeto e definição dos responsáveis por cada uma das diferentes atividades
Várias reuniões virtuais foram realizadas entre nossa equipe e nosso parceiro Missão Rocinha, ao longo das últimas semanas, aliás tivemos uma reunião ontem 10 de janeiro de 2022 (foto em anexo). Concluímos a maioria das etapas acima. Estamos na fase final de seleção das 22 finalistas que serão apoiados. Inscrevemos 17 candidatas da comunidade da Rocinha e elas foram cadastrados em nosso sistema Sisdom. Outras 8 candidatas serão cadastradas hoje. Em anexo está a planilha.
Nosso sistema integrado chamado Sisdom pode ser visto neste link www.sisdom.com.br. Temos conteúdos de educação empreendedora no Sisdom que serão consumidos pelas empreendedoras e novos conteúdos serão adicionados nos próximos dias e semanas. O Instituto Dom usa um processo de 3 etapas - Capacitação (Educação Empreendedora), Doação, Mentoria - para ajudar empreendedores vulneráveis a crescerem seus micro negócios e gerarem e aumentar sua renda. Elas usarão o Sisdom ao longo dessas 3 etapas e nossa equipe acompanhará seu progresso no Sisdom também. Visitantes e apoiadores também terão acesso ao Sisdom.
Definimos que a data de lançamento deste projeto será 22 de janeiro (sábado). Nossos voluntários do Instituto Dom terão um encontro presencial na comunidade da Rocinha com as 22 empreendedoras selecionadas neste dia. Temos atividades planejadas e o weblink do Sisdom será informada a todos as empreendedoras nesta data ou alguns dias antes. A cesta básica mensal ainda não será entregue nesta data.
Como temos 25 candidatas, faremos a seleção final das 22 finalistas nos próximos dias. Decidimos pedir a cada candidata que nos enviasse um vídeo-selfie de 2 minutos explicando por que ela deveria fazer parte deste projeto. Teremos também reuniões do GMeet com as candidatas em grupos de 5 cada para que possamos conhecer um pouco melhor cada uma delas. Até 19 de janeiro teremos definido o grupo final de 22 empreendedoras vulneráveis que apoiaremos neste projeto.
Está tudo caminhando muito bem e mais uma vez agradecemos seu apoio!
Obrigado,
Equipe Instituto Dom

Links:
Attachments: