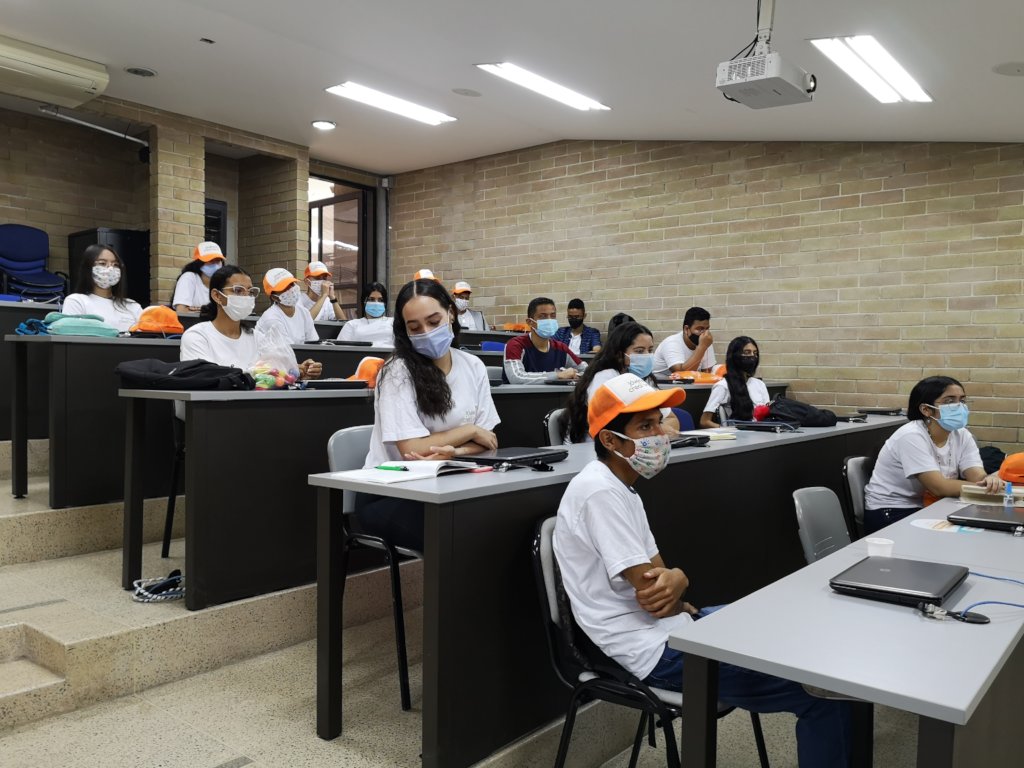 ENGLISH VERSION
We are taking off where we left off in our last news update, to share with you how we have come along in this new version of the Jóvenes creaTIvos program.
May 29 - June 12: Entrepreneurship Workshop. During the three modules of the entrepreneurship workshop, each of the participants developed their own business idea from scratch. They learned different ideation techniques, landed their idea on a business model, validated their idea, and then put it into action. A path that showed them that there are different options to being an employee, and that the most important thing to achieve professional success is to work on what we are passionate about.
June 19: Visit to Groupe Renault. In this session, our new ally Groupe Renault - Fundación Colombia, led by its president Matthieu Tenenbaum, shared about the composition of the organization and the reasons why this great company supports programs such as Jóvenes creaTIvos. We applaud the participation of our boys an girls in this session, where they expressed many concerns.
June 26 - August 14: Introduction to Programming, GIT and SCRUM. Time to get down to business! On June 26, we began the third phase of the program, in which our youngsters began their training in Software Development. For three weeks, basic topics were reviewed to strengthen skills in algorithm construction. Then, they learned about GIT, the world's most widely used modern version control system. Finally, we closed this module by learning about SCRUM concepts, in an on-site training session which seeked to facilitate good practices for collaborative and team work in development projects. .
August 21: Visit Ruta N, Medellín's business and innovation center for the world. As every year, the benficiaries had the opportunity to get to know this mixed entity that seeks to promote the development of innovative technology-based businesses that increase the competitiveness of the city and the region. A purpose fully aligned with the objectives of the program and the themes with which we seek to connect the young people who participate in it.
August 28: We started training in front-end and mobile development. This is the last phase of the training program where instructors enter more specialized topics in software development. Two groups will be learning about front-end development, where they will learn about programming languages such as Java Script and HTML, and one group will focus on mobile development, where they will learn about DART and Flutter, among other topics. This phase will run until November 20, where each participant will present their final project and then close the program in the closing sessions on November 27.
¡We´ll make sure to keep you posted on the progress until then!
Thanks to your support, we continue to transform lives.
VERSIÓN EN ESPAÑOL
Partimos donde lo dejamos en nuestra última actualización de noticias, para compartir con ustedes cómo vamos en esta nueva versión del programa Jóvenes creaTIvos.
Mayo 29 - Junio 12: Taller de Emprendimiento. Durante los tres módulos del taller de emprendimiento, cada uno de los jóvenes desarrolló desde cero su propia idea de negocio. Aprendeieron diferentes técnicas de ideación, aterrizaron su idea en un modelo de negocio, validaron su idea, y luego la pusieron en acción. Un camino que les mostró que hay opciones distintas a ser empleado, y que lo más importante para lograr el éxito profesional es trabajar en lo que nos apasiona.
Junio 19: Visita Groupe Renault. En esta sesión nuestro nuevo aliado Groupe Renault – Fundación Colombia, en cabeza de su presidente Matthieu Tenenbaum, compartió sobre la composición de la organización y las razones por las cuales esta gran empresa apoya programas como Jóvenes creaTIvos. Aplaudimos la participación de nuestros jóvenes en esta sesión, donde plasmaron muchas inquietudes.
Junio 26 – Agosto 14: Introducción a la Programación, GIT y SCRUM. ¡Llegó la hora de entrar en materia! El 26 de junio dimos inicio a la tercera fase del programa, en la que nuestros jóvenes iniciaron su formación en Desarrollo de Software. Durante tres semanas se repasaron temas base para fortalecer las habilidades en construcción de algoritmos. y luego aprendieron sobre GIT el sistema de control de versiones moderno más utilizado en el mundo. Finalmente, cerramos este módulo aprendiendo sobre los conceptos de SCRUM, en una sesión presencial que buscó facilitar las buenas prácticas para el trabajo colaborativo y en equipo en proyectos de desarrollo. .
Agosto 21: Visita ruta N, el centro de innovación y negocios de Medellín para el mundo. Como todos los años, los Jóvenes creaTIvos tuvieron la oportunidad de conocer de cerca esta entidad mixta que busca promover el desarrollo de negocios innovadores basados en tecnología, que incrementen la competitividad de la ciudad y de la región. Un propósito completamente alineado a los objetivos del programa y a los temas con los que buscamos conectar a los jóvenes que participan en él.
Agosto 28: Inicio formación en desarrollo front-end y mobile. Esta es la última fase del programa de formación en la que los instructores entran en temas más especializados del desarrollo de software. Dos grupos estarán aprendiendo sobre desarrollo front-end, donde aprenderán sobre lenguajes de programación como Java Script y HTML, y un grupo se enfocará en desarrollo mobile, donde aprenderán de DART y Flutter, entre otros temas. Esta fase irá hasta el 20 de noviembre, en donde cada participante presentará su proyecto final para luego dar cierre al programa en las sesiones de clausura el 27 de noviembre.
¡Nos aseguraremos de mantenerte informado sobre el progreso hasta entonces!
Gracias a tu apoyo, seguimos transformando vidas.