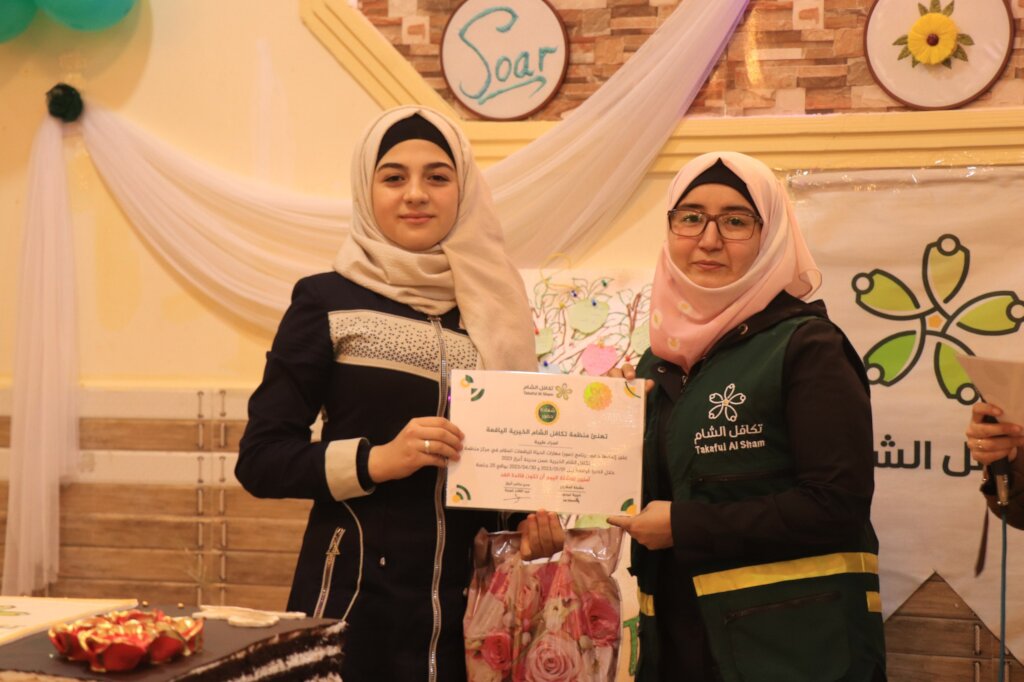 Hello Friends,
As you already know two devastating earthquakes struck northern Syria and Turkey four months ago. To respond to the catastrophes and the pressing needs of Soar Girls at the time, Project Soar shifted its attention to distributing basic necessities to Soar Girls and their families, while carrying on with the Soar empowerment program.
The earthquakes had a significant impact on the lives of Syrians in the region and despite all the difficulties Project Soar acted as an anchor, a place where Soar Girls could, once again, hope to rebuild.

As the beneficiaries finished the 25 session curriculum, came the time for graduation! They participated, along with their mothers, in the ceremony that was filled with joy, fun games, friendship and recognition for their accomplishments. Some of the girls gave poignant testimonies and others expressed their thoughts in the form of poems.
One of the girl's mothers also expressed her gratitude towards Project Soar: "It is so rare for adolescents here and now to have the opportunity to spend time with their peers . My daughter's well being has greatly improved thanks to Project Soar and the hard work of the facilitators!"
Esraa and Ryyan are two Soar Girls who created a bond through Project Soar that helped them get through the hard times following the earthquakes. Esraa recalls that Project Soar extended her support system by introducing her to lifelong friends and mentors with whom she discusses her goals and dreams! Before Project Soar she felt that societal barriers were too strong and that she could not dare to dream: through the program she discovered her passion, learned how to set goals and overcome challenges. "The program helped me realize that success is not defined by where we come from but by the determination and resilience we carry within ourselves." Together with her friend Ryyan, through unwavering support towards each other and despite difficulties, they are now looking forward to their future and everything they can accomplish!
Your support is essential for us to continue helping at-risk Syrian Soar Girls build their future and find confidence in themselves! We are immensely grateful for your generosity!

With Love,
Project Soar