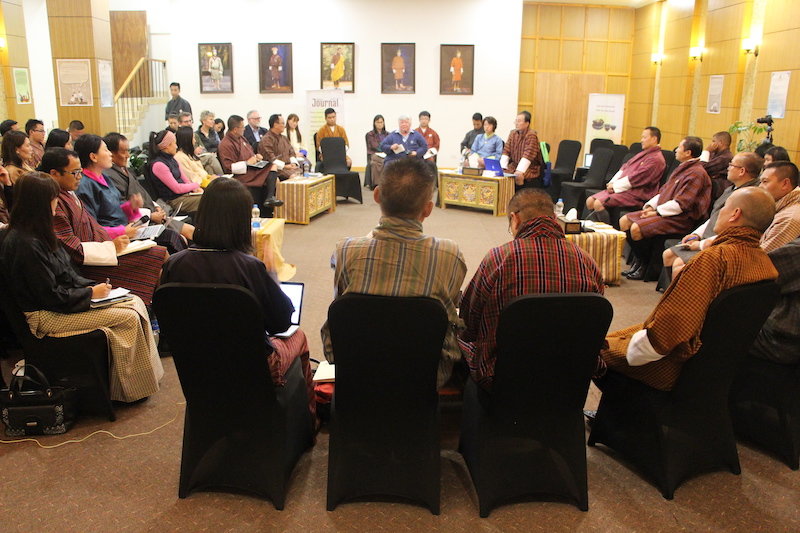 Suja Dzow Conversation Over Tourism in Bhutan
Changangkha, Thimphu, 28 October 2019: The Druk Journal's Suja Dzow Conversation on "Tourism in Bhutan" generated an open and comprehensive dialogue and feedback session on tourism at an opportune time as the government is reviewing the tourism policy.
Foreign minister and chairperson for the Tourism Council of Bhutan (TCB), Lyonpo Dr Tandi said that he's noted many new and good suggestions from the conversation with more than 60 persons from the tourism sector, members of parliament, representatives from political parties, the media, government, and CSOs at the discussion.... "These suggestions will be taken very seriously when we hold our bilateral discussions," said Dr Tandi.
"...Bhutan must have only one tourism policy...basically one overarching – high-value low volume or high-value low impact," said the minister".

Stakeholders called for improved management of tourist numbers throughout the year since tourism is concentrated only in few districts. The Director of the Association of Bhutanese Tour Operators Sonam called for improved coordination, collaboration, and partnership to improve the current situation. "The issue is not the mass tourism but rather management so we are talking about governance and coordination," said Sonam.

Chuni from the Hotel & Restaurant Association urged the relevant governing bodies to put in place proper rules to govern tourist behaviour. "Proper signage, pamphlets, and notification has to be put in place and those found violating the rules should be held responsible," said Chuni.
BCMD acknowledges the support of the DIPD, the Tourism Council of Bhutan, and the UN system for the production of this latest issue of the Journal. We thank local hotels and UNDP Bhutan for supporting the conversation.
Support the Druk Journal, subscribe to the journal today http://drukjournal.bt/
Paro Schools Complete Local Actions Projects
Paro, 12 November 2019: Just one day before the final exams, student mappers gathered to present the results of their Local Action Projects to the Townhall Committee at the 3rd Paro Townhall Meeting on 12 November.
Over the last few months, students and teachers from Shaba Higher Secondary School (SHSS) and Drukgyel Central School (DCS) have been busy working on their Local Action Projects that included constructing a volleyball court, fencing the menchuna (hot spring) water source and conducting advocacy on road safety and waste management. Besides presenting their experiences, observations and lessons from their projects, students shared the knowledge and skills they gained participating in the Community Building Initiative.
"Apart from memorising…We learned how to handle tensions (creatively) and be prepared to change at any time when our plans failed. We learned that nothing is impossible when we have a willing heart... I'm taking these ideas and values with me to my own community. I will encourage my brothers and sisters, especially the people in my community. I will explain the importance of being active participants in the community," said Lham from Drukgyel Central School.
Teachers and students recognised their ability to see a problem and find solutions with the community members to strengthen people's participation and reduce dependency on other agencies. Two teachers from DCS observed that engaging communities in the projects are far more effective and sustainable to community development than volunteering to "do things" for the communities.
Dasho Dzongdag Thinley reminded the town hall participants of the campaign slogan "I am my community" that it is in our hands how we shape our communities. We thank International IDEA and Bhutan Foundation for supporting the Project Mikhung (Project Citizen aimed at strengthening people's participation in fostering a more democratic society).
Samdrup Jongkhar Town Launch Vision Mision
Samdrup Jongkhar 7 November 2019: Residents of Samdrup Jongkhar town -- located in the south-eastern part of Bhutan -- launched their town vision and mission which they created earlier this year.
The town will now use this vision to be a GNH-based (Gross National Happiness) commercial hub in eastern Bhutan. The town's mission is to nurture a commercially and culturally vibrant community living in peace, health and inclusivity.
The town's vision-mission was launched in the presence of residents and government officials with a drama based on a popular Bhutanese fable, Thuenpa Puenzhi (The Four Noble Friends, an elephant, monkey, rabbit and a bird). The play sent out a strong message to the residents and relevant stakeholders on the need to come together for the larger benefit of the community by setting aside their differences and individual goals.

The play also revealed the potential dangers that residents, policy-makers and officials could face by working in isolation without considering the greater good of the community.
"Through this skit of the four friends I learned that happiness does not come from material wealth or connection, you need good intention. If you don't have good intentions, the results will not be good. If each one of us has a good intention, we will naturally contribute to the wellbeing of Bhutan. We need to change our mindset from an individualistic view to a greater good...," said an official from the Dzongkhag Administration, Sonam.
BCMD hopes to share this tale of interdependence for the good of society soon on our website. Nine students from JNEC in Dewathang, Samdrup Jongkhar participated in the drama led by Bhutanese actor and a volunteer at Jangsa Animal Saving Trust (CSO), Tshering.
The Community Building Initiative in Samdrup Jongkhar is funded by UNDP Bhutan. The aim of the project is to enhance citizen awareness of their role in their community and town.
First-ever Youth Summit Held in Eastern Bhutan
Sherubtse College, Kanglung, Trashigang, 14 December 2019: The first-ever Youth Summit in the East "Change Starts With Me" attracted over 100 students from schools across eastern and southern Bhutan from 7-14 December 2019.
At the summit, the participants explored their ideas of change and how they saw themselves in the process of change. Exercises of reflection ignited students' social consciousness making them think about issues and their role in impacting change in the community. Trashigang Dzongrub Gom (Deputy Governor) Wangchuk urged the students to share their learning with their friends while encouraging participants to carry on their projects creatively even if there weren't monetary support.
Many participants shared their excitement to share their learning with their friends, family and in their neighbourhood. More than 70 people including the civil servants came to interact with participants as they presented their projects on themes ranging from waste management, reduction of corruption to the issue of substance abuse and capitalising on technology to improve education.
This Youth Summit was a success with partnership from Sherubtse College and our funders Bhutan Foundation and CIVICUS.
Teachers Learn Media Literacy and Good Citizenship
16 December 2019, Nazhoen Pelri Complex, Thimphu: The Media Literacy & Being Good Citizen Training was an eye-opener for Shaba Mangmi Sangay (Local Leader) from Paro Dzongkhag (District Administration).

"I used to read newspapers but never knew how to question the information and look for sources and evidence to verify facts at an individual level. This training was an eye-opener for me on being critical about information and news," said Sangay.
Another participant from Paro Pema said that the training was useful for him to read news critically. "The training helped me understand the importance of media and journalists in a democracy to provide objective information and news...," said Pema.
A total of 24 participants including teachers from Drukgyel Central School (DCS) and Shaba Higher Secondary School (SHSS) from Paro and Gelephu Middle Secondary School (GMSS) attended the training. Elected local leaders and a civil servant also participated in the four-day training aimed at imparting critical skills to debunk fake news and misinformation and more importantly access, evaluate, analyse news and information.
The fourth day of the training covered sessions on "Being Good Citizen" where the participants learned about the art and values of leading active citizenship. The International IDEA and Bhutan Foundation supported the media literacy and Being Good Citizen Training from 13-16 December.