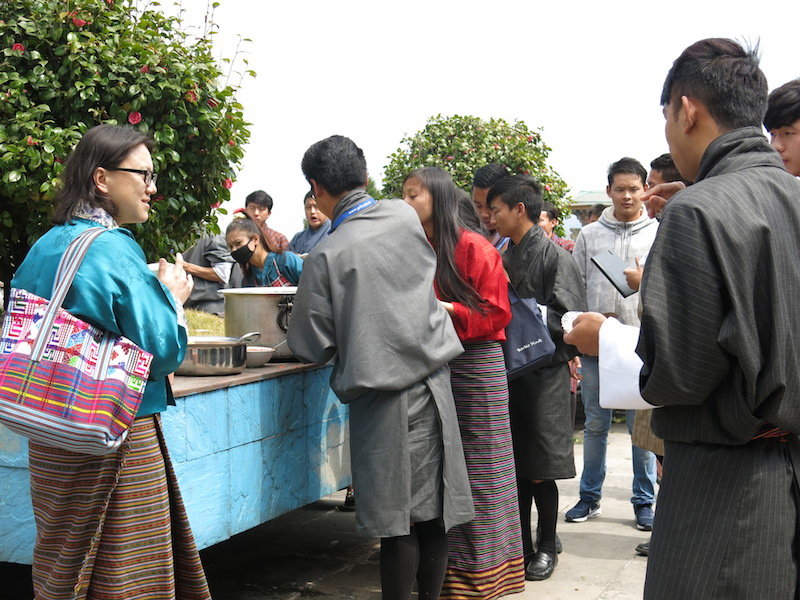 Seminar Generates Interests in Students

Students of Gedu College of Business Studies (GCBS) submitted access to finance as the biggest hindrance for people taking up entrepreneurship during a seminar on 'Transforming Bhutan's Economy,' on 16 March.
The need to improve access to finance topped the wish list of things students wanted improved to encourage entrepreneurship. "The Royal Monetary Authority (RMA) should do away with 30 percent equity in Priority Sector Lending since many young people are from poorer family backgrounds so that young people can take up the business," stated one of the students of GCBS.
Other recommendations included, need to increase investment in human resource and export, and the introduction of international e-commerce. Both faculty members and students also felt that entrepreneurship teaching and modules should be introduced early in schools.
Four speakers including - the Royal Monetary Authority, Deputy Governor, Yangchen, The Druk Journal Editor, Dasho Kinley, and two other writers spoke to students on Bhutan's economy, issues, opportunities, and what needs to be done to spur growth in Cottage and Small Industries.
Yangchen Tshogyel spoke on the Priority Sector Lending initiative and on Cottage and Small Industries (CSI). She explained the RMA's strategies to make access to funding easier, funding being the biggest challenge right now for young Bhutanese venturing into business and entrepreneurship.
"While hydropower will remain important but for a more inclusive, resilient, and diversified economy, CSI has huge untapped potential. However, for the CSIs to realise its full potential, a more integrated ecosystem is required," said Yangchen.
The other speakers spoke on women entrepreneurship, organic farming, and one-gewog-one-product initiative which was attended by over 420 students and some faculty members.
On 15 March, a conversation was held with faculty members of the college where they shared their views on democracy and Bhutan's economy. Faculty members pointed out the need for open discussion on politics, reflective of progressive democracy, to help them make better and informed decisions. They also called for relaxed collateral and taxation for small businesses to open up rooms for entrepreneurship.
The RMA supported the conversation and seminar at the college.
NatGeo Photo Camp Inspire Story-telling

The week-long Photo Camp organised in partnership with National Geographic to tell stories through the tool of photojournalism concluded with a photo exhibition at the Royal Textile Academy on 14 March.
The training really was an opening for some participants as they learn better photography. "I now know that photography is not just taking pictures of anything, it is all about experiencing, touching and getting into other's lives and creating, re-creating the story of my subject," said one of the participants of the Nat Geo Photo Camp.
The NatGeo Photo Camp team who accompanied 20 youth participants to Khuruthang, Punakha guided students to capture stories on a number of issues including, waste, positive face of modernity, happiness, a vegetable vendor, fashion, youth unemployment, migrant labourers, among others.
Besides basic photography skills, the camp helped photography enthusiasts to learn to engage deeply with their subjects when shooting to simply taking a snap from a distance. The camp also encouraged students to get into an intimate conversation with their subjects, following them into their homes to really understand their stories.
National Geographic supported the training.
Film on Democracy draws more than 280
At the launch of a film, 'Bhutan's Democracy: A Decade On' on Feb 20th, it was learned that there is much more diversity in views and thoughts in Bhutan, indicating that democracy is growing.
Former Chief Justice Lyonpo Sonam in his keynote address at the launch of the 40-minute film said that research shows that " there has been stability, a steady improvement in people's voice being heard, and a growing sense of accountability" in the past decade of democratisation.
"The horizontal checks and balances by the Constitutional Office are promoting accountability and our media is continuing to render oversight of responsibilities" said Lyonpo.
Also present at the launch was the Minister for Information and Communications, Lyonpo Donnen who handed over a copy of the film to the Election Commissioner Deki for use in democracy and media clubs and schools across Bhutan.
About 280 people including, students, teachers, civil society organisation members, press, civil servants, INGOs, MPs, political parties, and former ministers attended the launch. The documentary supported by CFLI was produced to commemorate a 10-year democracy.
The film provides a reflection on the changing socio-political landscape through the eyes of a cross-section of people including, the media, voters, and politicians. BCMD thank everyone for sharing their thoughts and views and will post the film online soon. Look out for it on our website.
The film was launched at the Royal University of Bhutan in Thimphu.
Youth Learn Filmmaking
Nestled in at the Media Lab in Thimphu, 15 motivated youth are hard at work creating original short films on social issues and the importance of civic space.
The filmmaking workshop aims to inspire youth to exercise their voice through the creative medium of filmmaking: a critical aspect of democracy. Those involved will also learn the technical aspects of filmmaking, including camera handling, editing, storyboarding, and script writing.
Each day, representatives of civil society organisations, former MPs, journalists, and film-makers and practitioners share with the group of aspiring film-makers to sensitise them on the notion of civic space. By the end of four days, the groups have generated some issues of significance to Bhutan including women's issues, youth engagement, urban poverty, disability and how local governments handle the responsibility of democratic decision-making.
We're all looking forward to seeing how this team can use their creativity to turn the issues into films. At the end of this ten-day workshop, five five-minute films will be produced, expressing unique points of view, spreading awareness and prompting further engagement. BCMD would like to thank the CIVICUS, National Innovation Lab and Innovation for Change (South Asian Hub), without whose support this would not be possible.
Winter Y Camp Sparks Interests on Current Issues
Members of the Youth Initiative (YI) will be researching issues affecting Bhutan as part of their learning to become a responsible citizen. Groups of youth, mostly students from colleges, will study the following pertinent issues:
Mobile data affordability by Chukha Team
The effectiveness of providing free facilities in schools by Sherubtse Team
Support for recycled products by Thimphu & Paro Team
Nutritional value of food in boarding schools by Samtse Team
Education level and plastic bag usage by Punakha Team.
The five groups will present their position paper during the Summer YI Camp in July. The weeklong programme in January was aimed at awakening social consciousness. Youths learned about the responsibilities of being a citizen and the skills of inquiry to understand the society in the year-long programme. "I feel like a week of awareness has opened my eyes to what is going on in the country. I am now equipped to take action," said a YI participant, Tenzin.
Youths also saw opportunities for youth to engage at the local level with 50 percent of the budget in the 12 Five-Year-Plan allocated to the Local Government. This I was supported by CFLI.
Youths learn to be a responsible citizen.
Inspiring Community-based Change Book Published


The impact of Local Action Plans of Community Building Initiative is now captured in a photo essay book 'Inspiring Community-based Change'.
The publication contains Local Action Plans that youth carried out in Paro and Samdrup Jongkhar, with guidance from their teachers, thromde (municipality), and local leaders. In Paro, the publication captures the conservation of spring water in Kesa by Shaba Higher Secondary School, among other projects. In Samdrup Jongkhar, it features benefits construction of a vegetable shed brought about in

Rikhay village. Improvement of road safety at Dewathang by its primary school students are also covered in the photo essay. We thank International International IDEA, CFLI, and UNDP for making the programme possible and look forward to continued support in the coming year.

BCMD also acknowledges the contributions of CSOs based in Paro and Samdrup Jongkhar and town residents for listening to the youth proposals and sharing feedback.Our partner, the Samdrup Jongkhar Initiative and BCMD are looking forward to the next phase of the project. We welcome support for our initiative to enable us to reach more people in the coming year.