Celebrating the Closing of the #FutureIsNow Advocacy Campaign
Reaching almost 600,000 people (total country population is approx. 770,000) within the span of five weeks, the closing ceremony for the #FutureIsNow advocacy celebrated the progress of the campaign. Bringing together the youths who worked on the campaign and important stakeholders from the government and parliament, the closing also created a rare opportunity for youths and adults to inhabit the same space and discuss issues surrounding youth realities in Bhutan. Both youths and guests alike commented repeatedly on the need to work with each other to tackle youth issues that are cross-cutting in nature.
The Secretary from the Ministry of Information and Communication had this to say: "Sometimes as a senior bureaucrat, I tend to get my priorities mixed up. So I think such events try to put things in the current perspective… Today we have multiple agencies whose independence and autonomy seems to be more important than… putting issues in the middle of the table and discussing to find a path forward".
The closing which was graced by His Excellency the Foreign Minister also saw the official launch of the 'Youth Voices: Youth Matters' report which captures the voices of the youth reflecting on their realities and aspirations. Lauding the efforts of the youth and BCMD, the Foreign Minister remarked that this would be a current and up-to-date resource for the government to utilise as they continue their work on addressing the youth issues in the country. Thank you to UNICEF and CISU for the support in carrying out this campaign.
Harnessing the Power of Civil Society
This year's Roundtable built on the previous one from 2019 titled, 'Civil Society and Nation-building', to explore in-depth, what "an enabling environment" for civil society organisations constitutes and its benefits to society. The three speakers brought a range of perspectives to the question of how we "harness civil society potentials"; from explicating how civic action is embedded in traditional Bhutanese culture to how civil society inheres potentials for greater contribution to development as evidenced during the pandemic, to the need for aligning goals with larger issues of climate change for effective fundraising.
The roundtable also unearthed current restrictions placed on CSOs especially at the registration process and how that has negative implications in creating a vibrant and giving society. A panellist, Dr Karma (one of the country's respected intellectuals and historians) proposed that the registration should be made very easy but should be complemented with effective and strict monitoring of funds afterwards. Other discussions revolved around the comparative advantages of CSOs as small and nimble actors that have effective reach and understanding of their respective niches.
"From the Ministry of Health, we look forward to and see the opportunity to work together with CSOs because there are lots of emerging health challenges coming up. So far we have been working together with CSOs on advocacy mainly but if the capacities of the CSO can be built up further, they can even contribute in technical areas… They are also more closely and have better reach at the grassroots level so it is an area where we can work together"
– Dr Pandup, Secretary of Ministry of Health
The roundtable was attended by a total of 49 participants from various ministries, constitutional bodies, political parties, local government, parliament, media, judiciary, academic institutions, and fellow CSOs. As the civil society Act is due to be tabled for amendment in the 2021 parliament session, we thank CISU for making the roundtable possible.
Learning to Care about One's Community
"The workshop inspired me. I had never cared about anything other than myself but now I know I am responsible for my community too."
– Student, Sherubtse College
Earlier in October, 50 students of Sherubtse College completed a four-day asset-based community mapping workshop. Asset-based community mapping is a tool that puts community members at the forefront of community development. As the participants mapped assets and shed light on issues in their community, they shared that they felt empowered to engage in their community's development. The workshop ended with participants sharing creative ideas to address issues they care about.
Throughout the four days of the workshop, the participants were also accompanied by 13 other students who were trained in peer facilitation in July 2021. The peer facilitators were able to share their earlier mapping experiences and helped facilitate the learning process of their peers. "I was a timid and shy person. But now I've gained confidence and am able to share my opinion without hesitation. Also by learning to respect others' opinions, I think I've become a better person", shared peer facilitator, Tsheten.
With support from the peer facilitators, participants are currently designing local action plans to address highlighted issues. The local action plans will be implemented in the following months.
Practising Democratic and Inclusive Public Consultation
Tshering, a De-suup (volunteer corps raised to respond to emergencies) said, "I have gained a better understanding of some of the community's issues and how community development plans are presented as a result of this consultation. We youths have never been included in any community meetings before, but today's consultation provides us with a chance and a platform to express our issues and challenges. As a result, I believe that young engagement in this type of dialogue will become increasingly essential in the future."
Participants who were earlier engaged in the participatory planning and decision making workshop in August worked in groups to practise inclusive public consultation in unravelling community issues and assets, prioritising and drafting their community development plans. A total of six consultations were conducted in six localities across Thimphu and Paro.
The consultation was carried out using BCMD's Gross National Happiness-based toolkit, which uses the four pillars of Gross National Happiness philosophy as a framework of holistic analysis. In the following month of October, the above development plan will be presented at an appropriate forum to influence the community development plans and policies. This project to enhance decentralised planning at the local level was made possible with support from the Asia Foundation.
Bringing Monks, Nuns and the Women of the Armed Forces up to Speed with Digital Literacy
In two rounds of workshops, 28 monks and nuns from the central monastic body and 40 women from the armed forces were engaged in a Media and Democracy Literacy (MDL) training. During a critical time when misinformation is rife and countries struggle with disinformation, this training is equipping vulnerable citizens with the skills to verify news, stay safe online and use media as a tool for constructive feedback and discourse.
I was inspired by His Majesty the King's message that to excel together as a community or country, we need to catch up with the rapidly digitising world. So, I reached out to BCMD to provide this training for our monks and nuns, who are very vulnerable to the abundance of fake information on the internet"
– Lopen(Sr. Monk) Thukten, the media focal person at the Central Monastic Body.
The participants were trained to judge the authenticity of news articles and reflect on their social media habits. The monks and nuns also developed social media guidelines from what they had learned over the three-day training. His Eminence the Laytshog Lopen, graced the final day of training and instructed the Media Officer to compile the guidelines so that they could be further refined and distributed across the country to other monks and nuns. Numerous monks and nuns expressed their joy of learning to become media-literate; "This is something new for us. We've been using Social Media but we didn't fully understand the privacy and security risks that we are vulnerable to", a nun said.
Likewise, a woman from the armed force group shared how her "teenage kids have Facebook accounts but I don't know what they use it for". The 2-day Media and Democracy Literacy training with 40 other women from the armed forces colonies engaged them on topics such as the advantages and disadvantages of social media.
Pema, police personnel and mother expressed gratification for having been able to attend the training and added, "Just like how this training was given to us (mothers), I would like it if this training was also given to teachers in schools. Because these days, children seem to approve more of what they hear/ see at school than at home." This project was supported by the United Nations Democracy Fund.
Educating Future Educators on Proactive Citizen Engagement
Trying their hands in community mapping for the first time, on 25th October, 20 first-year students from Paro College of Education presented their project ideas to address community issues in their localities. Issues of plastic waste, ill-maintained community landmarks and lack of housing for college students emerged as a result of their mapping exercise.
The mappers had the opportunity to interact with and receive feedback from diverse members of the community, such as teachers, local leaders, district administrators, civil society members, etc. who constitute the Paro town hall. Together with the town hall members, they also reflected on the practicality, necessity and sustainability of their local action plans within the Paro district which will then be implemented in the weeks following.
Making Public Consultations Inclusive at the Local Level
With the goal to contribute towards strengthening decentralised planning processes through modelling citizen participation and evidence-based decision-making at the local level, local leaders, administrators and residents in the year 2021 successfully engaged in a series of capacity development workshops and conducted public consultation with their respective localities. The resulting community development plans and findings were shared with relevant stakeholders from Helvetas, JICA, Department of Local Government (DLG) and Gross National Happiness Commission.
A total of 7 localities - 4 in Thimphu and 3 in Paro - engaged in public consultation where the residents and the project participants co-developed community development plans encapsulating citizen priorities and voice. Mr. Passang, Senior Program Officer at DLG shared that seeing the participants' engagement in formulating plans using tools developed by BCMD can lead to better consultations and planning. He also highlighted the issue of replication of community development plans and the need for better consultations that can help change this.
The Gross National Happiness-based toolkit, which uses the four pillars of Gross National Happiness philosophy as a framework of holistic analysis. Along with the translator and the project participants, the toolkit will be translated into the national language, Dzongkha to make it accessible and create inclusive knowledge resources for diverse groups of community members. Ultimately the toolkit will help build the capacity of local government office bearers to be democratic, inclusive and consultative in conducting public consultations for planning and decision-making. We thank The Asia Foundation for supporting this project.
Creating Platforms for CSOs to Engage with the Government
The CSO-Government Meet 2021 marked another important milestone in the efforts of CSOs to have a structured and sustained platform to engage with the government. It was particularly timely with the Amendment of the CSO Act which has been tabled for the upcoming parliamentary sitting as well as the CSO-Government Collaboration guideline that is currently being reviewed by the Committee of Secretaries.
Tax exemptions to incentivise private donations, relook into the yearly CSO registration and collaboration through outsourcing relevant work and in areas of fundraising, especially in light of the LDC graduation were discussed. More broadly, the Meet brings together different players in the country's development landscape to ensure that efforts converge towards realising national goals and priorities and establish better understanding and trust.
"The LDC graduation will have one big impact since the government will no longer have access to the same funding sources as before. So the government and CSO need to work together to explore new funding sources in the future"
– His Excellency the Prime Minister of Bhutan
In addition to His Excellency the Prime Minister, the meet was graced by 3 ministers, secretaries, 15 Members of Parliament and fellow CSO members. We would like to thank CISU for making this meet possible!
Druk Journal Conversation on Bhutanese Youth-Their Aspirations, Concerns and Mandate
The 14th issue of The Druk Journal was released with 17 articles on the theme "Bhutanese Youth – Their Aspirations, Concerns, and Mandate". As with all editions of the journal, an accompanying conversation was held on 30th November with close to 30 participants to deliberate on the theme. The panel consisted of an eclectic mix of 4 speakers who contributed articles covering themes of mental health, children with special needs, LGBTI and technical and vocational education.
The conversation touched on the very personal experience of parents living with children with disabilities, the various social and emotional turmoils, the LGBTIQ experience and adverse childhood experiences as the underlying causes of mental health issues. On a lighter note, the Conversation also dwelled on some of the changes the TVET reform plans to bring forth.
For more, visit www.drukjournal.bt website where you can also subscribe to Druk Journal. Thank you to Asia Foundation & UNICEF for supporting the conversation.
Celebrating the Ending of 2021 Media Lab Class
Students and faculty from Motithang Higher Secondary School (MHSS), a local school in the capital city gathered together in November to celebrate the closing of yet another successful series of multimedia classes conducted at BCMD's Media Lab. This initiative was a result of the wonderful friendship and shared belief in making learning experiential between BCMD and Motithang Higher Secondary School.
The closing also provided the opportunity for the students to showcase their work, where groups and individuals shared their videos and photos to 71 students in media studies and the faculty of Motithang Higher Secondary School. A member in the audience shared her insights on the importance of understanding media and using it as a tool to express oneself. Some students shared that the media lab classes sparked their interest in media, while others were empowered to use it as a medium to express themselves. The principal of the school, Madam Jigme said, "I am impressed with the creative work shared today, which displays your learnings from the sessions and I hope you all continue working with passion on building your capacity."
Media lab with its equipment and experienced instructors provides a nurturing environment for young media enthusiasts and inquisitive learners to use the space and equipment to learn media production aiming to cultivate their creative capacity to interact with the world.
Capacitating Youths to Become Audio Storytellers
This year's podcasting training engaged 17 participants to become storytellers by focusing on youths of Bhutan along with their hopes, concerns, dreams and responsibilities as young citizens of our democracy. The topics covered include mental health, employment, child sexual abuse and LGBTIQ. The training not only built the technical capacity of youths but also heightened their interest in social issues. At the end of their respective projects, the participants realised the need for them as citizens to be proactive and remain engaged in issues around them.
The podcasts will be uploaded on the BCMD Soundcloud channel. Check out our previous podcast series, 'Dha rei na ba' (trans. Nowadays) produced by the 2019 cohort here: https://soundcloud.com/bcmd/sets/dha-rei-na-ba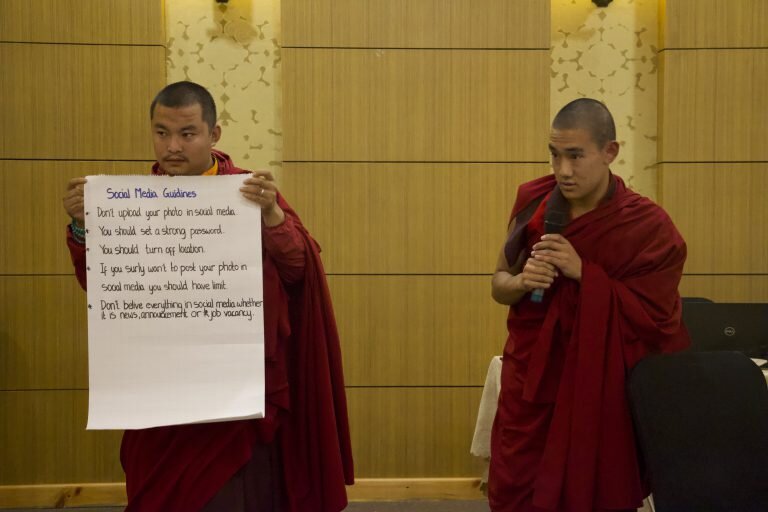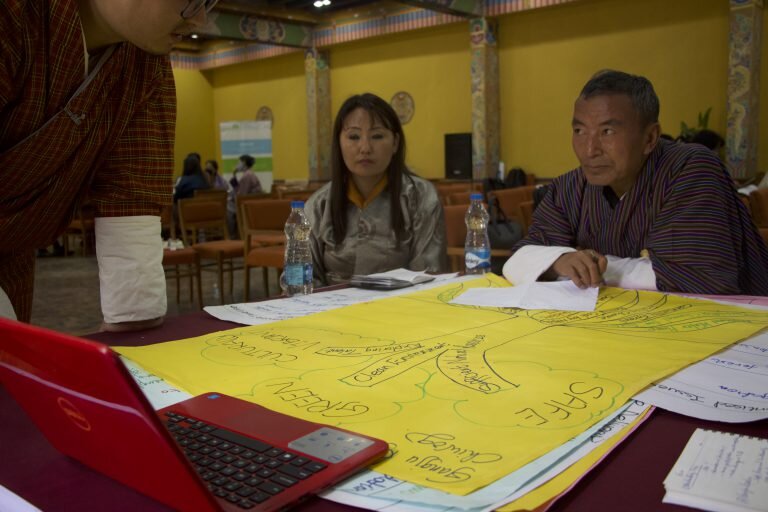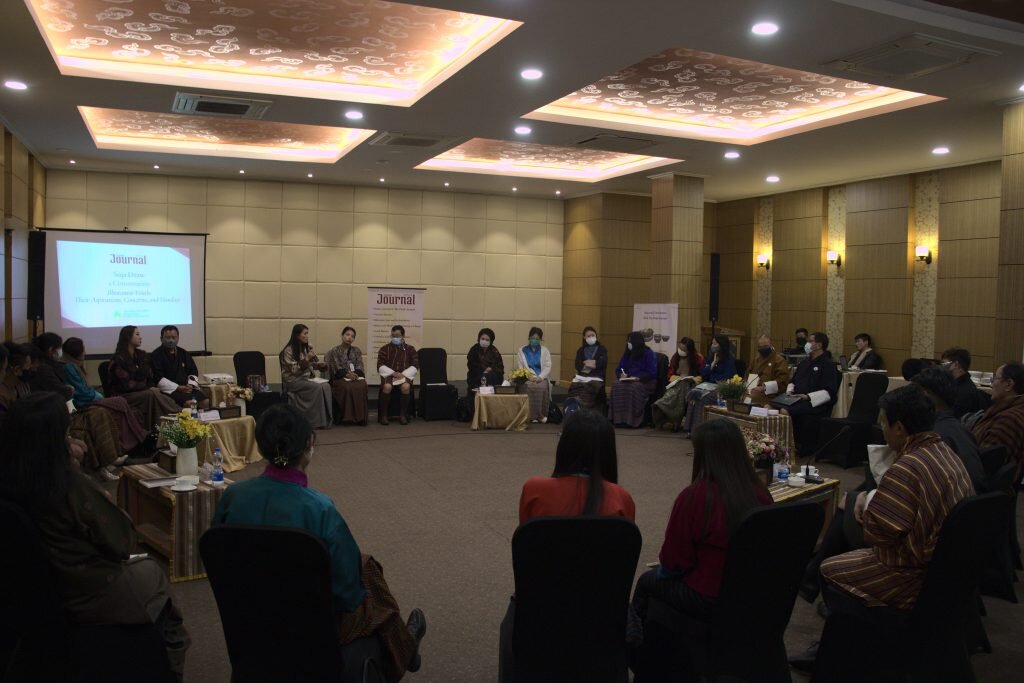 Links: