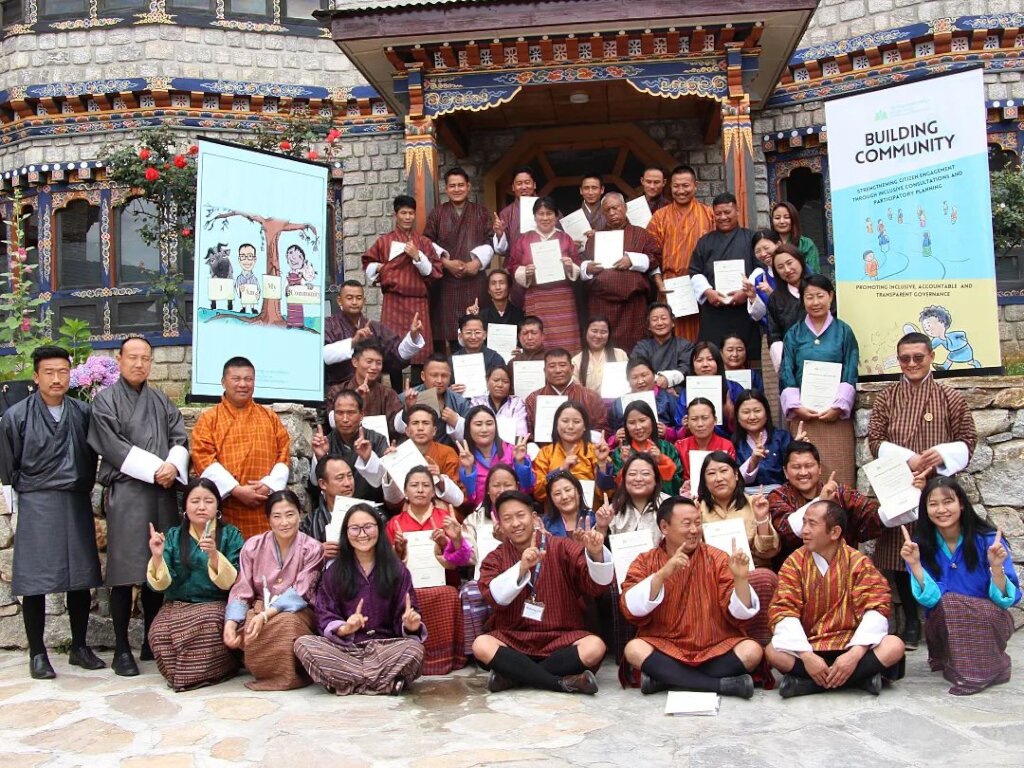 Empower Bhutan's Citizens to Engage in Democracy (#21600)
Transforming Planning Processes at the Grassroots

The highland communities of Merak and Lumang in Trashigang brought community residents beyond the regular "head of the family" to discuss community development needs. The consultation used the Gross National Happiness-Based (GNH) Participatory Planning Toolkit of BCMD which provided multiple lenses to co-investigate community issues in an inclusive setting.
A local leader from the Lumang community stated that it was the first of its kind in the region and helped the community ideate new developmental plans.
The year ended with a 5-day Training of Trainers (ToT) on GNH-Based Participatory Planning and Community Analysis with 12 diverse participants from Trashigang and Monger on 26th November 2022.
Check Kuensel's article on the event: https://kuenselonline.com/gnh-based-planning-for-lgs/
A Collaborative Policy Review for Social Protection

Over twenty public officials and civil society organisation members representing vulnerable groups (women, People With Disabilities, LGBT+ and youth) underwent a week-long training of trainers (ToT) workshop on Design Thinking.
A mental health worker remarked, "As a civil servant, we rely on our experience and qualification to develop policies, but this doesn't necessarily encompass the experiences of the vulnerable groups. The Design Thinking workshop made me realise how dangerous it is to look at the world from our desks alone."
Following the ToT, in October, close to seventy participants from vulnerable groups - women, people with disabilities, single mothers, recovering addicts, and LGBTI community members - including government officials attended a week-long workshop to look at social protection issues through Design Thinking processes.

On the last day of the workshop, a participant shared that the workshop was an 'awakening' experience for her as she got to hear lived experiences of PWDs, youth and women and it made her understand the purpose of her work.
Bringing Youth to the Centre Stage

The 2022 Youth Summit focused on promoting child-friendly local governance. Thirty-two youths and 12 local leaders, including district administrators, attended the 5-day Youth Summit in Tsirang. The Summit saw the budding of a trusting relationship between the Local Government leaders and the young participants.
Check out this article by Kuensel covering the event: Empowering youth to build child-friendly LG | Kuensel Online.
Here is the link to the news covered by Bhutan Broadcasting Service (Dzongkha news: 1:11:36 – 1:14:55 English news: 3:14:35 – 3:17:58)
Tendrel- a Citizen Engagement Platform was launched on October 15th to crowdsource citizen views on pertinent issues. Kickstarting the platform, over 4,436 youths and citizens took part in a poll on "How should Bhutan balance economic development and environmental conservation?"
Nurturing a Media-literate Society

Cyberbullying, phishing, misinformation and personal data breaches are growing concerns in the digital world. Forty-two local leaders from Thimphu and Paro attended a 3-day workshop to raise awareness on such issues and to prepare the local communities to navigate the digital world more safely.
Thirteen participants including Members of the Parliament, Assistant Research Officers, and officials from constitutional agencies received a three-day workshop on media and democracy literacy. An official from the government agency surmised, "Information as a public good is essential for making decisions. However, when authoritative sources do not engage the media, the danger is the consumption of misinformation and disinformation by the masses."
Nurturing Democratic Student Representatives

Democracy is best taught when it is lived. To infuse the school culture with democratic values, BCMD organised a "Nurturing Student Representatives" workshop for middle and high school teachers of nine schools.
One key takeaway for many participants was that student leaders are more than information disseminators and it is necessary to involve them in decision-making in school activities. Referring to the workshop developed for schools, a participant noted that "the workbook is the immediate resource that will help them 'materialise' the democratic culture in schools, and prepare students for the future".