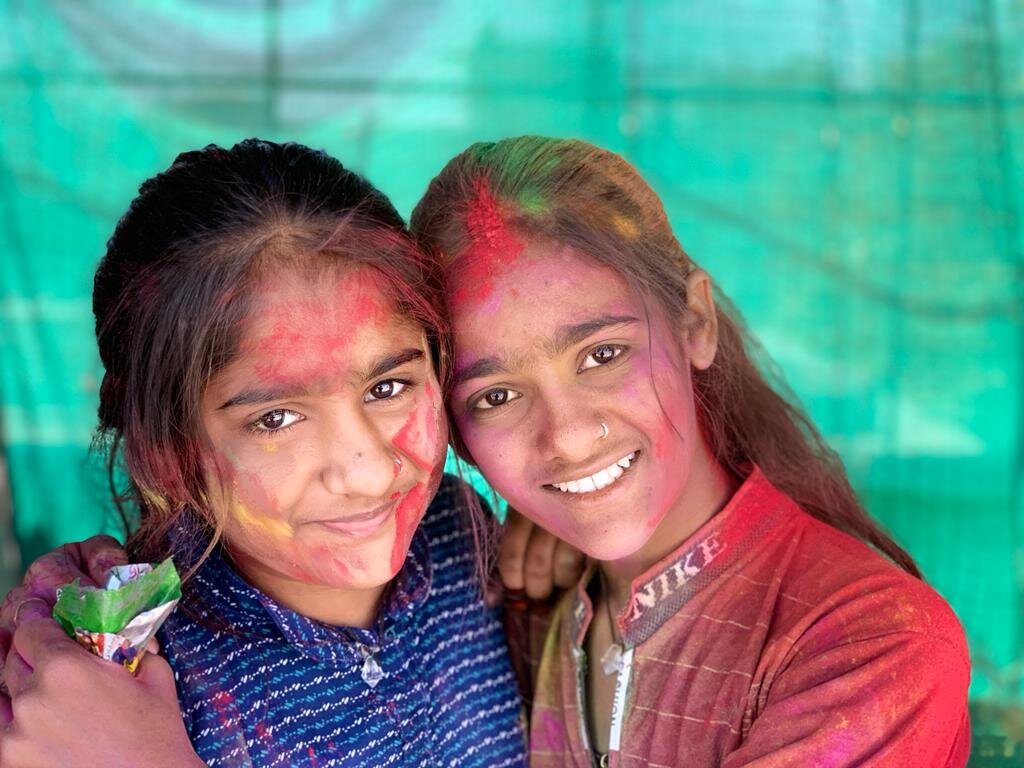 Educating the Girls of The Indian Thar Desert
December: From the middle of November until the beginning of December, all participants of Sambhali were part of our yearly #OrangeTheWorld workshops in the name of the UN campaign "End violence against women now!". Several workshops were held and everybody enjoyed to spread the word and learn more about the topic. Additionally, they had lots of fun to be creative, to decorate the boarding homes and create posters. On the 4th of December, most of them participated in Sambhali's rally through the city of Jodhpur.
In both Laadli & Sheerni Boarding Home, the girls had their oral exams in the first half of December and their written ones in the week before Christmas. Our tutors helped and supported them accordingly. All of them are still enjoying their weekly Computer and Self-Defense classes. After each class, one can see their happy faces and feel their growing empowerment. The older, former Sheerni girls who are living in Sambhali's HQ/Abhyasthali Boarding Home are having their regular college. Sometimes they joined our Aadarsh project and supports Mrs. Vimlesh with her workshops in local schools. Girls celebrated Christmas and enjoyed their winter break at boarding home. Girls are all improving at school and their latest tests were good.
January: On January 15, our NGO had its 16th birthday. It's been a long, crazy but beautiful journey since then and we could not be more grateful for everything that has been achieved throughout the years. All of you are a big part of this journey – thank you
Our girls at all three boarding homes are doing well. The older girls at Abhyasthali (located in Sambhali HQ) concentrate on their college courses, two girls started having tally course. Few girls attended workshops for instance regarding banking & accounting. Some of them have to attend online classes as their colleges are again closed due to COVID. Nevertheless, they enjoy studying and living together a bit more independently.
We are saying goodbye to January and welcoming February with an impression of Republic Day 2022 at our boarding homes. On January 26, India celebrates its Republic Day to commemorates the spirit of independence and individuality. On this day in 1950, the Indian National Congress proclaimed Purna Sawaraj, the declaration of India's dependence from colonial rule. Our students love to celebrate this important day with their friends and teachers at Sambhali.
February: Few girls from Abyasthali went to their homes to attend marraige functions. Their height and weight measurements are regularly taken and they are all gaining weight eating the nutritious vegetarian meals they receive at the boarding home.They have also been atttending to a lot of their minor health issues, looking at various dermatological problems the girls are suffering from.
March: Girls celebrated Shiv Ratri at boarding home in which they depict a play on the story of Lord Shiva. Everyone enjoyed a lot. On March 8th, the world, including Sambhali, celebrated International Women's Day. For many years, our whole Team came together to march for equality. Due to the pandemic, we were not able to plan our rally in the last two years.
This year, it was finally possible again! The event was inaugurated by the Honorable Mayor Ms. Kunti Deora Parihar. In the end, we all celebrated IWD together by throwing pink colored powder on each other. It was a great day and wonderful to see all our participants who have joined us in their pink Sambhali uniforms. Girls celebrated Holi with few guests who arrived boarding homes.
In this month the girls of both boarding homes had their annual exams except the girls of class 5th, 8th, 9th, 11th and 12th (as class 5th, 8th and 12th have their board exams) in the month of April. So, they were studying accordingly with help of Tutors.
Filled the board forms of board classes. Priya, Manisha and Vimla accompanied Mrs. Vimlesh in her Adarsh Workshop which enhance her confidence level. When college girls were free, they helped Mrs. Rajshree in Scholarship work as well. Nisha went to one industrial trip from college's side, and she enjoyed the trip a lot. Abhyasthali girls had RSCIT exams on 6th of March and the result will be announced in the month of April.
Workshops conducted in all these 4 months are as follows: -
Paint the world orange 16 days activism, Workshop on awareness on Omnicron virus, Republic Day, Mensuration, About the Ajanta Caves, Save the mother Earth, About the great Martyrs, Rajasthan Divas, AIDS awareness poster making, Daily uses Sentences in English, National Youth Day, Amazing facts of India, workshop about how to control exam stress, On mountaineering, about earthquake, Tsunami, Historical Stories etc.
Thank you very much for your endless and continuous support. We are very grateful and happy to know that so many people out there are connected to us and our mission. Many blessing from India, take care.
                                            Sambhali Trust