Project Report

| Oct 25, 2023
Carolyn A. Miller High School graduation ceremony held at the Domion Christian Fellowship.
By Abigail S. Teah | Media and communication Officer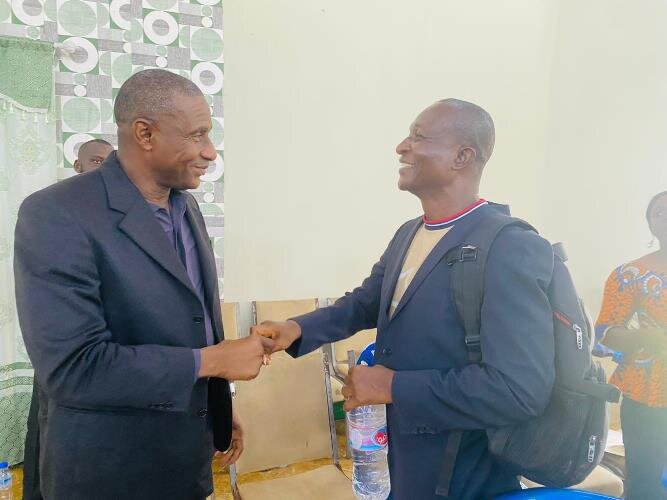 We are so happy for all of the support being offered to our organization over the years. We are thankful to globalgiving and our sponsors for helping thousands of underprivileged children in and out of Liberia. With our awesome donation, we are seeing a lot of changes in our community and the country at large.
On the 30th of September 2023, the Carolyn A Miller High School had a very unique graduation ceremony at the Domion Christian Fellowship in Paynesville city. The class of 2022\2023 was very excited to share such an organized program. They give a special message thanking their family for being a source of inspiration and comfort to them in their hectic days and to their hardworking teachers for encouraging them to do their best every day. Graduation has not been an easy ride, but it has been possible with the immense love, support and guidance from our parents, teachers and friends.
The valedictorian of the class of 2022\2023 is a brilliant and disabled young girl. In her speech, she thanks the CAMHS family for the uncommon zeal they have demonstrated towards their studies. She spoke on the topic "Education and Discipline". She encourages all parents not only to give their children education but also discipline, because discipline and education are two concurrent forces that can contribute to the elevation of a nation.
Due to her own story; valedictorian Faith encouraged many people, especially children with disabilities and also inclined parents who are faced with societal challenges due to their children's health problems, to give their kids' education rather than giving up on their dreams. Faith said she believes that children with disabilities also need to contribute to their society, they too are future leaders, they also have rights to express themselves and they are change-makers.
The guest speaker Rev. Papee thanks the administration and their donors for impacting positively in the lives of many youth in Liberia. He also encourages the graduating class to work hard and make positive decisions.
In conclusion, the chairlady of the graduating committee Ms.Teah appreciated the guest speaker for honoring their invitation and parents, staff and visitors for attending the graduation. She urges all graduates to make use of every opportunity, Keep aiming higher, be more patient, and practice positive affirmation.
Words are fleeting, and we want you to know that a simple "thank you" doesn't do justice to how deeply we appreciate your support. Individuals like you are not only a joy to interact with and to be around, but also you are an inspiration. Thank you so much for being so refreshingly loving. We say thanks to GlobalGiving and our donors for their support toward our programs.