Project Report

| Nov 21, 2023
You Continue to Fuel Dhammajarinee's Momentum!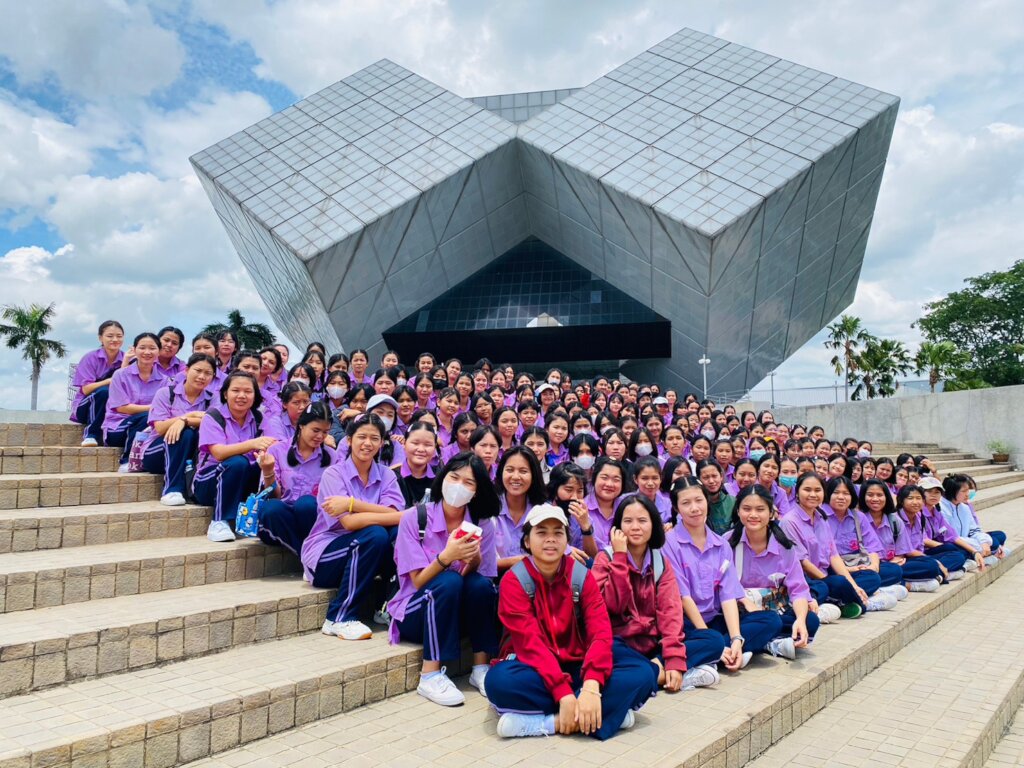 Thank you for recognizing the quality of Dhammajarinee's holistic education that fully addresses the problems of poverty. You are helping to create new lives and fulfill the dreams of every fortunate student.
Giving Tuesday is a global generosity movement unleashing the power of people and organizations to transform their communities and the world. This year, Giving Tuesday is 12 a.m.–11:59 p.m. 28 November, EST USA.
Donations up to $2,500 per unique donor will be eligible to receive a portion of GlobalGiving's Incentive Bonus Funds. The bonus depends on the amount we raise relative to all participating projects.
Enjoy some of Dhammajarinee's recent highlights that your support and good wishes have made possible. See more photos below.
First-Time Long-Distance Educational Field Trip
On 21 September, 164 students in grades 10-12, traveled two-hours to visit the National Science Museum in Bangkok. The above photo captures the sense of joy, wonder, and inspiration that this special trip provided.
English Camp for the High School
From 29 September to 1 October, grade 10-12 students enjoyed a lively, interactive English camp, hosted by Dragonfly. Their goal was to develop confidence among participants; confidence when meeting new people; confidence to work as a team and take a leadership role; and confidence when using the English language. The camp was sponsored by the Thai Government and the Buddharaksha Foundation.
Dhammajarinee Wins 23 Top Awards!
Dhammajarinee entered a province-wide interdisciplinary competition for private schools and came away with a remarkable 23 top awards from kindergarten to grade 12. Four were first-prize winners and will go on to compete at the national level. Areas included science, social studies, English storytelling, Chinese language, and several areas of the arts.
Kindergarten Students to Learn to Swim
The Thailand Ministry of Public Health recently reported that a high percentage of child fatalities are due to water related accidents. An important strategy to combat this is enrolling children in survival swimming classes.
The caring mother of a Dhammajarinee student inspired a donation of a small life-saving-training swimming pool for Dhammajarinee's youngest students. Dhammajarinee will provide swim training to small groups.
We wish to thank Dr. Pairat, Dr. Banjetphon Suesansuk and others for the pool, with funds to support maintenance, presented on 4 November.
New Video Introducing Dhammajarinee
The school is happy to have a more up-to-date video, produced by the highly talented filmmaker Amine Kouider. The video showcases Dhammajarinee's development from its history to where it is today. If you have not yet seen it, click to ENJOY and please share with all your friends!
https://www.youtube.com/watch?v=l_EBoqn7-tQ
Thank you for continuing to be a part of this wonderful school.