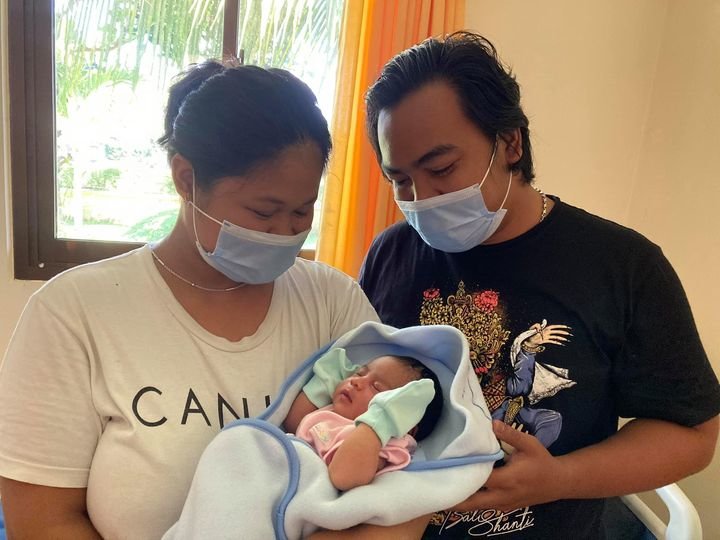 We took the challenge of COVID-19 seriously, and quickly adapted how we worked. Like many other health care facilities, we instituted new protocols for limited capacity, allowed fewer visitors and ceased group tours, and secured protective equipment for our staff. In response, moms adapted too, learning to use video calls to introduce the family to its newest member, just as those around the world learned to connect without physical contact. During labour and childbirth our midwives and medical team wear complete PPE (Personal Protection Equipment). In accordance with World Health Organization guidelines, moms in labour are welcome to bring their partner or a birth companion. No one should feel alone or abandoned in labour and childbirth.
We revisited everything we did, down to the smallest details. We added an even more rigorous cleaning schedule and implemented tight hygiene controls. We had long used washable hand towels to reduce waste, but switched to disposable paper towels instead. We taught our community to make masks and hand sanitizer.
We needed more supplies to stay safe through the pandemic, and GlobalGiving and donors from around the globe helped fund more PPE and COVID-19 tests. Your donations have allowed us to continue essential work. We made adjustments as necessary to comply with health guidelines, such as suspending elderly yoga, reducing acupuncture clinic services to three days per week, and moving Youth Centre classes online, which are currently temporarily suspended until schools reopen. Prenatal yoga, once held twice weekly at our clinic, migrated to an online-only class on our YouTube channel, thanks to instructor Wine Pramiyanti. Prenatal yoga is now being reintroduced with social distancing protocols in our big, open yoga shallah, with both Ibu Eva and Ibu Wine at the helm.
While Bumi Sehat operates in locations across Indonesia and the Philippines, it was Bali that was disproportionately affected by the overnight disappearance of tourism on the island. Prior to the pandemic, a booming tourism industry created hospitality careers, and jobs in, restaurants, spas and transportation. When borders closed around the world, whole swaths of the job sector were crippled or disappeared. More than half of Bali's workers were left without jobs and this has created a hunger crisis that only worsens as the pandemic continues.
Bumi Sehat has been working to identify needy populations in Bali and deliver food in collaboration with generous donors who funded these food drives. This includes the elderly, single and widowed mothers, those at high-risk from HIV/AIDs, pregnant and breastfeeding mothers, and families in rural villages of the North, where the 2017-2018 eruptions of Mount Agung adversely affected farmland. Bumi Sehat has been continuing the Balinese tradition of delivering Sambako, or staple food relief packages, together with fresh veggies and vitamins, to families and elderly in the Karangasem area, Temesi, Temukus and Pemuturan villages, to HIV patients and their families in need, and to elders in our home village of Nyuh Kuning. Our mobile medical team also delivered health and prenatal checkups at the same time and gave medicines as needed.
Of course, babies continue to enter the world. While our halls are a little quieter than they used to be, we're still busy doing what we do best -- ensuring moms and babies are safe, that both have gentle care, that they bond through skin-on-skin contact, that moms know the importance of breastfeeding, that they receive the nutrition and care they need, including fresh, delicious meals prepared under strict hygiene rules in our kitchens by our dedicated kitchen staff, and that families return home with hearts full of joy.
Each month in 2020, Bumi Sehat team midwives received more than 60 babies into the world. Additionally, our staff conducted more than 689 prenatal check-ups per month, free or by-donation. When health authorities mandated that labouring women be screened for Covid-19, we were able to secure the lab equipment and tests to meet this new requirement.
A new strain of the virus is threatening a second wave of lockdowns and bringing continued economic hardship. Meanwhile, we are encouraged to learn that researchers in the Netherlands found Covid-19 antibodies in 2,700 samples of human breast milk. This brings a mix of hope and uncertainty, which seems to be the new normal. No matter what lies ahead, we are prepared, thanks to your devotion. We will be here to help those in need. And as always, mothers will lead us to healing and the future.
Thank you for all your love, support and donations in these challenging times.
With love and gratitude,
Ibu Robin Lim & Team Bumi