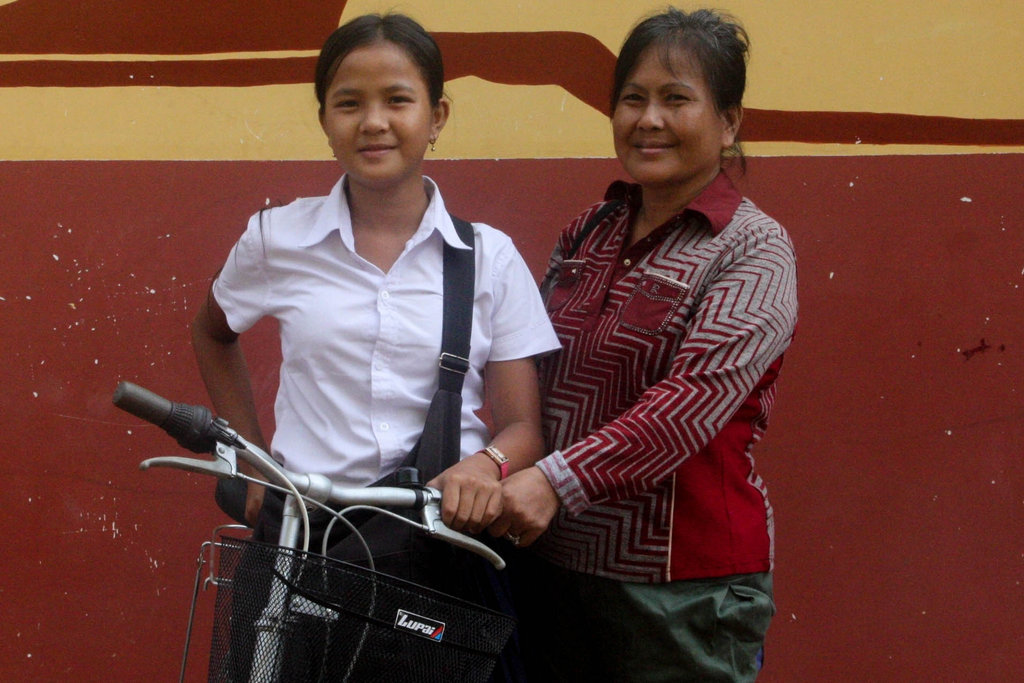 Hello from Cambodia!
I wanted to take this opportunity to thank you again for the donation you made to 'Cycling for Bikes and Running for Shoes'.
With everyone's support we raised over $3,000 USD online. And as we mentioned before we had someone here that is going to match all the donations, so the total amount raised is actually more than $6,000! Amazing! We couldn't have done it without you.
One of the children already benefitting from your support is 13-year old Sreylek (name changed for confidentiality) who was given a brand new bicycle last week. Like all the children we work with, Srelek comes from a poor family.
Sreylek is in Grade 7 at a local public school. She is one of more than 1000 Cambodian children that are able to go to school with the help of M'Lop Tapang's "Back to School" program. Although public school is officially free for all Cambodian children, families are still required to pay for school uniforms, books and supplies. For many of the poorest families even these costs prevent them from sending their children for an education. The "Back to School" program helps with these costs.
Sreylek is very happy because she never had a bicycle before. "I used to have to walk all the time but now I can ride by bicycle and it will be faster. "
The new bicycle not only helps Sreylek, but will be a big help to her family as well. Her mother will use it sometimes to go to the market or to pick up supplies for her sewing. Srelek's mother is with M'Lop Tapang's "Home Based Production Program". The program helps poor families develop a steady, safe source of income generation. Parents completing a sewing training program are provided with sewing machines to work with from their homes. The products they produce are sold in the Tapang's Shops. Having a steady income allows these parents, mostly mothers, to better provide for their families.
Again, from all of us here, thank you for joining in and helping us to assist the disadvantaged children, youth, and families in the area.
Have a wonderful 2015!
Links: