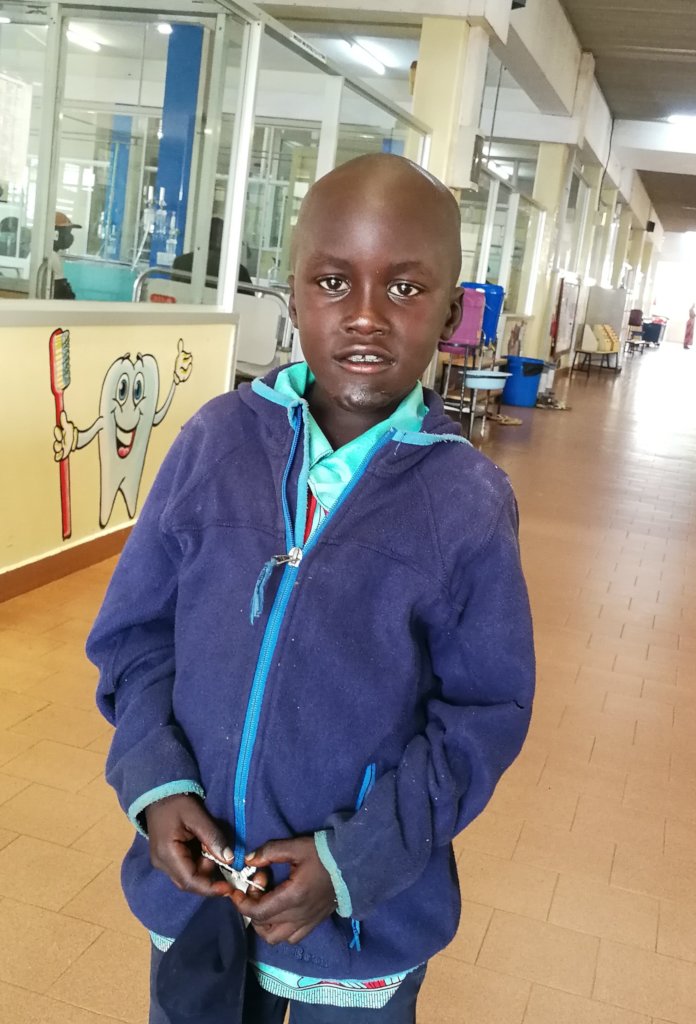 Emmanuel was brought to our hospital, St. Mary's Hospital Lacor in Gulu, Uganda by his father on January 30th of this year. Emmanuel was five years old. He had a six-week history of jaw swelling that followed soon after he had a tooth extracted in early November 2020. Upon admission, his lower jaw was so enlarged that his tongue and teeth were no longer aligned. He had pain and difficulty chewing. Our suspected diagnosis was Burkitt lymphoma. He underwent blood tests, an ultrasound examination of his abdomen, and a chest x-ray. He was scheduled for a biopsy of his jaw mass on February 1st to confirm his diagnosis. On the day of the biopsy, we could not find Emmanuel because his father had decided to abandon his son's medical care and they had left our hospital. His father chose to seek treatment for his son from a traditional healer.
After nearly seven weeks, on March 17th, Emmanuel's father brought him back to St. Mary's. His tumor had become enormous in size. It was evident that the traditional healer had cut the mass with razor blades as part of his treatment and the wound created by the cutting was deeply infected.
Emmanuel underwent a biopsy immediately and after confirmation that he had Burkitt lymphoma, he was started on chemotherapy the following day. The side effects of the drugs cause lowering of infection fighting white blood cells that made Emmanuel at high risk for developing life-threatening sepsis because of the wound. Therefore, we had to pay strict attention to wound care during treatment. We were pleased that he responded so quickly to treatment. With appropriate counselling, his father understood that we needed to administer chemotherapy treatment cycles on time and that Emmanuel's best chance for cure would be for him to complete all planned treatment.
Emmanuel completed all six cycles of chemotherapy according to the INCTR protocol for Burkitt lymphoma and due to strict monitoring, he did not suffer from any complications during treatment. He is in complete remission and will be returning for another follow up visit soon. It is unfortunate that although Emmanuel's mass completely resolved, he is left with the scars on his chin due to the traditional healer's interventions.
Emmanuel's story demonstrates the need to make the public more aware about the signs of Burkitt lymphoma and to seek care, if suspected, from qualified health care professionals capable of treating them, instead of relying on traditional healers. In our experience, traditional healers often drain the scarce financial resources that poor families like Emmanuel's have and cause delays in children receiving potentially curable treatment, particularly when our hospital offers free treatment.
Thanks to your generous donations, children like Emmanuel can receive the treatment and support they need to have the best chance for cure. Thank you again for supporting this project!