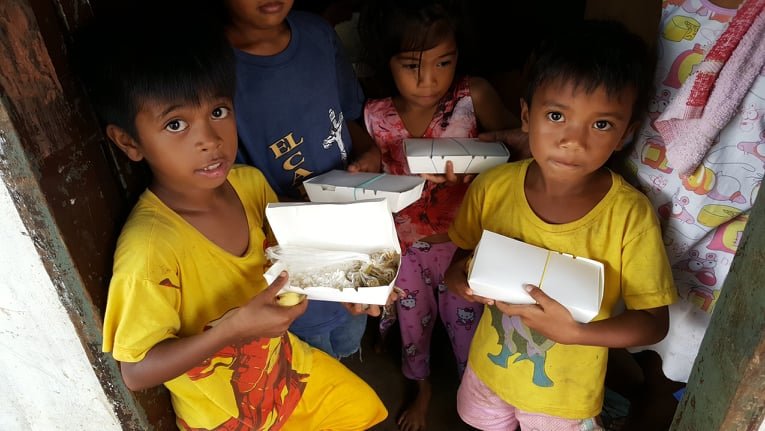 We started our relief operations in the first week of May. We are glad to report to you that, from then to now, we have served a total of 9,591 meals.
Through generous donors and volunteer efforts, we were able to distribute food to families and children who gratefully received the much-needed help. To maximize the impact, we decided to combine funds from our Covid19 Relief Funds, our #ProjectBaon Fundraisers, and other donations. These are what we have achieved so far:
Because of the COVID-19 situation, it is not advisable to gather people and kids to feed them, so we now pack the meals in paper containers and bring them personally to the homes of the children!
We were able to serve 4 locations and these are:
Brgy. Bagumbayan and Libis, Quezon City. Here we serve meals to 130 kids at least twice a week. We partnered with a local church in these communities to identify the children who will benefit the most from the meals we provide. The parents of these kids are unable to work because of COVID-19.
Sitio Dumpsite, Antipolo City. This community rests on top of an old landfill, thus the name. The common livelihood of people here is collecting scraps and recyclable materials to sell to junkshops. Here we feed more than 200 kids at least twice a day.
Brgy. San Jose, Antipolo City. We served meals to 100 kids in this poor community twice in May.
Brgy. Kamuning, Quezon City. Instead of serving cooked meals, we opted to distribute food packs to families in this large community to maintain order. These food packs consist of rice and meat enough for ten meals. We have distributed food packs to 234 families three times now.
In summary, we have fed 460 children, reached 230 families, and served 9,561 meals.
In the morning of July 1, we launched two more feeding programs! These are in Brgy. Tarece, Pangasinan, and Floodway, Cainta. We will be serving an additional 150 kids in these areas.
"I see happiness in my kids whenever we receive meals from you," says Lilian, a mother of five.
The father of her children is in jail. Lilian had him imprisoned because of his drug habit. "Even if it means my having to raise the children alone, I'd rather see him behind bars," she says.
Before the quarantine, she made a living by peddling Sampaguita flowers along Katipunan Avenue and sometimes by cleaning condo units at Eastwood City.

Since the lockdown began, she and her children have been forced to stay in their small house beside the river in Brgy. Bagumbayan, Quezon City. She has no way to earn a living, no means of providing food for her children.
"I don't know how to provide for them especially now that I can't work because of COVID-19 lockdown. This is a huge help for a single mom like me."
It is ROFP's mission to serve meals that will not only satisfy hunger but will also nourish the children's bodies. We want to stay true to this mission despite our situation now so we serve meals that has meat and vegetable in it and whenever available, some fruit as well.
Thank you very much for your support! All these would not be possible without your donation. Despite the easing of quarantine regulations nationwide, our people still encounter problems from day-to-day — COVID-19 cases continue to rise, businesses close because of bankruptcy, people lose their jobs. In all of these poor families are badly hit the most. Please continue to help us and share this with your friends so we can feed more children and give their families one less meal to worry about.
Thank you and stay safe!