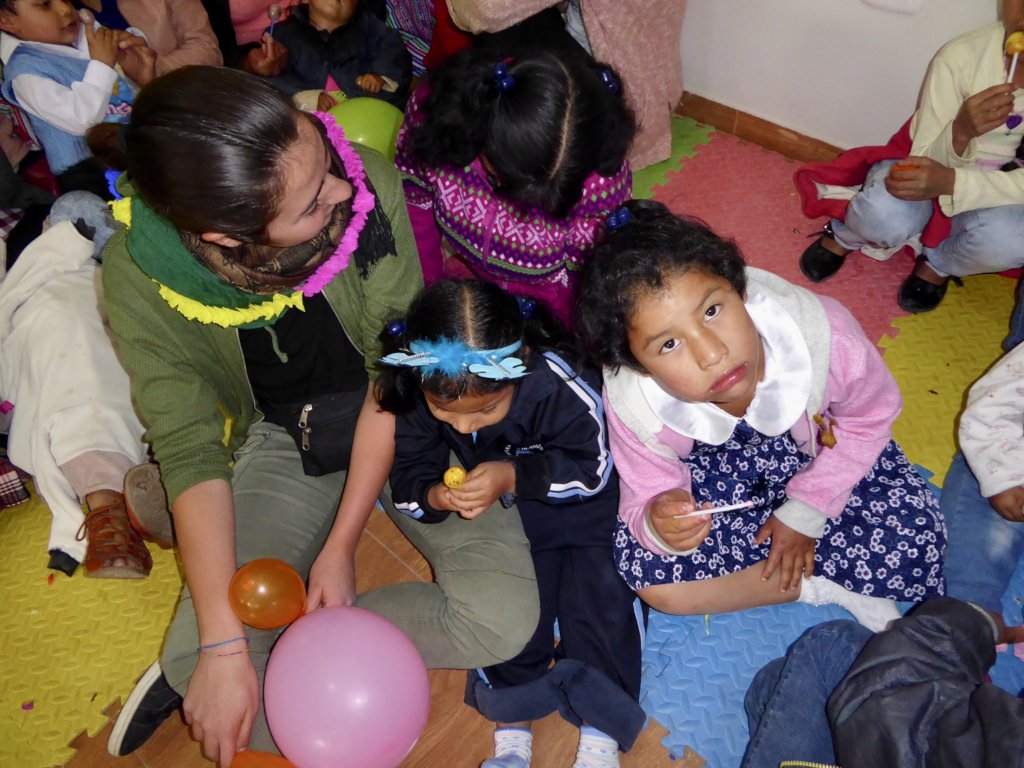 After a year full of surprises, Wasi Esperanza had its last activities on December 22nd. Wasi Esperanza has achieved a lot this last year with the children who received therapy, so we held a party for all the children, siblings, parents and so on, to finish the year on a high note and to celebrate the achievements.
One child that stood out this year was Doris; she lives in an orphanage and has the diagnosis of hyperactivity and attention deficit. She truly made a big improvement this year: by the end of the year, she was able to pay attention for at least two minutes (whereas it was 10 seconds before). She came to the party in a beautiful blue dress and enjoyed the clown a lot. She even was able to pay attention to all of the indications he was giving. To be able to witness progress like the one we see in Doris truly makes Wasi Esperanza proud.
The final part of the part brought the most joy to all the children: Santa Claus entered the room with a bag full of presents for all of the children. One smile especially caught the attention of the people of Wasi Esperanza. It was José; a boy of 10 years of age, who was diagnosed with Autism Spectrum Disorder and sensibility problems. Since he started therapy at just three years of age, a lot of improvement has been made: he can now express his emotions, sit without help and is less afraid of heights. Seeing him smile at Santa when receiving his Christmas present, gave the Wasi Esperanza team an incredible amount of joy. José's mother was so excited to see this that she cried when she saw this sign of her son's improvements.
The Christmas party was a great success for all the children; they received their presents, drank hot chocolate and ate panettone (a traditional Peruvian cake). We ended the party with a goodbye after which we waited for the arrival of the next year.
The next year came, January passed and then it was time for February. This means: Carnavales! This is celebrated in a very traditional way in Ayacucho, Peru. We went out into the streets of Ayacucho to sing about the work Wasi Esperanza does, and also that children with disabilities should be treated equally by society.
So far, that is all we have for you right now. But much more to come, friends of Global Giving! We will be sharing more about the progress we are making and all of the positive results we see in our children.

See you all a next time!