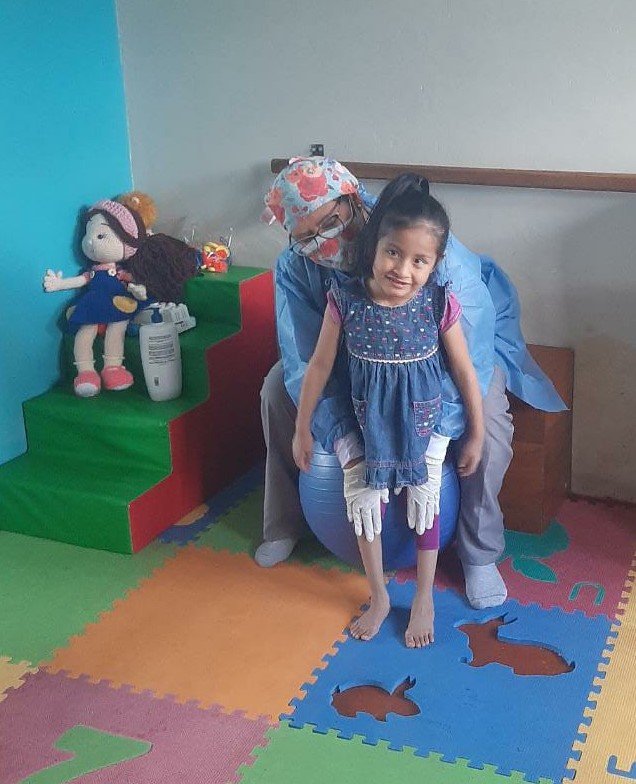 Gabriela is 6 years old, she is a happy, smiling and charismatic girl, she likes to play kitchen, sing and tell short stories, although not everyone can understand her.
Her diagnosis is Cerebral Palsy, she and her mother live in a rented room, her mother works hard so that she has everything she needs to develop.
Gabriela joined Wasi Esperanza at the beginning of 2016 at that time she was very small: she did not control her body, she had a very soft muscle tone, she drool, she did not have coordination and balance, she could not sit, she had anemia and many other things.
She received care in the areas of Physical Therapy, Day Center, Psychology and Education. Over the years Gabriela has had many achievements and successes such as: Stop drooling, be able to support her body, have balance, speak, change some clothes by herself, perform complicated exercises, eat some solid foods among others, leave the diaper and be able to go to the bathroom.
Gabriela learns very fast, she is always attentive to any situation, she has a good memory, she learned vowels, counting to 10, colors, animals, indications, her vocabulary has increased, seeing her as successful learning.
In 2019 there was a great challenge to include her in regular education. First she was in CEBE (Special Basic Studies Center) where she demonstrated all her skills, managing to enter the educational center "Niño Jesús de Praga" the following year in the 4-year-old classroom, she is still adapting to his new environment, classmates, teacher and workflow.
Due to the pandemic and quarantine, she has stopped attending her little school, thus leading virtual classes where her mother helps her with homework with support from the Education area, making the adaptations she needs since she still cannot speak properly and her motor functions are very limited.
When the quarantine began, she received virtual care but the mother does not have enough money to install the internet and the internet packages she bought were running out very quickly between classes and therapies. That is why she currently attends face-to-face therapy. The mother brings her carrying because she still does not walk and is afraid to use public transport.
She and her mother work hard to improve their situation, each is the support of the other and each achievement of Gabi makes her mother proud.