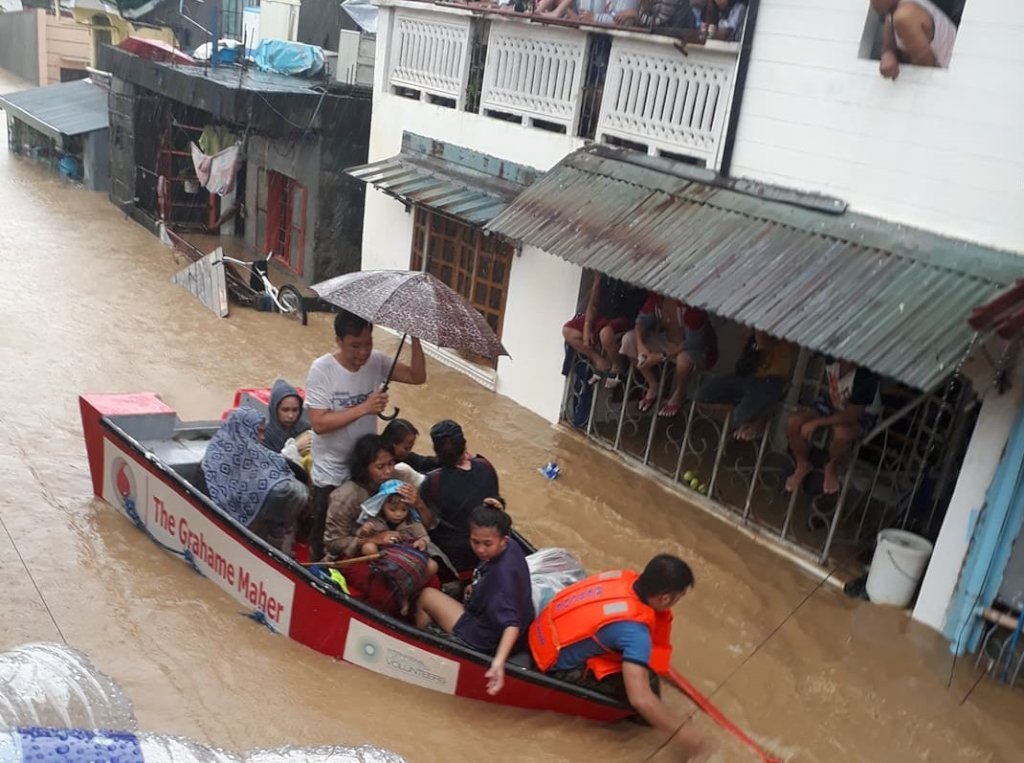 Thanks so much for helping provide rescue boats for flood prone communities.
These boats have proven to be lifesavers time and time again, including during typhoon Ulysses which struck the Philippines at the end of last year. Ulysses also brought some important lessons for the boat crews and our local partner Buklod Tao that we've been responding to over the last few months.
During the typhoon many boats had to navigate narrow alleys and fight heavy currents. Ka Noli, Buklod Tao's President explained what they realised in the process:
"It was observed that the paddles were used to push forward the boat by pressing the paddles against the walls of houses alongside the flooded street. Also, when the floodwaters were swift the paddles were sometimes no match to the current. There must be one more tool for the boat crews. We would like to provide "Tikin" poles to make the mobility of the boat more efficient by pushing."
Because of your brilliant donations we've been able to provide fourteen of these Tikin (or quant) poles - one for each of the volunteer boat crews that protect their local communities. Thank you for making this vital adaptation possible.
In our last report we also highlighted how typhoon Ulysses had revealed gaps in the fleet's geographical coverage, and that Buklod Tao were considering moving the Grahame Maher boat to protect 150-200 families living in the Baybay Ilog 2 area of Banaba. Plans have since moved forward, and Ka Noli again explained:
"After earlier discussions with the prospective team leader, Jhun Sarte, we have organized one new Buklod Tao DRR Team at Baybay Ilog 2, very close to Dama De Noche street, Dona Pepeng Subdivision, Banaba. We have handed over to the team one Tikin pole, two paddles and four life vests. We could not identify a secure place to dry dock the boat so the game plan is for the IDV-donated multicab truck to haul the Grahame Maher boat to the new Team at Baybay Ilog 2 during inclement weather".
This isn't the only redeployment of existing boats being considered after Ulysses. Major development projects spreading out from metro Manila are also diverting waterways and changing flood patterns. Ka Noli continued his report:
"I would add here the prospect of recent non-flooding in the previously heavily flooded area of Armpac.Testimonies have it that during last year's typhoon Ulysses Armapac was no longer flooded due to the almost completed huge drainage system that accompanies the construction of C-6 Highway. We are going to actively observe Armpac this coming flooding season, and if Armpac is truly spared from flood(s), we would opt for the retrieval of the Nova Mills Boat for hand-over to one other flood prone area."
The nature of the threat brought by typhoons in the Philippines is constantly evolving, and so too is how we work to protect against it. And while some areas are now less exposed than before, many more are increasingly vulnerable. So, we're continuing to raise funds for more rescue boats right here on GlobalGiving.
Once again, thank you so much for your ongoing support, and if you ever have any questions please don't hesitate to email Andy@IDVolunteers.org. I'd be delighted to hear from you.