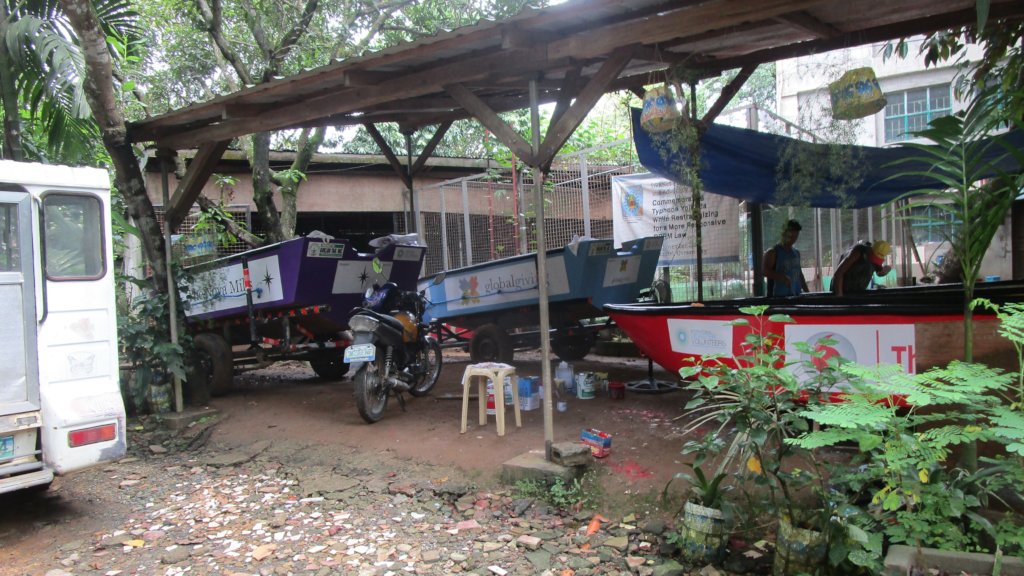 It's been an anxious few days for those with connections to the Philippines.
On December 24th as the country prepared to mark Christmas typhoon Phanfone (known locally as Ursula) made landfall in the province of Eastern Samar. Phanfone hit with the strength of a category 1 hurricane, bringing sustained wind speeds of almost 100mph and gusts of over 120mph.
Over 58,000 people were evacuated as the typhoon approached but 28 are still sadly known to have been killed during what should have been a joyful period.
Phanfone hit close to areas affected by 2013's typhoon Haiyian, which killed over 6,000 people and affected more than 14 million in total. Having spent years supporting thousands of affected families in and around the city of Tacloban our thoughts immediately turned to our friends there.
Happily Tacloban escaped the worst of the damage this time round, and our former Project Manager Siggy reported that all was well with him and his family.
Further north, Manila also avoided Phanfone's destruction, and our local partners Buklod Tao also remained safe over Christmas.
However, Phanfone was the 21st typhoon to hit the Philippines in 2019 and it provided yet another reminder of how vital your support to help build rescue boats really is.
In fact, it was only a few weeks before Phanfone that typhoon Kammuri (known locally as Tisoy) struck the island on which the capital sits, Luzon.
Tisoy brought winds approaching 100mph and Manila airport was shut down as a precaution as the typhoon rolled in. In the end Tisoy passed south of Manila but Buklod Tao had still been well prepared thanks to you.
The boats you've provided via this project are all crewed by local volunteers who risk their own lives to rescue their neighbours in times of crisis. However, they're only willing to do this if they know their own families are safe.
So, in advance of Tisoy making landfall Buklod Tao provided the crews' families with essential emergency supplies they would need should the worst happen. The crews had then been able to confidently stand guard knowing their loved ones would be safe.
Between Phanfone and Kammuri, Manila had two near misses in December alone so, once again, thank you for helping to protect flood prone communities in 2019.
We're continuing to fundraise here on GlobalGiving to provide our next rescue boat and meanwhile we're making further improvements to the Banaba Livelihood & Evacuation Centre that shelters people rescued by the boats.
Thanks to the generosity of donors like you a new water tower has been constructed next to the building. This tower has elevated two large 1,300 litre tanks and two smaller 200 litre tanks to the height of the building's top storey. The large tanks now gravity feed the Centre's showers and toilets, while the two smaller tanks have boosted supply to a solar powered water purifier.
So, evacuees sheltering in the building during typhoons can now stay clean and healthy whatever 2020 brings.
Thank you so much for your ongoing support, and if you ever have any questions please don't hesitate to email Andy@IDVolunteers.org. I'd be delighted to hear from you.