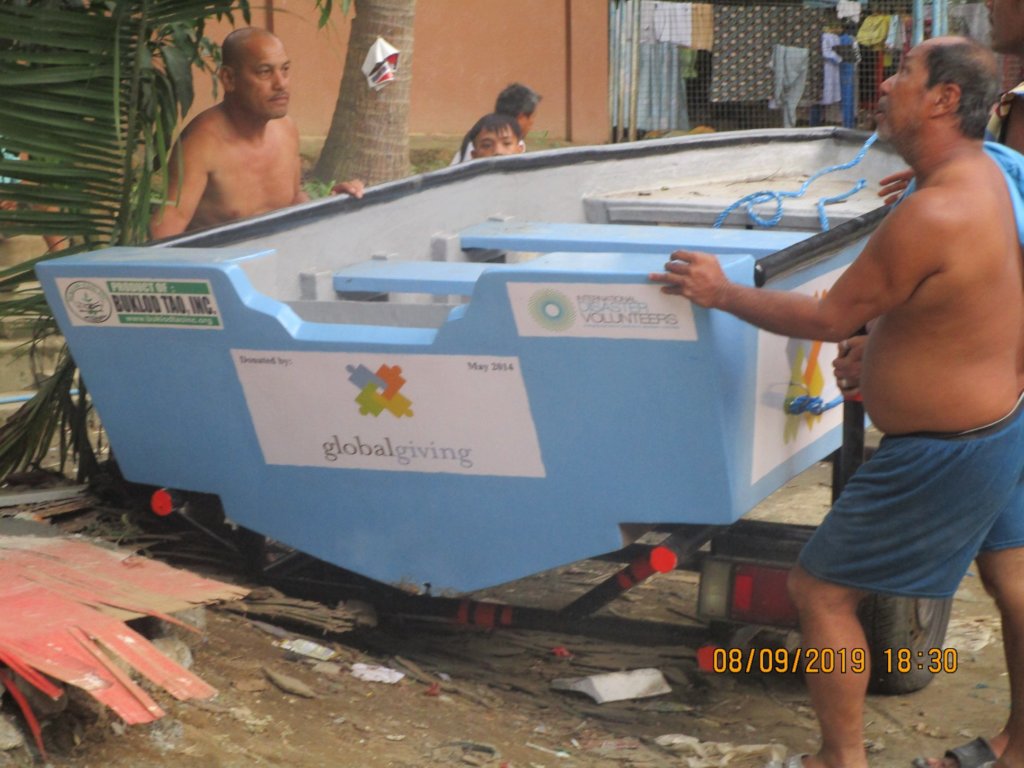 Thanks to your incredible support the boatyard in Banaba has been a hive of activity over the last few months.
Firstly, the new flood rescue boat we described in our last project report was completed in August. This new boat, The Chris Taylor, is now in place in Zone 6 of Brgy Ampid 1 in Banaba. This area is often seriously affected by major storms, so this new boat will play a vital role in protecting the community's 300 vulnerable families in future.
The Chris Taylor is the eleventh rescue boat you've provided and its ten predecessors have rescued many hundreds of people over the years, often including young children. However, their years of service had left them in need of a little TLC. So, over the last few months we've worked with our local partner, Buklod Tao, to restore and refresh the fleet.
Work started on the four small boats originally built back in 2013, including our very first boat which protects fifty families in the Visayas Avenue area of Banaba. Attention then turned to four of the large boats provided between 2014 and 2017.
At one point these four large boats; The Grahame Maher, The GlobalGiving, The Helen Thompson and The Nova Mills; were all dry-docked at the boatyard. With the rains growing heavier by the day restoration work had to happen quickly, and we're happy to report that the boats have all since been returned to their communities.
When the Nova Mills was returned to the Armpac area of Banaba we asked local resident, Joseph, how this boat helped his community:
"The Nova Mills boat is a big, big help to the 400 families here, especially when the ferocious southwest monsoon (Habagat) struck last year (2018). We were able to use The Nova Mills boat to rescue residents of the community when the flood waters reached chest high. We are very grateful. Special thanks to IDV's donors for providing this help".
Sonia, resident of North Libis had this to say on the return of The GlobalGiving boat:
"The boat is very important for our rescue use. When heavy flooding is here, the boat is an instrument for us to evacuate those trapped amongst our 300 families. Thank you!"
Ben, from the Banaba Extension area, was also very grateful for the return of The Helen Thompson:
"Salamat Po! (Thank you!) The Helen Thompson rescue boat will surely be a big help to us in times of disastrous flooding. We are 500 families here with many elderly people and children who cannot move fast."
It's been amazing to revisit all these flood prone communities and to ensure that the boats you've provided will continue to protect them in the future like they have so often in the past.
But we're not done yet. With these boats returned Buklod Tao asked if we could help to restore and repaint six more small boats originally built before our partnership began. We happily agreed and there are currently three of these boats at the boatyard, and the final three will be retrieved soon.
These restoration works have also been a great time to take stock of this projects impacts and we're delighted to report that between the seventeen boats in the overall fleet over 5,400 families are being protected. This is an incredible achievement and its only been possible because of your amazing generosity.
Thank you so much, and if you ever have any questions please don't hesitate to email Andy@IDVolunteers.org. I would be delighted to hear from you.