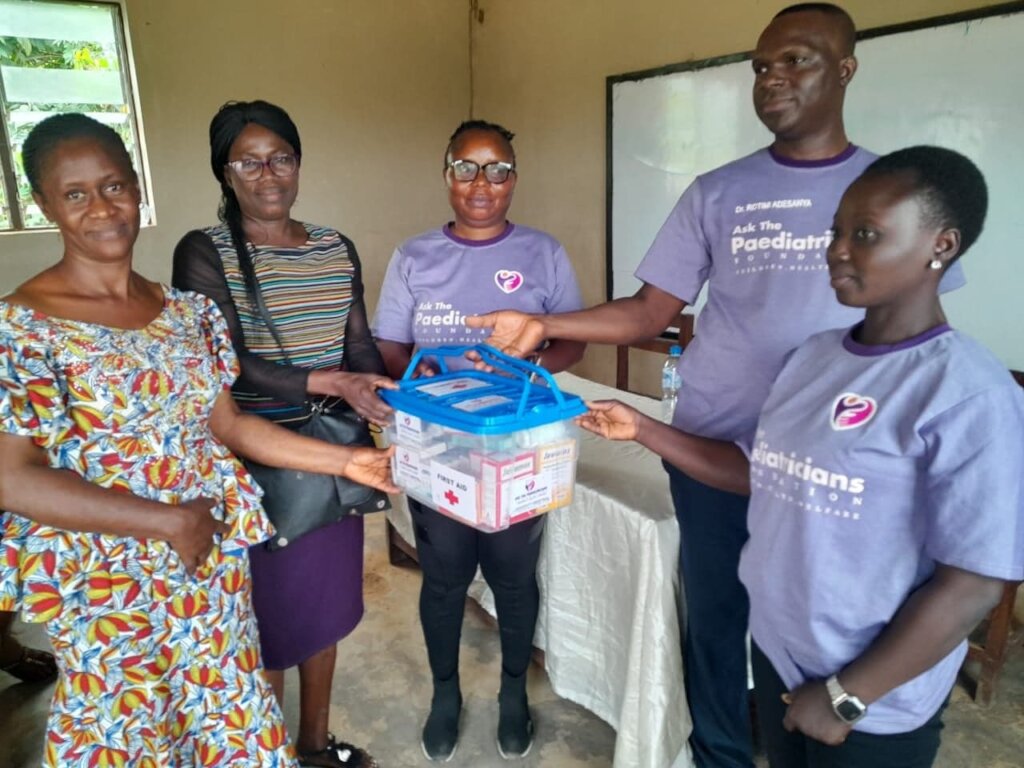 Ask The Paediatricians Foundation in October 2022 is visiting hundreds of schools throughout Nigeria for our October Independance Day School Outreaches. We have visited many schools with health campaigns and donation of first aid kits. We stil have more scheduled to be visited. Our goal is to empower our school communities in Nigeria to be healthy schools.
Here are some reports and pictures from our State chapters from the ATP State Chapters about the schools already visited. This is an ongoing project in Nigeria as part of the commemoration of the country 62nd independence day celebration. We will continue to share updates from the field as the outreaches continue.
Adamawa State Chapter
ATP volunteers in Adamawa visited Wuro-Yanka 1 Primary School in Ngurore, Yola-South LGA, Adamawa State. They reached a population of 1547 pupils. They gave health talks and donated First aid boxes containing essential kits - cotton wool, Hydrogen peroxide, methylated spirit, paracetamol, plaster, dettol and bandages. In additon they donated five liters of liquid soap to support the hand hygiene of the grateful school community.
Kwara State Chapter
Ably led by Dr Ifeoluwa Adeoti, ATP Kwara reached out to Ita Alamu Secondary School and reached 345 students. They also did had an outreach at Omowunmi Model College and impacted 184 students. The team of volunteers did health talks on multiple health topics such as "What is health, personal hygiene, oral and dental hygiene, menstrual hygiene, Know your health status, physical exercise, good health seeking behaviour, healthy diet, sleep hygiene, environmental sanitation and avoiding harmful practices. The team in addition to the health talks donated stationeries - exercise books and pens to the students. The team strongly believes that the school outreaches positively impacted lives even in more ways than we can imagine. The
One of Kwara State new volunteers feedback "As a first time volunteer, it was so wonderful. I'm short of words..... I'm so grateful to ATP Foundation, for giving me this platform to do what I love doing most, reaching out to people, especially children, and touching lives. Now I understand what our CEO, Dr. Gbemisola said in the Volunteer's Course, 'What matters is the Joy you feel at the end of the day, no matter how stressful the outreach was'.
Abuja FCT Chapter
Abuja Chapter volunteers visited Unique Standard Bearers Montessori School Kubwa with over 188 students. In addition to their health talk, they also donated Stencils to the school. They are still looking forward to visiting two more schools.
Benue State chapter
The team visited two schools - UBE Secondary School Tionsha and RCM Nursery/Primary School Tionsha. The team gave health talks to the pupils who were very delighted to have them around.
Osun State Chapter
Osun State visited Lead British International School Osogbo on the 7th October 2022 and reached more than 40 students. The State Chapter Coordinator, Christiana Adelodun gave a brief introduction of what ATP vision and mission followed by Health talk on personal hygiene. The chapter donated sanitary pads to students from ages 10years and above. The Head of School were very delighted to have our team. The teachers were not left out during the health talk. The students actively participated and asked questions which were answered by the team.
Lagos - Ikorodu/Kosofe Chapter
The Chapter volunteers visited 2 schools - Judahland Private School and Juligrace Private School on Tuesday 11th of October, 2022.The pupils of the schools were given health talks on First Aid, balanced diet and importance of emergency numbers. The team also donated First aid boxes which contained essential medications and first aid kits such as paracetamol, methylated spirit, iodine, ORS, gus, plaster. In addition, they donated 6 rolls of toilet paper, 10 litres of liquid soap and a carton of biscuit to each school. The Schools were grateful and they are looking forward to having our team in future.
Lagos - Epe Chapter
The Zonal chapter visited two schools in Epe on the 3rd of October, 2022. The first school reached wasTargfour Preparary Nursery/Primary School origonrigon, Epe where they gave Health Talks on Basic Hygiene, Environmental Sanitation and Healthy diet. The second school was Grace Nursery and Primary school Ereji. All together they reached a school population of 125 pupils. The team also did basic First Aid Training for 10 teachers on Emergency situations in School, How to dress wounds and cuts, How to admimnister First Aid to pupils having Fever, How to admimnister First Aid to pupils convulsing and First Aid for Fractures. In addition to the training, the team donated First Aid boxes to the two schools and served the children a healthy meal to prevent malnutrition.
Lagos - Ikeja Chapter
The Lagos team in Ikeja visited Top Legend School in Abule Oja, Akoka close to the University of Lagos. The team gave health talk to the happy population of students.
Gombe State Chapter
The team in Gombe visited two schools - Charis Academy and Brainfield Model Academy in Gombe. They gave health talks and donated stationeries to school.
Borno State Chapter
The ATP Borno team visited Maimusari Junior Secondary School at Bama Road in Maiduguri. The volunteers gave health talk to the school population of 192 student. In addition, they donated to the school hand-sanitizers and face masks.
Ogun State Chapter
The Ogun State Chapter visited first St Peter's School, Iyana Oluwo and Dominion International School.They were warmly welcomed and the school held an assembly where the team gave an health talk on Personal and Environment Hygiene, Importance of Deworming, Dangers of Drug Abuse and Self Medication; and Sexuality Education. The volunteers reached about 470 pupils who actively engaged with the health education and were able to ansswer correctly the questions asked to guage their understanding. In additon to the health talk, the team also gave the children healthy refreshments and donated books on sex education.
As at the time of this report, the remaining ATP State chapters have scheduled many school outreaches as we seek to reach as many schools as we can. We appreciate all our volunteers and financial donors who have made it possible for us to continue to touch millions of Nigerian children in schools and communities. We seek to do more and will appreciate your continuous support. We will bring you the concluding part of the school outreaches soon.