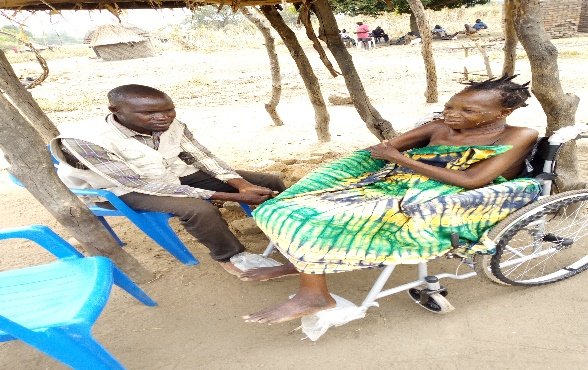 SUPPORTED PATIENT'S STORY (MARY)
Mary (not real) name was cited by team of Peace Hospice Adjumani (a local organization that responds to the palliative care needs of persons with chronic illnesses and a partner of Voice for Humanity in this project) while offering their routine services of palliative care in Adjumani Hospital. Even from a distance, she looked helpless and week.
Mary is a 46 years old woman, a widow with 3 children living in Minia village of Biyaya parish Adjumani town council in Adjumani District. Mary lost her husband in 2016 due to hypertension. Hereldest daughter is 17 years old and the main care taker of Mary in her current health condition while her youngest child is 10 years.
In 2010, Mary was hit with a log on right breast by the brother in-law in a fight over land that she was cultivating for which she was being denied access to by the brother in-law. Mary's breast got inflamed and started bleeding. She then sought medical help in various private clinics and public hospitals including Adjumani hospital with no improvement. In 2015 doctors in Adjumani hospital referred her to Lacor hospital in Gulu for biopsy, but after waiting for a month she was told the results got lost, they again requested for another sample which was taken and again sent to Lacor hospital, in two weeks' time she was told sample taken was from a wrong site, Mary had used all the money she had, she gave up and went home. While at home she became too ill and she was brought by neighbors to Adjumani hospital. A sample was taken again this time, the result came back in two weeks and a diagnosis of cancer of right breast was made with metastasis to the bones.
On 16/06/2020, as the team of peace hospice was in surgical ward, they cited Mary who looked helpless and week, while clerking she had severe and overwhelming pain; the team initiated her on oral liquid morphine. She was not told the meaning of cancer, but she kept on saying the brother in-law bewitched her because of the land. Her main concern was wheel chair because of failure to walk, lack of food for the children and school fee plus life after her death. She was later on discharged from the hospital. While at home, due to failure to walk, Mary had been confined inside the house, plastic chair design acted as a bed and at the same time used as toilet. Mary spends both day and night on the chair in one position to the extent she developed a week limb.
Your donations received through GlobalGiving enabled Voice for Humanity Uganda and Peace Hospice Adjumani to procure A WHEEL CHAIR for Mary which has put a smile and restored hope not only to Mary but the whole family. The wheel chair was delivered to Mary on 23/01/2021. The family was excited and said they shall wheel their daughter in church the following day, it has reduced the burden of lifting her for toileting, and she can now eat without the fear of burdening us, we are able to enjoy her company and stories under the mango shade (said the daughter). Mary was overwhelmed with happiness on seeing team deliver to her the wheel chair. In her own words Mary said "I have not seen the outside environment for over six months, even the ray of sun burns my face, but life has come back again, may the Lord God protect Peace hospice and Voice for humanity, such that they may reach to other patients with the same services, if i die, I shall die a happy women she adds".
Sharing this project link with your friends and family not only supports women like Mary but ensures persons living with chronic illnesses enjoy improved quality of life with dignity