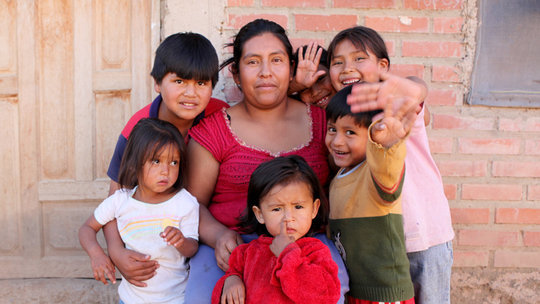 Dear supporters,
As you may know from our previous reports, the project to promote improved sanitation solutions through micro-credits in Cochabamba has been advancing, but the number of people who finally obtained these micro-credits were below our expectations. We analyzed the situation at several moments and continuously improved our model - and at two moments our local micro-finance partner as well - but the results kept being somewhat disappointing.
Our analysis of the experience as a whole led to the identification of the major obstacles:
- Many families living in peri-urban areas rent their house and thus are not entitled to change infrastructure, and the landlords often are not present or not interested in investing in improvements in sanitation.
- Sanitation seems to be a low priority of families in peri-urban areas - in spite of the fact that in urban areas of Bolivia, only 35% of the population has access to improved sanitation facilities. When offered a flexible micro-credit, many families decided to invest in building a wall for their lot in order to increase security.
- The market conditions for credits have been changing drastically in Bolivia over the past few years. As an example, one of the leading micro-credit institutions decided to raise the minimum amount for micro-credits to $ 2,000 - which by many standards no longer is considered a micro-credit.
All these factors led to few cases of micro-credits given to families, in spite of training and informing thousands of families. Therefore, the costs of promotion are very high in comparison to the number of credit approvals, and if we wanted to recover some of these costs through the micro-credits, the interest rates would have to be very high. As we have a clear mandate to improve water and sanitation conditions of low-income households, we consider that we need to be able to offer conditions which are significantly better than the commercial micro-credits, which is not possible at the moment. As a conclusion, we decided to suspend promotion activities for the moment.
However, we do not give up on the idea of improving sanitation conditions through micro-credits. The need for adequate water and sanitation solutions in Bolivia continues to be enormous, and the social and economic benefits of these solutions are very significant. We think that the model we have developed and tested is good, and so are our local and international partners. We now need to find a way to finance our promotional costs before we can launch a next phase of this project. Please stay tuned to this platform (or to the institutional website of the SODIS Foundation: www.fundacionsodis.org) and keep looking for the latest developments regarding this project.
In the meantime, you can also support our other projects, for example a project to improve water and sanitation conditions (without micro-credit) in 40 schools. Each donation made as a gift to someone will generate an additional $5 until May 15, so please consider making use of this opportunity (Mother's Day is approaching).
Best regards from the whole project team,
Matthias Saladin
Links: