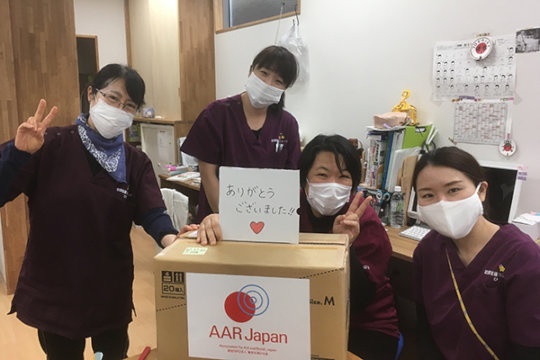 AAR Japan continues to distribute hygiene products such as masks, rubber gloves, disinfectant, disposable gloves, and other items to welfare facilities for persons with disabilities and hospitals in Japan.
We are supporting them to continue their operations while taking measures against the COVID-19. Also, we are providing the information and communication equipment necessary for staff to telework and implement online meetings.
'No one's life can't be lost'
We delivered masks, rubber gloves, and other items to Kyosaren (Nakano-Ku, Tokyo), a national organization of welfare facilities for people with disabilities in various regions. These supplies are being distributed to member offices in Hokkaido and the Tokyo metropolitan area through Kyosaren. A representative from Kyosaren said, "Although sales of masks in stores have gradually started, welfare facilities for the PWD are still struggling to secure enough masks. Each office is working hard every day with a sense of urgency and continues to provide support. Because we believe that everyone should have a place to go and all lives are equally valuable.
Fukushi Hiroba(Welfare Square), which provides intervention to children with disabilities in Kyoto, had not enough disinfectant with more than 70% alcohol, which is essential to prevent infections among children who require medical care. Therefore, we provided highly concentrated disinfectant gel alcohol, masks, and disposable gloves. In addition to being used within the office, we also distributed them to the parents of children attending the facility. One of the staff members in charge said, "We were able to receive a large quantity of highly concentrated disinfectant, which was very helpful. We use them at the treatment and education sites, but we also ask them to use them at home since they spend a lot of time at home. we were very happy to receive the products. We hope that the COVID-19 crisis will be brought to an end soon.
Exceeded expectations in terms of requests to install telecommunications equipment and services
In addition to hygiene products, we provided wireless LAN equipment to the "Nagano Colony," a welfare facility in Nagano Prefecture so that staff can work from home. We also shared information on how to communicate if COVID-19 infection occurs at the facility.
Our survey of more than 70 disability-related organizations revealed that in addition to hygiene products, there were many requests for information and communication equipment and services to be introduced. Some people with hearing impairments spend their days in anxiety because of reduced opportunities for face-to-face communication due to restrictions on going out. To enable these people to communicate with each other through sign language, and to meet the need for cameras for web conferencing due to the increase in the number of employees working at home, we are currently providing support for the introduction of these types of equipment and services to 14 disability-related organizations and facilities.
To prepare for the second and third waves of pandemic
Many people with disabilities are concerned about underlying health conditions, so hygiene products to prevent infections will continue to be needed in places where people with disabilities live in groups. Also, due to the effects of COVID-19, the number of jobs at workplaces where people with disabilities work has decreased, and in some places, it has become difficult to pay wages. That can also have a negative impact on their mental and physical health.
We will continue to support welfare facilities for people with disabilities so that they can continue to operate while reducing the risk of infection. We would like to ask for your continued support.