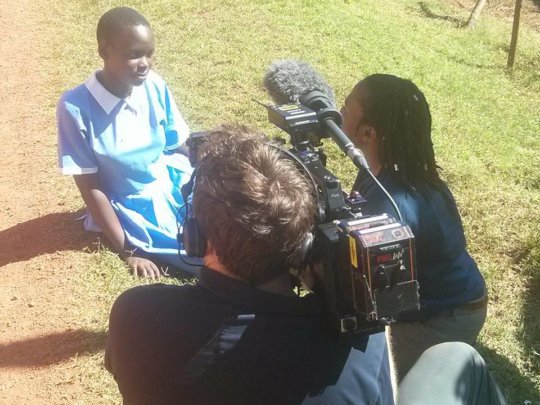 Thanks for your support to Mountains of Hope projects always, last month we were featured on the BBC world service for the work we do in Ugandan communities especially teaching children to make their sanitary pads, they donot need to look for a sponsor to donate a sanitary pad, that problem has been solved,one of the children that Mountains of Hope is supporting had this to testify to the crew:
Josephine a 14-year old girl in grade six in Besania Primary school in Mpigi District told her story during the BBC interview recently; "The teacher asks you to come at the front to write your answer on the black board, you're standing in front of your class when giggling erupts from the back and everyone's pointing at your behind. With despair you realise you have stained your dress, you start imagining the days you will spend without going to school, you have to keep checking your dress,"Have I leaked?"
But am grateful for the training Mountains of Hope brought to my school- she adds
"These days I don't have to miss school, unless if I have malaria or any other problem, no one in my class can notice that am in my periods, Mountains of Hope taught us to make our own sanitary pads and as a result, I made 8 pads, I carry 3 to school to change, our school has provided us a safe room to change pads from.
The sanitary pads in the shops cost 2500 shillings per pack.(1USD)That's nearly a whole day's pay at the minimum wage - and you really need two packs per period.
Imagine spending two days' wages every month just on sanitary pads.
There are many more projects that Mountains of Hope does in the Ugandan communities, you support one, you help the entire community
A link to the BBC video on our project:https://t.co/p0MHuk0ePW