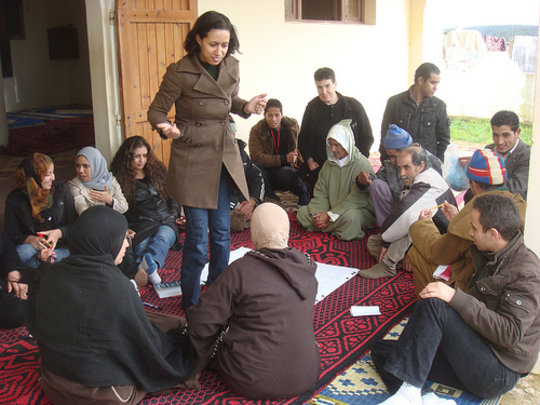 In 2008, Hassan II University's Faculty Law, Social Science and Economics partnered with HAF to create the Center for Community Consensus Building and Sustainable Development, which transfers skills in participatory community planning to students, faculty, civil society and government workers, and local people. In 2011, HAF opened its field-based participatory training Center in the town of Tahanoute of the Al Haouz province; the Center provides technical and administrative support for HAF's project locations in the region.
The Foundation has conducted a series of experiential participatory training workshops in the Mohammedia area, successfully transferring skills with 30 university students and 15 communal assembly members. Through its field base Center, HAF is currently conducting a village-based training with 65 representatives from the 43 villages of the Rural Commune of Toubkal, Province of Taroudant.
This proposed project will train 25 university students of Hassan II University and the contents of the proposed participatory development training curriculum include:
Role of the Facilitators & Characteristics of Effective Projects
Steps in Project Planning
Participatory Analysis and Priority Setting with the Community
The Project Design/ Part 1 – Vision, Assets, and Strategies
The Project Design/ Part 2 – Goals, Objectives, Signs of Success and Feasibility Test
Action Planning/ Identifying and Sequencing Tasks
Action Planning/ Assigning Roles and Responsibilities
Action Planning/ Making the Time-line
Monitoring and Evaluation Planning
Resource Identification and Budgeting
Proposal Writing and Project Presentations
Funding Sources; Looking Inside and Outside the Community
Next Steps; Taking It Home to the Community
This program will lead to having groups of students work on specific projects that could be funded sometimes during this school year. We hope that you will support it.