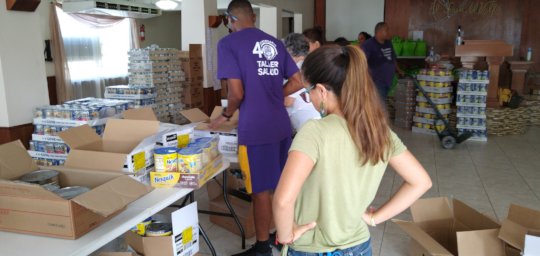 Dear friend,
These last months have been very busy in Taller Salud and we cannot be more honored to be able to help the people of Loiza, especially in these summer months.
The threat of hurricane Dorian led us to organize, in less than a week, a massive food and first-aid items drive for our communities.Thanks to donations, from you and from allied organizations, we distributed hundres of bags and boxes filled with food, first-aid items and care items for bed-ridden people all over Loiza, helping them be prepared for the last part of the hurricane season. Thankfully, the damage on the east of the Island was minimal, but this event served as a perfect opportunity to strenghten our community relationships.
When we say that education is key, it's because we've ascertained time and again that plans can be forgotten in the heat of the moment if we don't follow them up. That's why we keep engaged with community leaders, to make sure everyone (them and us) is up to date with emergency preparations. We keep our educational materials current and develop new ones as the need arises.
In other educational news, every month, each of our programs design activities to better connect to our communities. The process is organic and responds to the peoples' needs.
For example, in these last few weeks the Peace and Development program has organized activities from horse races to domino tournaments, to better engage our youth and keep them away from idleness and violence.
In the Women and Health program we've hosted childbirth classes for the women of Loiza, and were happily surprised when people from all over the Island showed up for a month of education, every Friday afternoon.
The Community and Leadership program has been hard at work at advocacy efforts, guiding our community into organizing against a new wave of overdevelopment efforts spearheaded by the private sector and that threaten our right to our public lands. These efforts have taken place all over the Island and once in Washington, DC.
We've been very busy, but the satisfaction always surpasses the hard work. Certainly, this couldn't be done without your continuous support. For that, we thank you.
Best regards,
Alejandra