Education, Awareness and Community Health (EACH) has strong believe on struggle and Hard work and we continued our hard work since we established our organization in 2006. Our mission is to spread Education in every corner of our country which is big dream and seems impossible but what we think if we cannot spread education in every corner of the country, but we can just do in our city and may be in district which seems possible just with the help of our generous donors and partner to get our goal and mission.
We are very thankful to our donors who donated last year and this year, but we need more support on monthly bases, in this way we can continue our struggle to spread education specially for young girls.
As we mentioned in our last Report in April 2019 that we have 100 girls now, but we do not have so much machine to carry this struggle going on. If our kind donors think the same way that these machines are not enough for all 100 girls so, please do donate on our page of global giving website and we would be able to give education to our girls in Pakistan.
We have right now 8 machine which is not enough for all of them please donate today or when you are able to do, we really need your prayers for this mission impossible which we want to make possible with your prayers and gifts.
God bless you and your families and looking forward for your cooperation and generosity in this regard.
Dear Partners/donors,
Greetings from EACH Pakistan!
First, thank you so much to showing your generosity for our Pakistani girls' education. We trained 120 girls in Sewing Center and now 60 are trained and got the diploma from EACH Pakistan and left the center but they are very happy and earning money now at their homes by stitching cloths of people and their own families which makes us, and you excited!
Right now, more girls are taking admission in center and now we have again 100 girls because now 40 new girls added in our previous group. This is our purpose to give education to 600 girls and we are moving toward a right direction and until now we have giving education to (120+40= 160 girls).
So, we have good results of our struggle and your support. We are very glade that our partner/donors are very cooperative with us and doing continue support to us to spread education in Pakistan.
Hopefully with your continues support and engouement we would be able to give education to 600 girls one day. I hope that our partners and our kind donors understand that we need more machine to give sewing training to 100 girls and we are hoping that you will help us to buy some more machines for these girls who are very passionate about learning sewing and helping their families.
With this hope and prayer, we are sending this report to you that you will continue your generosity like before for your sisters in Pakistan.
Look forward for your cooperation in this regard.
Success of the Project so far.....
Education, Awareness and Community Health (EACH) has started Sewing Center with the help of our genegrous donors and collected funds thorugh global giving website. It was great experince for us since we are working at grass roo level in our areas Faisalabad Pakistan. Target of the Project was to give skill education to 600 poor girls who can not go to school but at home they can earn some money to suppot thier families.
So far so good we stared the campian on global giving website and bought the sewing machines with funds collected through website.
Now we have almost 120 girls coming to learn sewing every day in two groups. One group consits of 60 girls and the other one on 60 also.
Girls comes morning times classes and evening time. The girls had the right to choose the timing which one suits thier family and to them. So they choose the timing by themselves which is great.
One groups has completed thier six months sewing training course and now they left and EACH Pakistan gave them the Training certifates that can be use for job purpose also.
Now the girls are earning money through this trianing program at home and contrubuting in thier family income.
So EACH Pakistan and all girls from Sewing centre are very thankful to our donors for suporting our program and we hope you will continue your support because we have to achieve the target of " to educated 600 girls in Pakistan" .
Now we have 120girls and still we have 480 girls left to give education. We are very hopful that donors will continue thier support as before. Thank you so much every one who helped us to do this great work for our Pakistani girls.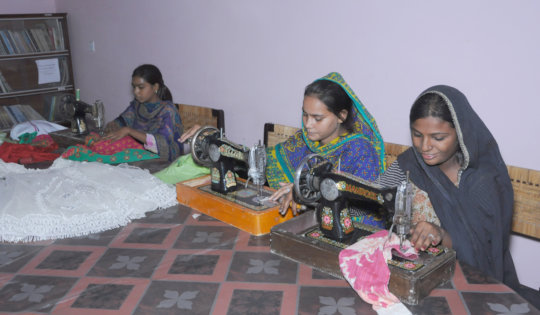 Links:
WARNING: Javascript is currently disabled or is not available in your browser. GlobalGiving makes extensive use of Javascript and will not function properly with Javascript disabled.
Please enable Javascript
and refresh this page.